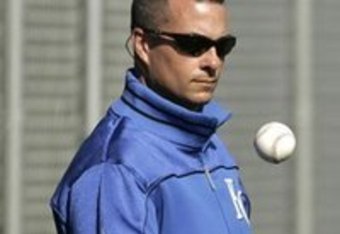 "The impact of this [Danny Duffy] injury cannot be overstated, the team's best starting pitcher joining its centerpiece offseason acquisition, closer, center fielder and catcher on the disabled list. And with the possible exception of Sal Perez being out until July or so, Duffy's injury is the most devastating yet in a season in which the Royals remain competitive despite a head-shaking string of awful breaks."
Sam Mellinger, after the Royals announced on Tuesday that their young left-handed starter would need to undergo Tommy John surgery on his left elbow, Kansas City Star
GH: Royals fans, bend over and grab your ankles. Reality is here to spend its annual summer vacation at your place.
"[Dayton] Moore admits to only 'frustration' about all of this but did have strong words about criticism of the team not ordering an MRI when Duffy missed a start a few weeks ago because of elbow tightness."
Sam Mellinger, Kansas City Star
GH: Mellinger is a good writer who has been saddled with the unenviable task of following in the prodigious wake Jason Whitlock and Joe Posnanski, two of the most celebrated writers The Kansas City Star has ever birthed. Mellinger's sports column has yet to become a must-read destination for Kansas City sports fans. His personality is more sheepish than wolf. But his Duffy/Dayton column is the stuff that turns heads, fuels sports talk radio and sells newspapers. Read on.
"That's idiotic. That's really, really looking at things with a critical spirit."
Dayton Moore, responding to Mellinger's question about those who would be critical of the Royals for not having and MRI ordered for Duffy weeks ago when his elbow tightness first surfaced, Kansas City Star
GH: Steven St. John of 810's Border Patrol was the first radio host I heard quote from Mellinger's column early Tuesday morning. As I listened throughout the morning, I haven't heard a host yet who hasn't commented on Moore's comments in The Star. This is what a columnist is paid to do. This is what we need to see more of from Mellinger if we are to accept him as a reasonable facsimile to his predecessors.
"To me, anytime you have a problem with the elbow I would be overly protective. So clearly for questioning how the Royals handled Danny Duffy, I'm an idiot. So, anybody who thought that the Royals should have had an MRI done on Danny Duffy is an idiot."
Steven St. John, 810 AM
"I'm questioning the Royals' handling of Danny Duffy. I know it is at least a legitimate question to ask why the Royals did not get Danny Duffy an MRI. I don't think the question is idiotic."
Danny Parkins, 610 AM
"When you have been so embarrassingly unsuccessful in developing young pitchers, you haven't been able to develop one! He hasn't developed a starting pitcher in six years!"
Steven St. John, on Moore's lack of success in drafting and developing starting pitchers for the Royals, 810 AM
GH: Moore appears to me to either have thin skin or a poor understanding of the kind of heat his job title yields. Calling his critics "idiotic" and blaming them for being enveloped in a "critical spirit" is almost laughable when you consider these comments are coming from the GM of one of professional sports most consistently floundering franchises. What "spirit" does Moore expect from his fans and critics? Maybe Jacob Marley needs to schedule a late-night visit to Dan Glass.
"He's not calling you an idiot. He's just saying what you said is idiotic."
Nate Bukaty, in his best attempt to play the Royals' company man, 810 AM
GH: It was Bukaty who said he received a phone call at home Sunday night from Dayton Moore to answer some questions. As Bukaty discussed his cell-phone conversation with Moore, I got the feeling Nate was more enamored with letting his listeners know that Moore had phoned him at 10:45 PM than the content of the conversation. Read on.
"Well, I don't know what the conversation was like between Dayton and Sam. I don't know exactly what Dayton was trying to say. So I don't know exactly what [Moore] said."
Nate Bukaty, attempting to exonerate Moore from him calling fans idiotic, 810 AM
GH: The Royals have made it very clear that they do not suffer criticism from those who work under their watchful eye. Frank White's dismissal was a very public example of that fact. All you have to do is listen to the defensive words of Bukaty, Joel Goldberg, Steve Physioc or the insufferably cheery Rex Hudler to get an idea of how the Royals want their broadcasters to present the team to the public. It is amateurish and insulting. You might even call it idiotic.
"The point is, I haven't sold jewelry so I'm not a baseball expert."
Steven St. John, referring to the Royals president, Dan Glass, and his former occupation as a jewelry salesman, 810 AM
GH: My favorite line of the week. Point, match and set to SSJ.
"Duffy's absence is devastating for 2012 — 40 percent of an already weak rotation is on the disabled list — but that's only the beginning. This is also a killer for next season, at least, because conventional wisdom is that Tommy John survivors aren't truly healed until their second year back."
Sam Mellinger, Kansas City Star
GH: Losing a young talent like Duffy is a blow but it should not be devastating. The fact that it is devastating to the Royals falls at the feet of Dayton Moore, who has yet built enough depth in the Royals' pitching staff to bear these kinds of setbacks.
"An awful year for the Royals turns worse. Danny Duffy, torn UCL, Tommy John. Just an absolute killer for this year and 2013."
Jeff Passan, @JeffPassan, Twitter
GH: Can the Royals 2012 season already be categorized as "awful" on May 15th? No. It doesn't look good as they sit with the second worst record in the AL but it has yet to reach awful. Duffy's injury merely adds some sand to franchise well accustomed to avoiding greased skids.
"Sometimes guys just get hurt. And in my mind, Danny Duffy just got hurt. Sometimes it's just inevitable."
Carrington Harrison, 610 AM
GH: And sometimes you send the guy who gets hurt for an MRI when he first shows signs of a problem. Inevitable can be avoided, even if you're a Royal.
"The one thing I'm most proud of is that 13 years after the surgery, I came back and never missed a start."
Tommy John, in an interview with Bob Fescoe, 610 AM
GH: John said he returned from his now famous surgery a year and a day later to pitch seven games in 28 days. As John told Fescoe, "Do the match."
and Twitter / greghall24