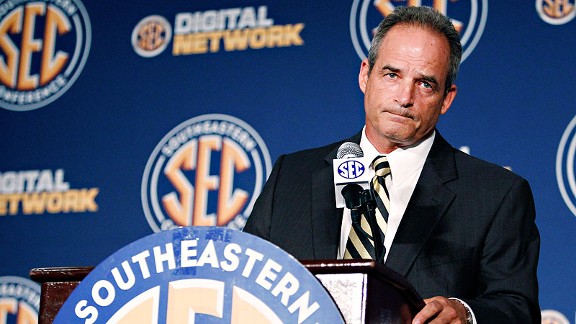 "Joe Paterno's a friend that I got to know professionally, and you can't take away the greatness of this man. He was a great man. However you analyze this, you can't erase all that this guy's done. You can't do that. Nobody can do that. I think when you come out of such a tragic situation, certainly involving children and the magnitude of this in our country from a media standpoint, I anticipated really what happened. I anticipated that they would do this. You're not going to sit back there and say, 'Well, just things happen.' You're not going to do that. They're going to be firing, and people, they're going to make statements and they're going to point fingers, and that's what I anticipated a little bit. But he was a great man, a good man. I'm sure he would, maybe if he could do it over again he would have followed up a few things. But don't take away all this guy did, and to sit there and blame him for all this, I think is wrong."
Gary Pinkel, SEC Media Days
GH: Gary Pinkel just did every football coach, AD, SID and university a huge favor on the opening day of the SEC football media days. He showed them all how not to respond to a question about Paterno – and how out-of-touch it sounds to defend the man who was once revered by college football. You can bet Pinkel's words will be used against him in recruits' kitchens across the SEC and beyond.
"I know I'm the voice of Missouri on this station. As a Missouri fan, I was very disappointed in Pinkel's comments."
Steven St. John, 810 AM
GH: Many college football coaches are not well read, not in tune with the world the rest of us live in and clueless when it comes to discussing anything outside of football. St. John, Jake Gutiérrez and Aaron Swarts attempted to give Pinkel the benefit of the doubt, saying he must not have read or be aware of the Freeh Report. If so, shame on Pinkel. Every high school and college coach should read every word of that report. Every AD should make sure this happens. There are no excuses for what happened at Penn State nor are there excuses for coaches who do not know. Pinkel looks bad here. Real bad.
"You simply can't make comments like that – even if you believe it! He's not on a good run right now in Columbia. I'm just baffled by some of the comments by Pinkel. Is it just that you think you're the king of football?"
Soren Petro, on Pinkel, 810 AM
"Pinkel's ignorant, right-is-wrong puke confirms what happened at PSU could happen on his watch too."
Brooks Melchior, SportsbyBrooks, Twitter
GH: Pinkel is being obliterated by the media over his comments – and deservedly so. Pinkel points to the media as the main problem at Penn State, when the exact opposite is true. It is the media who tirelessly worked to expose what college football refused to uncover.
"This might be the most controversial thing I've ever said on this radio station. I think this happens everywhere. I think this this happens at Kansas, at Missouri…"
Kevin Kietzman, on the cover-up executed at Penn State to hide Jerry Sandusky's crimes, 810 AM
GH: When you read Pinkel's comments above, it is very hard to argue against KK's comment. We must all be vigilant and refuse to treat mere men like gods.
"T.J. Moe has taken over SEC Media Day. He's now the story of Day 1. T.J. Moe got a standing ovation at SEC Media Days. I'm just sayin."
Matt Hayes, @Matt_HayesSN, Twitter
GH: If Pinkel could have avoided sounding like a Neanderthal, Mizzou would have come away from the SEC media days looking fantastic – thanks to their senior wide-out from Fort Zumwalt West. Read on for some of Moe's more memorable quotes to the SEC media.
"They say girls are prettier here, air's fresher and the toilet paper is thicker."
T.J. Moe, SEC Media Days
GH: I'm just glad it's not that the girls are thicker and the toilet paper's prettier.
"Everybody wears a tie or sundress to games. Look at me. I wore a Dry-fit polo to Big 12 media day last year."
T.J. Moe, SEC Media Days
GH: I can't imagine that Mizzou fans are going to start showing up at Faurot wearing suits and ties and dressed like they are heading to the prom. But this is exactly how the SEC crowd dresses. MU's trip to Ole Miss a few years back was proof that the SEC treats there football like church.
"Anyone ever had a standing ovation after a media day press conference? I just did."
T.J. Moe, Twitter
"[Sanchez is] a solid No. 3 starter on a championship-type club."
Dayton Moore, after dealing Melky Cabrera for Jonathan Sanchez in the off-season, Kansas City Star
GH: Curtis Kitchen of CurtisKitchenKC pulled some old quotes from when the Royals acquired Sanchez that offer little solace but some humor after he was DFA'ed on Tuesday. Read on.
"He's thrown a no-hitter in the major leagues. When you look at this guy's strikeout rates, his swing-and-miss ability, it's among the very best in the game. That's something for us to build on. We are excited to make him part of our rotation."
Dayton Moore, Kansas City Star
"As of this morning, there are eight teams — EIGHT — within two games of each other in AL wildcard race."
Buster Olney, @Buster_ESPN, ESPN MLB columnist, Twitter
GH: The Royals are not one of those eight. Our boys in blue have instead crawled back into their annual July coffin to sleep away the rest of our summer. What a lost, lost franchise our Royals have been, are and look to continue to be.
and Twitter / greghall24