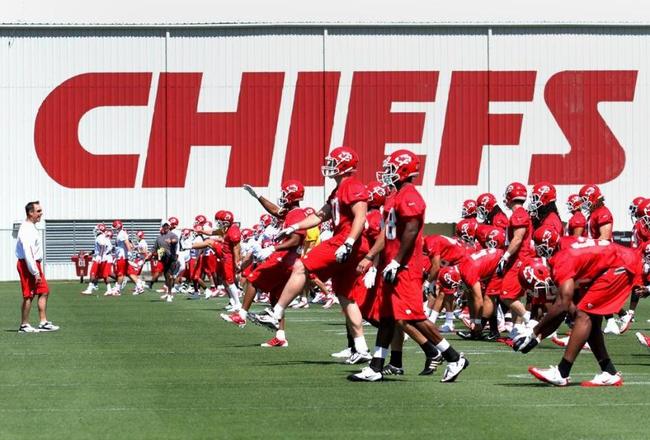 "I think the Chiefs are in a great spot here to roll off quite a few West Division championships."
Matt Miller, of BleacherReport.com, on the young talent that permeates the Chiefs' roster, 810 AM
GH: How good does that sound as we slog through yet another triple-digit day in July? The Chiefs open camp in St. Joe on Friday and Gary Lezak is calling for a high in the 90s – at least until Sunday.
"Not that I'm aware of."
Ken Whisenhunt, Cardinals head coach, when asked by SSJ if he has ever been to St. Joe, MO, 810 AM
GH: The Cardinals will spend some time scrimmaging the Chiefs at their Missouri Western camp in August. Any recommendations from our Pony Express Country readers for the coach and his Cardinals for St. Joe dining and sightseeing?
"I believe the Chiefs are going to win the AFC West."
Steven St. John, 810 AM
"I'm just kind of a beaten down fan. I feel like none of my teams are ever going to win anything ever again."
Kevin Kietzman, 810 AM
GH: Kietzman predicted during the off-season that Denver will rule the AFC West if they signed Peyton Manning. Well, Manning is now a Bronco and KK is not the only voice calling for a Chiefs' failure this fall. Read on.
"@PriscoCBS picked each game of reg season; has KC starting 0-3 and 2-6 in season's first half. Has Den/Oak sweeping #Chiefs, split w/SD."
Kent Babb, @kentbabb, Twitter
GH: You can read Prisco's predictions for the entire 2012 NFL season here. It means absolutely nothing but it is entertaining.
"I don't agree [with Prisco], either, but he has brass —– & works his butt off."
Chris Mortensen, @mortreport, on Prisco's dire predictions for the Chiefs' 2012 season, Twitter
"If that happens, all hell will break loose! And I will be leading the charge! Talk about meltdown!"
Steven St. John, on the possibility of Prisco's predictions coming true, 810 AM
"Said it long ago: Pioli's biggest mistake as GM wasn't trading for Cassel; it was giving him 6yrs. Been too stubborn to bring in competition."
Kent Babb, @kentbabb, Twitter
GH: I think Cassel is overpaid but serviceable. Pioli's biggest error in my book was hiring the unproven and unshaven Todd Haley as his first head coach. That one decision – and it was a major decision – makes me question every decision Pioli makes.
"Can we talk about something else?"
George Brett, when asked by Bob Fescoe to discuss the recent slide and continued poor play by the Royals, 610 AM
"On this day in 1983 @GeorgeHBrett's "Pine Tar" home run put KC up 5-4 top 9th vs. Yankees. Martin protested, Brett blew up & rest is history"
Nick Vasos, @NickVasos, Twitter
GH: I was in Maryville getting gas for a trip back to Omaha as I listened to Denny Matthews describe the pine tar scene. Where were you?
"THAT is an out-making machine!"
Steven St. John, after reviewing Jeff Francoeur's box score from Monday night where he went 0-4, had two strikeouts, hit into a double play and was thrown out attempting to steal second, 810 AM
"@DannyParkins Yeah, he didn't throw as hard because he wanted to lose."
Robert Ford, @raford, responding to a tweet from his coworker at 610 Sports, Danny Parkins, where Parkins criticized Jonathan Sanchez's body language and effort as a Royals' starter, Twitter
GH: Parkins and Ford got into a Twitter war of words Monday night that proved to be more entertaining than the Royals/Angels game I was watching. Read on.
"@raford3 lets leave the condescending and dismissive to any point other than your own tone for postgame callers, not coworkers."
Danny Parkins, @DannyParkins, Twitter
GH: I do not know either Ford or Parkins except for their professional work. But Ford strikes me as the most unflappable person this side of a corpse. While Parkins is more flappable than even Walter White's trousers stuck to an RV. Read on.
"@DannyParkins The idea Sanchez wasn't throwing as hard because he didn't care is worthy of the response I gave it."
Robert Ford, @raford, Twitter
"@raford3 I NEVER SAID HIS VELOCITY WAS DOWN BECAUSE HE DIDN'T CARE, ROBERT. I SAID THAT HE DIDN'T CARE ABOUT HIS RESULTS, REGARDLESS OF WHY."
Danny Parkins, @DannyParkins, Twitter
"I love seeing my former 610 coworkers fight on twitter. It's like hearing that your parents sleep in separate bedrooms after you moved out."
Jared Carter, (@JaredLCarter), Twitter
"Sometimes, what people don't say, says a lot."
Kevin Kietzman, after failing to get Bob Bowlsby to agree with him that the NCAA should now pursue all members institutions who are found guilty of criminal activity, 810 AM
GH: And sometimes people don't say things because they do not agree with the talk show host…which doesn't stop this talk show host from flipping a no comment into an affirmative comment once he was off the phone.
"It's just something you can't celebrate. The other issue is too big, it's too magnified."
Bobby Bowden, when asked about surpassing Joe Paterno's win total now that the NCAA vacated all Penn State wins since 1998, 610 AM
GH: The more I hear Bobby Bowden try to sound respectful about gaining ground on the deceased Paterno's record, the less I believe it.
"I would defend my dad. You would defend your dad. I think that's a natural response."
Bobby Bowden, when asked about Jay Paterno's continued defense of his father, 610 AM
GH: My dad taught me to do the right thing. I would not defend my dad, my son or my friend. Guilt does not dissipate when viewed through bloodlines. Unconditional love is an idiotic concept.
"If I was recruiting a high school player [to come to Penn State I would say, 'Look, Penn State has always stood for something greater than one particular man or one particular sport. … Why don't you come to Penn State and help us make history to rebuild and claim what we believe to be true, and that's one of the greatest institutions in the world.' That would be my recruiting pitch."
Chris Spielman, college football analyst, ESPN
GH: And the BS continues. Recruiting players to Penn State after these NCAA crippling sanctions is just another form of child abuse. Read on.
"With the loss of scholarships, recruiting is not an exact science. … If you're cutting that down to 15 scholarships per year, you can't miss on talent. Think about it, you're not really selling the opportunity to play for a championship or a bowl game. You can't compete for a Big 10 championship. You can't compete for a national championship."
Chris Spielman, college football analyst, ESPN
GH: So the same guy who would recruit high school kids with a phony bravado and a corny pitch also tells us the program has no chance of any real success. Where are these lines in his recruiting pitch?
"You're talking about over a decade before Penn State is ever going to matter."
Kirk Herbstreit, ESPN
GH: This is why these penalties were put in place – to diminish the importance of football at Penn State. Too many do not yet understand that simple concept.
"Was told by an #SEC coach that another #SEC coach had offered 3 #PennState players scholarships by 9:30 a.m. [Monday]."
Mark Schlabach, (@Mark_Schlabach), Twitter
"Could write 10 different columns on Penn St. One I didn't but should write: The coaches picking at Penn State's carcass are scumbags."
Dan Wolken, @DanWolken, Twitter
GH: I could not disagree more with Wolken. The most innocent people on stage in this Penn State tragedy are the current players in Happy Valley. Why should they be trapped in a program that no longer is recognizable to the one they pledged their allegiance to on signing day? The coaches offering them a way out should be welcomed on campus by the PSU administration. If the school truly cares for their wellbeing, they would assist the players' departures rather than resist.
"If a school chooses to make a statement about Penn State today, they should also agree not to take any of their recruits."
Darren Rovell, @darrenrovell, Twitter
GH: Is Penn State now the victim? This is what happens to an institution as out of control as Paterno's Pen State.
"At least one bookstore said it believed its event with Mr. Posnanski was still on. Vivien Jennings, the owner of Rainy Day Books in Fairway, Kan., says she has known Mr. Posnanski for years and still plans to host an event for him in September, where she will interview him on stage for an hour, then take questions from the audience. In town for the All-Star Game this month, Mr. Posnanski stopped at the bookstore to say hello, Ms. Jennings said."
Julie Bosman, writer New York Times
GH: What are the chances of JoPo keeping this date? Read on.
"I asked him, 'We're good for your signing, right?' And he said, 'Absolutely. This is a balanced biography.'"
Vivien Jennings, the owner of Rainy Day Books in Fairway, New York Times
GH: Balanced? And I thought JoPo had a mastery of the English language.
_______
"I know the ask is a little unorthodox, but I'd like for as many people to get to Legend's Culver's as possible. Click here."
Curtis Kitchen, of CurtisKitchenKC.com
and Twitter / greghall24