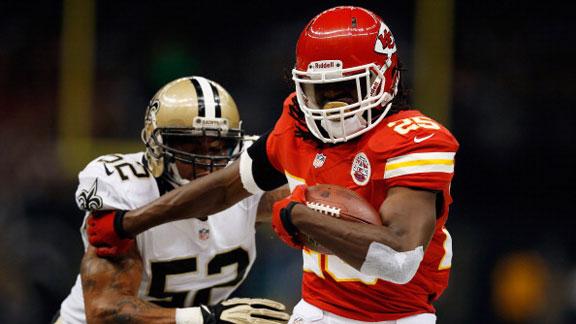 "He just does not look the same. He is just not that electric flash that he was before the injury."
Frank Boal, assessing Jamaal Charles' play this season before the New Orleans' game, 810 AM
GH: When Boal made this comment last week I logged it because I thought there was a chance Charles would have a breakout game in New Orleans. He had not shown a lot in the Chiefs' first two games but there had been moments. It turns out that Frank Boal wasn't the only one questioning Jamaal's wheels. Read on.
"I didn't trust myself [until Sunday]. It really hit me when I started getting the runs. I started trusting myself. I kind of feel like the old me…"
Jamaal Charles, Kansas City Star
GH: The Chiefs have been blessed with some incredible running backs over the past few regimes. Priest Holmes was a highlight waiting to explode from the Chiefs' huddle. Larry Johnson was an ass, but he was the best running back in the NFL for two seasons. Now we have Jamaal Charles to hold our breath about with each carry. Ever since I saw Gale Sayers and then O.J. Simpson run with a football, I have been enamored with the rare talents a man must possess to perform the wondrous feats they do to avoid eleven angry men with each carry. Chiefs' fans have not had a lot to cheer over the last 10 years, but we do know running backs here in Kansas City.
"If they think the pressure is off the Kansas City Chiefs – no. Turn it up, guys. Turn it up! I want 400 yards rushing! I expect this week in and week out – because you have the horses up front. There are no excuses after today."
Richard Baldinger, 610 AM
"Believe it or not, this was the best defensive performance to date for the Saints, especially in pass coverage. But they allowed 273 rushing yards, including 233 by speedy Chiefs back Jamaal Charles."
Mike Triplett, columnist, New Orleans Times-Picayune
GH: Hey, at least the Chiefs aren't the Saints, eh?
"I've never felt more individually responsible for the destruction of an offense before. I mean, I've just never been in a situation … I mean, hats off to him [Justin Houston]. That's a game that you fear as a lineman. I had no answers. And I think I really gave us no chance to get anything going."
Zach Strief, Saints' offensive guard, who was torched by the Chiefs' Houston for three sacks, one resulting in a safety, New Orleans Times-Picayune
GH: It was painful reading Strief's soul-baring comments. As a writer, I love professional athletes who are so willing to own their poor performances. I am not sure I can remember anyone who did it more completely than the Saints' right tackle. Read on.
"I don't feel like I did a good job at any point in that game. … I think I was physically and mentally beaten. And that's disappointing, because you just can't be in that situation. As a professional athlete, you can't be in the situation that I was in today."
Zach Strief, when asked if he was just talking about the plays where he was beaten for a sack, New Orleans Times-Picayune
GH: It will be interesting how his teammates react to Strief's willingness to admit his failings – both physically and mentally. Ouch!
"The reality is that on both of those last drives the Chiefs relied on Matt Cassel."
Soren Petro, in response to callers who were being reluctant to credit Cassel with his play in the win, 810 AM
GH: Matt Cassel is who he is – unfortunately. He is not the type of NFL quarterback who inspires or leads. He too often looks hurried, lost and looking to stop, drop and roll. Soren can defend him if he wants, but I am disgusted with his play for what he is paid. Scott Pioli bought us a Fiat and refuses to go get us an Audi.
"The Chiefs were down 24-6 at one point in this game and have battled all the way back to win this game."
Greg Gumbel, CBS
GH: After the Chiefs went down 24-6, I never thought I would be typing those words from Gumbel. All kinds of nasty thoughts were going through my head – and I would guess yours as well. But the NFL is a strange and wonderful game. Much like the mob, just when you thought you were out – they pull you back in.
"Kudos to [the Chiefs] because they had plenty of chances to fold the tent and go home."
Bill Maas, 610 AM
"I think the most impressive thing is that they never quit."
Bob Fescoe, 610 AM
GH: I don't get all that excited over professional athletes who "don't quit." It what profession or at what level of play is that even an option? I ran the Omaha Half Marathon on Sunday morning and thousands of amateur athletes took on the challenge of running 13.1 and 26.2 miles. I doubt if more than 1% or 2% of those runners quit because they felt defeated. The least an NFL team can do is play hard for the three hours they are competing.
"This team needed a win, and a win like that in particular. That gives us some momentum when there was a lot of doubt about what we were going to be able to do."
Romeo Crennel, Kansas City Star
"They were a band of brothers. You saw them all with their arms locked together on the sideline at the end of the game [just before the game-winning field goal in OT]. They've got heart. That's a big, big step in the right direction. … Confidence breeds winning. You're not out there kind of scared, you're out there with a swagger."
Bill Maas, on the Chiefs win in New Orleans, 610 AM
GH: I think wins like this can turn a season around. The talent in the NFL is so similar that many times it is fate, luck and motivation that tips the scales between victory and defeat. Not all agree. Read on.
"This thing has the emotional stability of Lindsey Lohan… The debris of consecutive stink-bombs to open the season cannot be cleaned up with one win against a stumbling franchise."
Sam Mellinger, on the Chiefs' building on their first win, Kansas City Star
GH: Love the Lohan line…but damn I hope Sam is wrong.
"Dwayne Bowe has been fantastic this year. So much better than I thought he would be."
Danny Parkins, 610 AM
GH: What is this thing called training camp you speak of?
and Twitter / greghall24