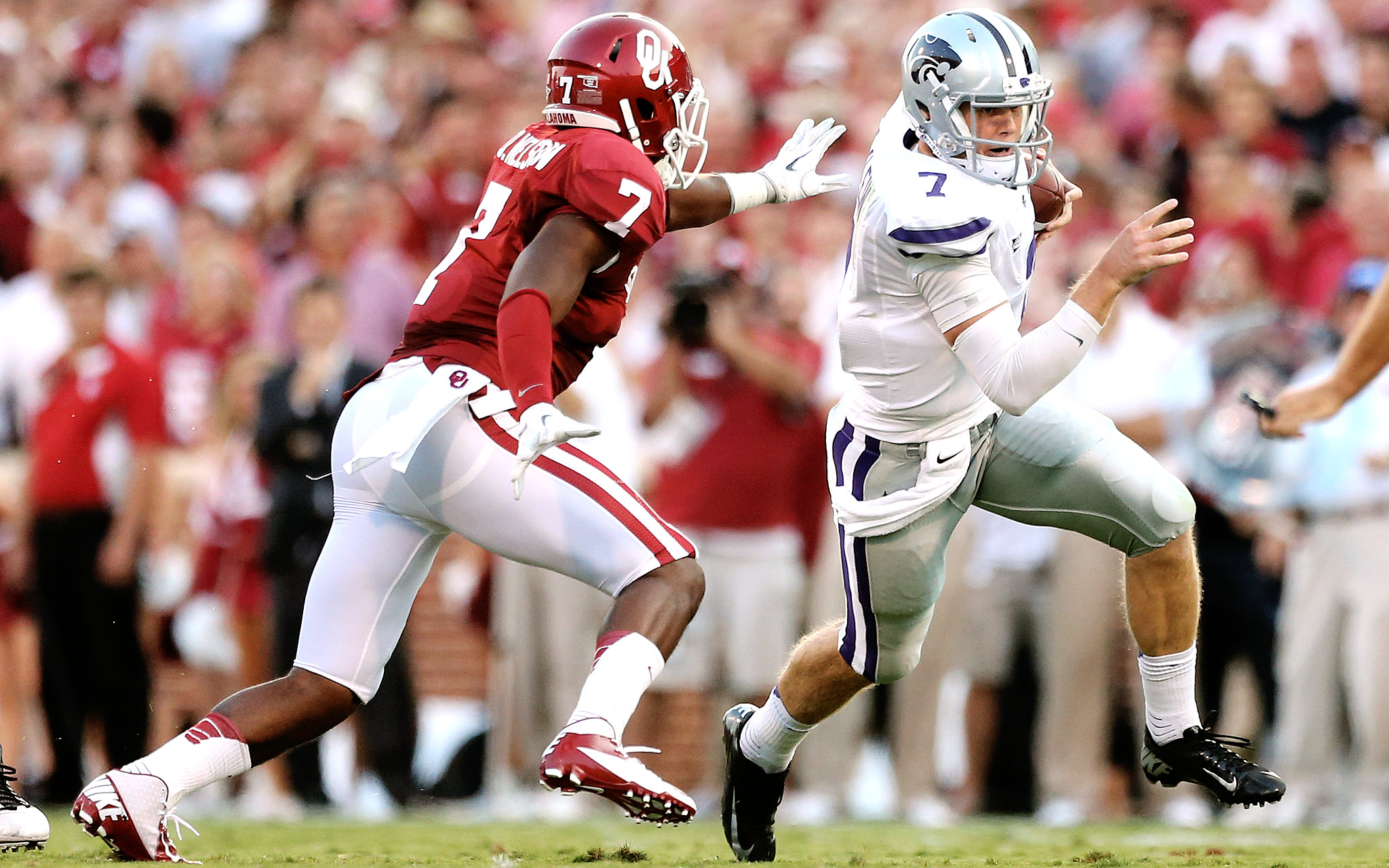 "What can you say about Bill Snyder that hasn't already been said?"
Soren Petro, 810 AM
GH: Here is something — that Coach Snyder is getting more credit for the Oklahoma win than he deserves. Crazy talk, I know. Snyder has once again shocked the college football world by out-coaching Big Game Bob in his own crib where he was 14-0 against ranked opponents. Snyder is one of college football's all-time great head coaches. That said, what Collin Klein is doing at K-State and the acts he performed against the Sooners are just as amazing. My intent is not to take away from what Snyder has done but simply amplifying what Klein is doing.
"Crazy that Lou Holtz can correctly pronounce the name of Notre Dame star linebacker but can't get Collin Klein's name correct."
Tom Gilbert, @tgilbertSID, K-State SID, Twitter
GH: I am amazed Lou gets any names correct. Shouldn't there be an expiration date on guys like Holtz, Corso and Berman?
"Bill Snyder, the Ancient of Daze, turns 73 in two weeks, and that's about the age of his offense, too, with an old-school quarterback who plays like a Weeble — his passes wobble, but he won't fall down."
Berry Tramel, columnist, newsok.com
"That's a great description of Old Man Football. Control. Control the line of scrimmage. Control the clock. Control the ball. Old Man Football keeps you tough. You can be tough playing Star Wars football. But you can't not be tough playing Old Man Football. It's a prerequisite for success. . … Klein and Snyder have helped make Big 12 football once against a country for old men. Beware the revolution.""
Berry Tramel, columnist, newsok.com
GH: The physical play of Kansas State in their battle with Oklahoma was so violent my Samsung flat screen shook. Snyder coaches his players to be tough. He has some talent this season but like every other Snyder season, his Cats play hard and hit even harder.
"No. West Virginia."
Nick Leckey, former K-Stater, when asked if Wildcats are now in the driver's seat to win the Big 12, 810 AM
GH: Leckey is just rolling out coach speak. With K-State's win in Norman, they are the current frontrunners for the Big 12 title. A win over Bob Stoops makes it so.
"To me it kind of looked like [Landry Jones] lost the ball and then tried to push it. It looked like a fumble to me."
Steven St. John, on Landry Jones' shovel pass that was initially called a fumble but after review was changed to an incomplete pass, 810 AM
GH: I did not see one tweet during the game from a KSU fan who thought this was a forward pass. SSJ is not a KSU fan, but he too saw it as a fumble. The slow-motion replay though, showed it was obviously an intentional forward pass. It is amazing to me how sports fans see things differently, often times just because they want their team to win. While that may be the norm, I will never understand misinterpreting fact.
"I asked these [service men] if they were all from Fort Riley. They said, 'No. We just all hate Oklahoma.'"
Nate Bukaty, on a crowd of servicemen he saw at the airport who were gathered around a TV and rooting loudly for K-State, 810 AM
GH: While this group of servicemen may have been simply rooting against OU, I believe Kansas State is gaining fans nationally. Their tough quarterback and mastermind head coach have to have fans from San Diego to Bangor wearing purple in honor of K-State.
"Twice K-State has come off a bye to host KU since 1991. The Wildcats won 16-12 (1991) and 10-9 (1993). That margin might change in 2012."
D. Scott Fritchen, @DScottFritchen, Twitter
GH: The Sunflower Showdown should be renamed the Kansas Massacre. Snyder has inflicted more pain on Lawrence than Quantrill.
"In related news, Missouri is exactly who we all thought they were. They are physically breaking down after only four games. It will be a long season. Maybe you should try to get the best athlete you've ever recruited, Dorial Green-Beckham, at least a little bit involved in the offense. Schemes are important but so are athletes. Just ask Auburn."
William Wallace, writer, SaturdayDownSouth.com
"Coach Pinkel's going to be in a coma [Saturday] after Coach Spurrier gets done with him."
Paul Finebaum, on his Friday show prior to Saturday's game, Sirius XM 91
GH: Finebaum has been ripping Pinkel and Mizzou since their loss to Georgia – and the Tigers have given him no reason to back off.
"I'm just disappointed that we're not playing better."
Gary Pinkel, Tiger Talk, after Mizzou was crushed 31-10 at South Carolina, 980 AM
GH: Missouri looked competitive for much of their SEC opener against Georgia. But their embarrassing fourth quarter against the Bulldogs played out for four quarters in Columbia, SC. Read on.
"The thing that disturbed me the most [about the Mizzou/South Carolina game] is that they got beat up. They got pushed around physically. I hadn't seen that happen to Missouri. They got manhandled."
Dennis Dodd, 810 AM
GH: Mizzou looked like Nebraska in their first Big 10 game at Wisconsin last year – maybe even worse. While I agree with Dodd in that USC pushed the Tigers around, it looked like more a case of Pinkel's team was overwhelmed with the speed and intensity of the game. The Tigers looked poorly prepared for what Steve Spurrier's boys brought to the woodshed.
"It wasn't just a matter of missed tackles [on the poor kick coverage], it was a lack of hang time on the punts."
Mike Kelly, MU's play-by-play voice while interviewing Pinkel, Tiger Talk, 980 AM
GH: It sure looked like a matter of missed tackles to me, Mike. I do not recall a poorer exhibition of tackling in a Missouri game. Mizzou was once known as a team that forced opponents to buckle their chin straps. This bunch is playing like they are allergic to contact.
"Defense is about reaction and pursuing. That's what defense is."
Gary Pinkel, Tiger Talk, 980 AM
GH: You might want to add "tackling" to that definition, Coach.
"You can work on tackling drills all you want, but if a guy's not focused it doesn't matter. Guys aren't using the fundamentals that we teach them. That's immaturity. That's a lack of discipline. A lot of times that's a lack of coaching."
Gary Pinkel, Tiger Talk, 980 AM
GH: Making plays in a hostile and wildly amped stadium takes discipline. It takes good coaching to prepare a team for knowing how to execute basic fundamentals in the face of heightened adrenaline spikes. Every good football player knows how to block, tackle and think. But performing these basic tasks in the heat of a game is the difference between winners and losers. Right now, Pinkel is not coaching winning football.
"The good news is we can fix it and we're good enough. We've just got to get it together and it's my job to get that done."
Gary Pinkel, Tiger Talk, 980 AM
GH: There are many who question MU's talent. Pinkel is not one of them.
"I'm not giving up on [James Franklin]. I'm not. Historically, even going back to Washington and Don James, our quarterbacks have had remarkable second-year seasons. I still think James can have a great year."
Gary Pinkel, discussing the play of his quarterback, James Franklin, Tiger Talk, 980 AM
GH: Franklin plays with a casual approach that makes him look like he suffers from narcolepsy in the pocket. It enhances his mistakes because it looks like he doesn't care. He is quickly becoming the Mizzou fans favorite target as to what is wrong with the offense. I think it has more to do with Georgia and USC being very good teams.

"I also would like to remind you that [Franklin] has four starters in that offensive line that are supposed to be back-up players – so we can't put it all on #1."
Gary Pinkel, Tiger Talk, 980 AM
GH: The SEC is a league of attrition. Back-ups play in this league. You either recruit a deep roster or you're Kentucky. Don't be Kentucky, Coach.
"I think in some sense [Mizzou's] season teeters on this one game."
Dennis Dodd, on MU's game at Central Florida this Saturday, 810 AM
GH: CFU is going to make their little stadium sound just as loud as the Gamecock's home. MU needs a win here or their bowl trip might get canceled in September.
"I think it says, 'We're Happy With 7-5.' "
Paul Finebaum, when asked what the state slogan is on Missouri's license plate, Sirius XM 91
"Gang – Great news from ESPN this morning. The Oct. 12 Mizzou Madness event will be televised live on ESPN3, and ESPNU's seventh annual Midnight Madness show will show live highlights from Mizzou Arena with Mitch Holthus & Stephen Bardo calling the action. The event is free and will take place the night before the Mizzou-Alabama football game."
Dave Reiter, Mizzou SID office, press release
GH: I could not have been the only person to read this email and think, "That sure sounds a lot like a memo from Kansas in September."
"After what happened last night [with the controversial ending to the Packers/Seahawks game], I'm more entertained by the NFL now that this happened. Yesterday was some of the most entertaining theatre I have ever seen in the NFL."
Carrington Harrison, 610 AM
GH: I know I am supposed to be as outraged as the rest of the free world over the NFL's replacement refs and the controversial ending in the Packers/Seahawks game – but I'm not. I think the NFL officials union is making ridiculous demands for a pension for a part-time and ridiculously well-paid job. I am fine watching the NFL suffer through a few controversial calls that will ultimately make the game even more popular. I hope Roger pulls a Reagan on his zebras.
and Twitter / greghall24