The Race
Part II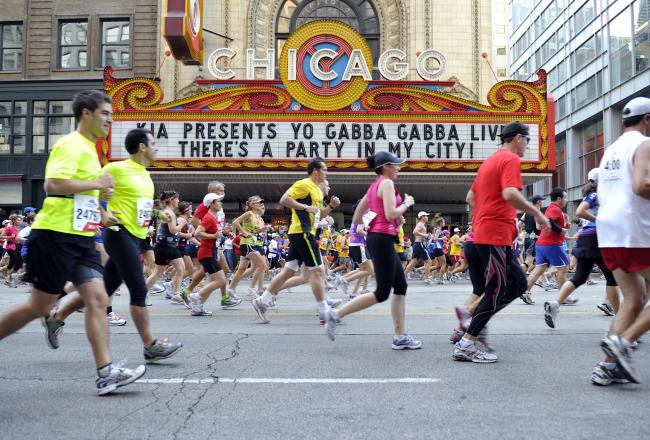 The first mile of the Chicago Marathon is bordered by huge crowds that are loud and welcoming. This is pretty much how it is for much of the race. The city of Chicago basically shuts down on Marathon Sunday. Instead of driving to church or Ina's for breakfast scrapple, the local folks wrap up in a blanket and head out to the curb to make us runners feel like Olympians.
Wacker Drive crosses over Columbus Drive in the first mile. This leaves the runners with a block-long tunnel to explore. The runners' hoots and cheers echo loudly against the dark walls. Everyone is juiced for their race and this is as good a place as any to let out some of the excitement that was building waiting for the start. I listen and enjoy the screams but I do not join in.
In the words of one of my favorite Cat Stevens' tunes, Father and Son;
"I was once like you are now, and I know that it's not easy,
To be calm when you've found something going on.
But take your time, think a lot,
Why, think of everything you've got.
For you will still be here tomorrow, but your dreams may not."
The youngsters in the crowd of runners reveled in the sound of their voices echoing through the throng. The old dogs like me smiled and enjoyed the fact we are running beside people half our age. They too will one day take their time, think a lot – and run the first mile with the last one in mind.
The hot weather in Boston had been such a disappointment last April that I was eager to erase that memory and my 4:04 time. The good folks at Boston had included a fridge magnet in the race packets that allowed you to write in your finishing time. The word "SLOW," which I had written in all caps, had been staring back at me every time I grabbed a Diet Pepsi – which is often.
I ran 3:31 at Chicago in 2010 and I was hoping to get under 3:30 here today. The cool weather had me thinking I had a chance. My running buddies and I had trained well for Boston but saw all that effort melt away with the 90-degree temps that day in Hopkinton. I was on my own here in Chicago, but that base training was still intact – along with an additional six months through a Kenyan-hot summer in Kansas City.
I didn't have a plan – I rarely have a plan in these marathons – so I took off with the first pace group that caught me around the two-mile mark. A short, skinny hippie-looking dude with a bright blue "PACER" singlet led a pack of about 60 or 70 runners. In his left hand was a three-foot stick with "3:20" printed boldly atop its white flag.
This pace was definitely too brisk for my bones but I thought I'd try and hang with the hippie and his cult for a while to get some fast miles in the bank. The start-time temp was 36 degrees. That is darn cold standing still, listening to the national anthem. But in full stride at mile two, those cool temps gave me a sense of strength that I hadn't known all summer.
I tucked in with the 3:20s like a stowaway passenger hopping a northbound freight train.
As was the case at the Twin Cities Marathon, a number of runners had registered at the expo the day before to be official members of a particular pace group. What comes with being a part of the pace group is a sign attached to your back that announces to everyone behind you what finishing time you hope to run that day.
I have never understood this practice. It's like meeting with your buddies on Friday afternoon to declare your goal at the club that night. I could just see myself walking out at closing time with a hungry heifer on my arm and a "Buxom Blonde" sign pinned to my back. It's like inviting failure.
My opinion aside, there were plenty of runners with their goal time stuck to the back of their shirts. My 3:20 group was an organized lot and a large portion of them sported the correct number between their shoulder blades. I stayed silent about my temporary status and tried to keep up.
The crowds downtown through the first five miles are just spectacular. There are a number of turns as the race snakes between the monstrously tall buildings of The Loop. Each turn invites another roar from the Chicago crowd as they greet us like we are heroes. I know I am not the only runner who is at times overwhelmed by this adoration.
I met Bart on my flight back to Kansas City. He introduced himself to me as a daily reader of my OTC. I immediately liked the intelligent-looking lad. He too had run Chicago. He compared the feeling the crowds gave the runners as to what it must feel like to be introduced as a basketball recruit at Allen Fieldhouse.
At least three or four times in Chicago the crowd brought me to tears. Crazy, right? I don't know how to explain it other than to say it is so moving to be the target of such enthusiastic love. Is love too strong a word? Probably. But that is exactly how it feels. It feels like when your parents are really proud of you and they want the world to know just how damn proud they are by screaming it. It feels a lot like that.
I was still with the 3:20s when we hit Old Town somewhere about the nine-mile mark. These people were just fantastic! They all wore matching tee shirts with cool custom artwork and bold script that read, "You Run, We Cheer." Again, it is difficult to explain how good these strangers made me and I'm sure every runner around me feel. I found myself acknowledging their cheers with a raised fist. I then began swirling it about my head to elicit even more volume from their throats.
The two Germans guys running next to me, who had been conversing in crisp German since the four-mile mark, saluted the crowd. SALUTED! Like a marine! Where else does that happen? I started tearing up again.
There is something so prideful about the marathon. Sure, it is a great individual accomplishment but it means little if there is no one to share this achievement. Big races like Chicago are a destination for runners from all over the world. In the pack of the 3:20s alone I spotted entrants from Costa Rica, Brazil, Poland, Italy and Mexico.
All along the course there are small pockets of flag-waving natives from dozens of countries. It's like a mobile United Nations has been set free on the streets of Chicago. I watched a stout runner from Chile spot his country's flag on one corner – and then cut across a half dozen runners in an effort to jump up on the curb and steal a quick and sweaty embrace from the handful of folks who were there to show their pride in their country.
There is so much goodwill on display in a marathon of this size. Gender, race, religion, political beliefs – they all dissipate in a communal effort to get each runner to their 26.2 mile destination. I did not hear a harsh word or even field an elbow from the time I left my hotel room Sunday morning until I killed off a pizza for dinner that night with my Chicago nephew and his bride at The Brick. Maybe marathoning is what's missing in the Taliban's culture.
As I searched for the start near the big fountain hours before the race, I came across hundreds of volunteers and charity groups who were heading to their assigned posts along the course. Many of these helpful folks looked to be high-school age and were likely cross country teams who volunteer for the cool blue Nike jacket. It was a chance to see just how early these kids get to the course to make the runners' trek a bit easier at water stations, aid stations and just assisting with making a lot of noise to lift weary runners' spirits.
The Chicago Marathon website polled the 2012 participants on what was their favorite part of the race. The five choices were the Fitness Expo, running through the 29 Chicago neighborhoods, crossing the finish line in Grant Park, the support from volunteers and spectators or the post-race party. 82% of the respondents named the volunteers and spectators.
I try not to pay much attention to the mile markers as they slip past. I know that 26 miles is a long way to run and the more I can occupy my mind with other things, the less time I spend dwelling on the formidable distance at hand. I remember at one point I was unsure of what the next mile marker was…nine? I was surprised (and a bit giddy) to see the number 11 as we approached.
I was still hanging with my 3:20 pace group and feeling quite up to the task. I wasn't sure how much longer I could keep this pace up, but I was eager to see how I felt at the halfway point. I went through the half marathon mark at 1:38. I had just run the half marathon in Omaha two weeks before in 1:36 – and finished second in my age group. I knew I was in some uncharted waters here with my pace and another 13 miles yet to go.
I had not spoken to anyone in the 3:20 pace group over the first half of the race. I did not feel worthy to be among them. I knew I was an outsider, masquerading as one of them. I thought opening my mouth might expose me as the 3:40 marathoner I truly am. But once we went by mile 15, I allowed my imagination to wander and ask, "What if…"
What if I could keep up this pace and actually run 3:20? I had managed to run 3:25 at Carlsbad in January, but that time was so foreign to me that I had chalked it up to a rare gift from the marathon gods. My 4:04 in Boston seemed much more real. But shaving five minutes off a marathon PR at the age of 57 is dream-street thinking. But what better place to dream than right here with my 3:20 pals?
I started thinking about my son Shannon again and his Roho cross country workout. Heart, I thought to myself. I needed to show some heart.
As we approached the 16-mile mark, I made the decision to try and stay with the 3:20 pace group to the finish line. I made the decision to become a full-fledged member of the 3:20s. I knew this decision could backfire and leave me limping in, a half hour past my target time.
"Roho," I repeated out loud.
I then tucked in behind the hippie and embraced my new status as a legit member of the proud 3:20 pace team.
The KC logo on my singlet was well received by the Chicago crowd. Shouts of "Kansas City," and "Go Royals," emanated from the folks standing along the curb. Sports is such an important part of so many of these people's lives. Chicago Bears gear was everywhere. One guy had dressed his small pug dog in a custom-made Bears jersey. The White Sox and Cubs were also well represented. I saw people wearing jackets and sweatshirts from almost every Big 10 school. The Iowa Hawkeyes' logo was held high atop a post on one street corner. People just love their sports team – win, lose or Cubs.
Chicagoans stood in front of their picturesque Brownstones and hugged their Starbucks to their faces. The bright gold of autumn splashed against the backdrop of their tiny front yards. Babies in strollers at the curb and young parents corralling their preschoolers and instructed them how to coax a high five from a passing marathoner. I found myself taking in the scenery with a renewed appreciation for the beauty of life. As we passed through one particularly postcard-perfect neighborhood, I turned to a couple on the street, still dressed in their housecoats and remarked, "I love your neighborhood." They both smiled and tipped their lattes my way.
Gu is a sticky protein paste that marathoners jam into their belts or shorts to pop at different intervals in the race. Almost every Gu flavor tastes awful and they also burn the back of my throat going down. Despite the vile taste and texture, this icky stuff has all but removed the dreaded "wall" at the 20-mile mark. I had "Gu'ed" at mile 5, 9, 13 and taken a free one at 17. I went past the 20-mile mark in good shape…still running stride for stride with my 3:20 pace group.
For the past five miles I not only felt good at this pace, I felt like I had to hold back a bit to not get ahead of the hippie. I had been running beside him for the last few miles, only dropping back a bit if I got hung up by the traffic and congestion at a water station. I was now confident enough to converse with him and some of the other 3:20 runners in the group.
In Chinatown we were greeted by a half dozen line dancers, both males and females in their forties, who were moving and laughing to the Korean hit, Gangnam Style. It was funny to see these moms and dads in the middle of the street, dancing and acting like kids. Their smiles reminded me how lucky I was to be 20 miles into a marathon and on a 3:20 pace.
"You may never have this chance again," I told myself. I then thought better of that notion and amended it to, "You will NEVER have this chance again." I felt good – surprisingly good. I had no hills to fear the last six miles. The north breeze and 50-degree temp continued to keep me almost dry of perspiration. I made my second bold decision of the day. I turned toward the hippie and fist bumped him with my left hand.
"Roho," I said to his puzzled face.
I then took off and left the hippie and the 3:20 pace group behind.
This was now more than a bit crazy. This was inviting calamity. I had run a 1:38 first half and was now attempting to almost match that the last 13 miles. For some reason I thought I could do it. I blame my oldest son.
The Chicago Marathon gets quiet around the 22-mile mark where Interstate 95 borders the left side of the course. There are no crowds here. Only runners left to ponder their negative thoughts about finishing. This was a tough stretch for me. I still felt physically able but my mind began to question my decision to leave my helpful support group.
I tried to squash the negative vibes with thoughts of Shannon struggling through the latter part of a one of his cross country races – and how I always want him to dig deep and find some extra fight to hold off a runner or initiate a surge. I wanted to make him proud of his old man. I ran that last four miles with thoughts of being chased by hippies. They never did catch me.
About a mile from the finish I spotted a huge American flag floating above the street as runners passed underneath. I was still blocks away, but the size of it was so overwhelming it was easy to spot. I was curious as to how it was able to float above the crowd with no apparent means of support. I ran to it with a sense of urgency.
The flag was a half-mile from the finish and hoisted in place with the help of a Chicago fire truck and its aerial ladder. A wave of national pride hit me as I passed beneath the flag and turned to see the uniformed fire fighters alongside their truck.
"How cool is this?" I thought to myself. What a great race. What a great city. What a great country.
I ran smoothly up the short hill at the 400-meter mark and then turned left toward the finish. I was in no pain. My breathing was measured. And I knew I had that sub 3:20 in hand. I passed under the finishing marque and posted my official time at 3:18.29.
No hippies in sight.
*******
The marathon is a strange and wonderful journey. But it pales in comparison to the fate and happenstance that is life.
After receiving my silvery Mylar blanket and medal, I exited the two-block-long finishing area. Just as I stepped off the curb, I heard a surprising sound. My name.
"Greg?"
I turned to see Julie Somora, the wife of Andrew Somora. If you are a long-time reader of my running stories, you will remember Andrew as the guy who emailed me back in 2011 after I wrote my first story about running Boston. Andrew had been diagnosed with colon cancer a few months before. He wrote to tell me how my story had inspired him to want to beat his cancer and run again. I wrote Andrew's name on my bib at Twin Cities last fall.
Julie and I had crossed paths inexplicably during the Hospital Hill race in 2011, when I was not-so-covertly ogling her skorts. She heard another runner and me talking, and asked me if I was the Greg Hall who knew her husband Andrew.
Well, Andrew didn't make it. He died last fall at the age of 37. He left Julie and their two young boys behind.
Julie is putting her life back together the best she can with the help of her friends and family. I am no more than one of those ships in the night that seems to crash into her every now and again.
But life is funny. Here in a race with 45,000 registered participants from all over the globe, Julie Somora and I happen to be walking side by side as we exit the finishing area. Julie had run a PR herself. I recognized Andrew's bride even without her skorts. She wore a photo of Andrew on the back of her shirt and a smile on her face as we talked about him.
Julie has started the Andrew Somora Foundation to assist families with the cost of battling colon cancer. The Foundation is hosting a 5K race at 9:00 AM on Sunday, October 28th at English Landing Park in Parkville. I will be there along with my wife to support the cause. If you are free that morning and interested in a morning jog or walk, please click on the link above and register for the run. I will introduce you to Julie and if we are lucky, maybe we'll get another glimpse of those skorts.
and Twitter / greghall24