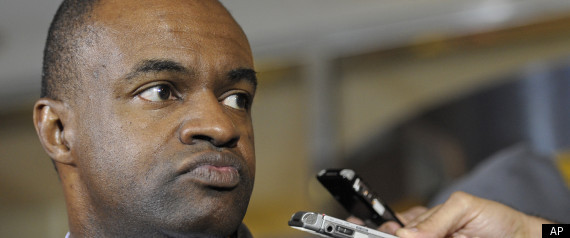 "Look guys I have no reason to
lie! The truth of the matter is we got tricked, duped, led astray, hoodwinked,
bamboozled!"
Vonnie Holliday, Redskins DE, after the NFL owners voted 31-0 on the revised CBA agreement, Twitter
GH: Holliday channeled the words of Denzel Washington's character in Spike
Lee's movie Malcolm X. Vonnie might be jockeying for an acting career if this football gig doesn't work out.
"I honestly believe it was all a misunderstanding."
Rudy Niswanger, in an interview with Bob Fescoe, on the negative reactions by some players, media and fans, after the owners voted 31-0 to advance the new contract Thursday night, 610 AM
GH: Niswanger was a voice of reason amidst a sea of blathering idiots. Rudy told us that as of Friday morning he still was unsure what the new contract contained because he and most of the player reps had not seen it. How novel – waiting to blast away at the hand that feeds the players before knowing what the offer states. Not all player reactions were as measured. Read on.
"This is nothing more than an attempt to break the spirits of our men and to fracture the solidarity that we've exemplified up and to this point. This is nothing more than an attempt to get the fans to turn on the players and add even more pressure to the situation
and an attempt to force-feed us the deal."
George Wilson, Bills player rep, NationalFootballPost.com
GH: Here is a news flash to Wilson, the NFL players and the owners – most fans don't give two Britney Spears' toots about who is right, wrong or indifferent in these negotiations. We just expect you to both figure it out and play football for enormous sums of money few of us can even comprehend.
"At the end of the day it's just business."
Rudy Niswanger, 810 AM
GH: What is lost by both parties is that to the fans it's not business – it's our recreation. It's our fantasy league draft. It's our passion. Business has very little to do with it outside paying off that 56-inch Samsung flat screen from NFM.
"It sucks the lockout wasn't lifted today…but as players we have to stick together and fight for what we believe in. If we don't who will!"
Reggie Bush, Saints running back, Twitter
GH: Does Reggie really think we feel sorry for him – an underperforming and
vastly overpaid jock whose selfish acts cost his university their national
championship and himself the Heisman? Call your lawyer, Reg. Maybe he feels
your pain.
"It reminds me of back in 1982. They didn't respect the players! They should respect these guys as men! A little bit of this I get because the players feel like they were disrespected
at the end."
Herman Edwards, on the owners vote
and actions Thursday, ESPN
GH: Herman is such a tool. He is scared to death he's not going to be looked upon as a "players coach." He goes out of his way to paint himself as one with the players. I get so sick of his "shield" speech and the rest of his rhetoric. How have the NFL owners disrespected 1,900 players who would probably all be making 90-95% less if they were out in the free market with the rest of us chumps? That "disrespected" crap is what I hear
from all these young kids involved in drive-bys and random shootings. Herm
might be the dimmest former NFL head coach this side of Gunther. How did the
Chiefs get so lucky to land both these Brainiacs?
"I'm extremely optimistic."
Rudy Niswanger, Chiefs player rep, when asked if he was optimistic the players would soon be back to work, 810 AM
GH: Billions of dollars are at stake here. I would be pretty optimistic this deal is going to get done as well.
"Our expenditures were much higher last year than was reported in a number of publications."
Clark Hunt, when asked by Kevin Kietzman if the Chiefs would have more salary cap room than most NFL teams, 810 AM
GH: Kietzman broke into 810's ESPN network programming Thursday night to bring us a mostly worthless interview with The Clarks. Hunt rarely has anything of substance to say and this impromptu interview did nothing to alter his reputation as a poor communicator. Hunt repeatedly told KK that things were too "complicated" or "complex" to explain. Let's just say it fell far short of Todd Leabo holding up a cell phone to broadcast Ethan Lock's telling of Carl Peterson verbal undressing of John Tait over 1510's airwaves back in 1999.
"Do you have that in an email?"
Mark Carman, to a caller who identified himself as a local fireman who had been invited to the Chiefs' September 11th game to display the USA flag with 100 fireman but
were told they would need to purchase $25 tickets to attend the game, 610 AM
GH: I heard this phone cal live to 610's Night Shift evening show while mowing the lawn last night. The fire fighter explained that the Chiefs had invited 100 firemen to the 9/11 game to commemorate the 10 year anniversary – but they were told they'd be charged $25 each! The story spread via Twitter and the social media. A few hours later Nick Wright announced on Twitter that the Chiefs had contacted him and changed their mind.
The fire fighters would be allowed to participate at no charge. I hope the
Chiefs pick up their parking fees as well.
"If anybody should know the pitfalls of a name that can be easily mispronounced it is Clark Hunt."
Nick Wright, on the Chiefs becoming known as the Kansas City Cheaps, 610 AM
GH: I am guessing you will not hear that joke on the Chiefs broadcast partner 810.
"Quite simply, we lost our way."
Editorial comment, in the final edition of News of the World, a 168-year-old British tabloid that closed due to a cell-phone tapping scandal
GH: Character still counts. Even in journalism.
"(Rupert) Murdoch is endlessly fascinating to watch because his talents and brilliance are equaled only by his amorality."
Tina Brown, on the owner of News of the World and multiple media outlets, thedailybeast.com
"I'd rather smoke crack than eat cheese from a can."
Gwyneth Paltrow, on a British talk show
GH: Something tells me Gwyneth wouldn't make it through the order line at Arthur Bryant's on Brooklyn. Her loss.

and Twitter / greghall24