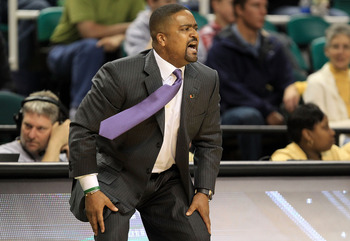 "Miscommunication."
Frank Haith and Mike Anderson, during their separate postgame pressers when asked the reason for their heated words and actions, 810 AM
GH: One thing we can be sure of is that there was no "miscommunication" inside Mizzou Arena Tuesday night. Mizzou fans let Mike Anderson know without a doubt how they felt about him and how he departed Missouri for Arkansas. Frank Haith let Anderson know how he felt about Anderson claiming credit for Haith's success at Missouri. And Missouri communicated to the rest of the SEC that they are no longer just happy to be invited to the party. No, there was no miscommunication whatsoever.
"Why would Missouri fans boo Mike Anderson? He came in and took over a train wreck!"
Jimmy Dykes, color analyst for Arkansas/MU game, when almost every Mike Anderson move inside Mizzou Arena was greeted with a defending chorus of boos early on in the game, ESPN
GH: Dykes is just another failed former coach lucky enough to have a cushy TV gig who thinks he needs to protect the reputation of a fellow coach – especially if it means that coach might be able to help him get back into coaching. If Dykes doesn't know the origin of the booing, he should be fired. If he does know but plays stupid on the air to protect Anderson, he should be fired. ESPN should be all over Dykes for not having this story for their national broadcast.
"Screw dykes."
Mike DeArmond, Twitter
GH: For many reasons – this tweet was one of the highlights of a very, very entertaining night on Twitter.
"Here we go with the lecturing of Missouri fans. If they want to boo Mike Anderson, A) It's their right and B) who cares?"
Dan Wolken, @DanWolken, responding to Dykes' comment during the Arkansas/Mizzou telecast, Twitter
"I'll let you know why they boo'd! But in the meantime @Mizzou…. Boo on!"
Kim English, @Englishscope24, Twitter
"The Mizzou/Arkansas rivalry just went to another level!"
Jimmy Dykes, after ESPN's cameras showed an irate Frank Haith having to be restrained by his own coaches from rushing Arkansas' Mike Anderson, ESPN
GH: I have been on Missouri since August for their placid acceptance of being the SEC's lapdog. Paul Finebaum started making fun of the Tigers on his satellite radio show and every other SEC school joined in the fun. When Alabama came to Mizzou Arena for hoops the PA announcer congratulated them on their national title. I have contended Mizzou needed to get a little more Norm Stewart in how they approach their new conference. Frank Haith went past Stormin' Norman Tuesday night – he went John Chaney!
"Boy, did the [Mizzou] fan base love that last night!"
Steven St. John, who was at Mizzou Arena, on Haith's attempt to charge Anderson, 810 AM
GH: Mizzou fans have had issues with Haith, starting with the Tigers inconceivable first-round upset lost to Norfolk State last March. His team's poor play on the road and his skeletons from Miami have all tainted his relationship with some Mizzou boosters. But wanting to fight Mike Anderson in the middle of Norm Stewart Court just vaulted the little jar-headed MU coach up to Jason Sutherland status around the Show-Me State.
"Uhh, no. It's just emotional. I want our guys to play hard."
Frank Haith, when interviewed during the first half and asked about what was said to elicit him having to be restrained by his staff, ESPN
GH: Haith spit this canned answer out as his team huddled during a timeout. Incredibly, ESPN's sideline reporter, Shannon Spake, allowed him to get away with this response.
"What has been the most significant adjustment you guys have made offensively?"
Shannon Spake, sideline reporter, with her follow-up question to Haith after his above comment about "it's just emotion," ESPN
GH: Fire Spake too. How do you have the head coach from Missouri live on the air, just minutes after he had to be restrained from confronting the former Missouri head coach who is now the Arkansas head coach, and you do not press him on this wacky, wonderful occurrence? Haith looked like he'd gone three rounds while he was answering Spake's riveting query about offensive strategy. Spake should have asked Haith, "Did you overreact then?" "Will you be apologizing to Mike Anderson for your emotional actions?" "Are you emotionally stable enough to finish the game?" Instead we get a question about offensive adjustments??? Just like Dykes, we have another broadcaster who is far more intent on pleasing the person she is interviewing rather than the millions who tuned into watch the game.
"Well, I'm not buying that answer but that's okay. There's a lot of things I don't buy in this business."
Brad Nessler, play-by-play broadcaster, after Haith's interview with Spake, ESPN
GH: At least Nessler called BS on the whole thing…including the constant flow of BS that flows from college coaches.
"Just a guess, but I think Frank Haith could take Mike Anderson. More agile, quicker. Anderson would be wearing more clothes, too."
Sam Mellinger, @mellinger, Twitter
GH: I have to give Anderson the edge in a street fight. He's mellow on the outside but that nasty grin he stared down Haith with after their confrontation is one I've seen before – from the guy who knows he is going to win the fight.
"Heard Anderson told Pressey he can have that shot all night and Haith got mad at him for talking to his players."
Tanner Stanze, @tstanze03, Twitter
GH: Since no one who knows is talking, we are left to guess as to what set Haith off. This is as good an explanation as any. Coaches HATE it when the other coach talks to his players. Even if Anderson was trying to have some fun with his former player, he was out of line to talk to him on the court.
"Sitting 14 rows behind bench & guy close by is in MAndersons ear #SuitecaseMike #Patronizing #QuitterBeatdown #BackdoorMike."
Will Nolte, @Real_Big_Will, Twitter
@NotoriousAG: "Mike, was just curious how Mike Anderson was to cover? Good, Bad, Indifferent?"
Mike DeArmond: "He was a jerk from day one."
"Sign on Jumbotron. Picture of Anderson: "We are never ever ever getting back together. Like ever." Well done."
Gabe DeArmond, @GabeDeArmond, Twitter
GH: Taylor Swift would be proud. How about Mizzou Arena putting that sign on their JumboTron? SEC, it appears that Mizzou is all in.
"Have absolutely no problem with [Laurence] Bowers mentioning Michael Dixon in his speech."
Carrington Harrison, @cdotharrison, Twitter
GH: Bowers said he told Dixon they wouldn't forget him and he stayed true to his word. At least Bowers didn't mention Mike Anderson in his Senior Night speech.
"That was the oddest scene I've ever seen: IU players wearing Big Ten title shirts and hats, cutting down the nets after a loss."
Bob Kravitz, @bkravitz, following Indiana's loss at home to Ohio State on Senior Night, Twitter
GH: Cannot believe Indiana did that. Anybody think Bob Knight's Hoosiers are cutting down nets at Assembly Hall after a loss on Senior Night?
"Am thinking this would be a great year to put teams in the tournament without seeding, at least at the top. Either that or add four No. 17s!"
Joe Lunardi, @ESPNLunardi, Twitter
"That's going to be very weird having KU play two games in Sprint Center in the NCAAs. It's not going to seem like the NCAAs so close to Law."
Gary Bedore, @GaryBedore, Twitter
GH: The problems that some Kansas basketball fans have to dream up to present as problems. Yeah, it'll really be a bitch, Gary.
"Do you think [Kevin Kietzman] considers K-State co big 12 champs last football season?"
Frank, @Frankennoggin, Twitter
GH: I know he doesn't. KK laughed when Oklahoma held a trophy presentation for their half of the co-championship.
"It's going to be very hard for the [K-State] Wildcats to win that ball game [at Oklahoma State] because of the difficulty of the venue."
Mike DeCourcy, 810 AM
GH: OSU's venue won't be the problem for K-State on Saturday. The talent that the Cowboys put on the floor will be a much more imminent danger to KSU's Big 12 title hopes. Marcus Smart is the best player in the Big 12 and he is going to win the POTY award going away. But the Cats are one tough bunch. I would love to see KSU put the pressure on Kansas to win at Baylor.
"I'm paid by Entercom – a publicly traded corporation. That allows us to have business partnerships without sacrificing editorial control. Which is more than I can say for other media outlets in KC. And with that, I'm probably gonna get in trouble again, so enjoy the 2nd half."
Danny Parkins, @DannyParkins, responding on Twitter to someone who accused him of being a Kansas homer, Twitter
GH: Instead of naming names, Parkins tosses all other media outlets in Kansas City under his Entercom bus. Pretty tough to get in trouble for being vague.
and Twitter / greghall24