The Sharpie pen I used to ink the name "Andrew" on my Twin Cities Marathon racing bib was Kansas City Royals' blue. "So your name is Andrew now?" my wife Donna asked.
My motivation was Andrew Somora, the guy who long-time readers will remember emailed me after reading my Boston Marathon tale. Andrew had been diagnosed with cancer last summer and he wrote to let me know my story inspired him to hopefully beat it and get back to chasing his skorts-wearing wife in a future marathon.
Just before leaving for Minneapolis, I got word that Andrew had taken a turn for the worse. He was facing some scary fourth-quarter procedures that they hoped would slow the spreading disease. I decided since Andrew was unable to run this marathon, I would take him along by having his name on the lips of every Minnesotan who shouted encouragement to me along the gorgeous TCM course.
It took a few miles to react to being called a different name, but by the five-mile mark I was grinning and waving back to every shout of, "Go Andrew!"
Rich Zvosek, the former UMKC head basketball coach, had run the TCM a couple of times and told me it was a great race. "I like that it is in early October, just before the start of the basketball season," Zvosek said. "The first year I ran it we had a good season at UMKC. So
I had to run it the next year just to be sure I didn't jinx myself."
The best way to describe the TCM course to a Kansas Citian is that it was like running through the Loose Park neighborhoods for 25 miles – except it was flatter and often flanked by a large lake on one side or the other.
The trees were in peak color for the first Sunday in October. The weather was almost as perfect. About 9,000 runners gathered at the HHH Dome in downtown Minneapolis for the 8:00 AM start. The sky was still dark at 6:30 AM. The 50-degree weather had just enough of a nip to force those in line for a porta potty stop to stomp their feet on the Dome's asphalt parking lot.
This race has about a third the number of runners as Boston. There are only three corrals and every corral starts at the same gun time. My qualifying time was good enough to get me into Corral 1. Unlike at Boston, I had no trouble locating it. I stood about 30 seconds from the starting line and chatted with other eager runners – all who called me
Andrew.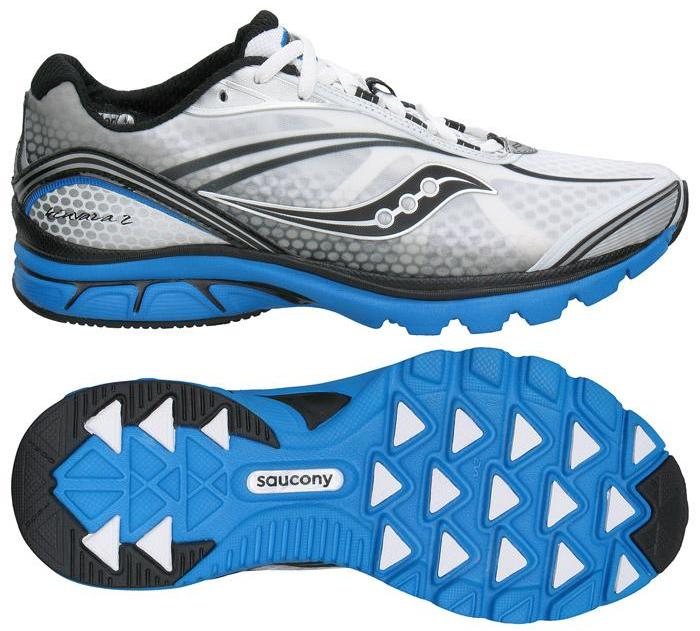 The day before, I had visited a Dick's Sporting Goods in Bloomington and broken one of the marathon's most sacred rules – wear nothing new on race day. It is just dumb to show up in the start corral of a marathon wearing a new singlet or shorts or foot gear. I stood there in Corral 1 on South 5th Street outside the HHH Dome and looked down at my brand new pair of 7.7 oz. Saucony Kinvara 2 racers. I had yet to jog even a mile in these baby blue-on-white flats.
What the hell was I thinking? The day before, I lifted them from their pretty perch on the shelf at Dick's and marveled at their airy lightness. I put them back. I executed one full rotation around the store – only to return to ask the clerk for a size 10.
I slipped the new Sauconys on outside in the parking lot. I was determined to convince myself that by wearing them the rest of the afternoon, they would be sufficiently broken in to wear in tomorrow's marathon. I am a fool. By the way, I also purchased a new pair of shorts and socks to wear as well. Why be only half crazy?
I mentioned my new shoes, shorts and socks to two 30-something lads next to me in the start corral. "Andrew, you are one crazy-ass dude," laughed the taller one. "We will be sure to call the ambulance when we see you limping on the side of the road at the 10-mile mark," the other chuckled.
My new shoes felt GREAT standing still. I kept telling myself this was a good omen as the gun sent us off to the strains of Paul Thorn's "Everybody Looks Good At The Starting Line."
"Everybody looks good at the starting line.
Get on your mark, get ready, but you better keep this in mind.
You can hit the ground running like you're shot
from a gun, but going the distance is the hard part son.
Everybody looks good at the starting line."
The TCM begins in Downtown Minneapolis and snakes northwest before turning back to the east, where the finish line waits in front of the steps of the majestic capitol building in St. Paul. Hennepin Avenue cuts through a nostalgic part of the downtown area that reminded me of Christmas as a kid.
It was just past dawn and the marquee lights from the Orpheum Theatre in the theatre district and other signs atop buildings from the 1930s and '40s still burned brightly as our mob of runners flooded the street. Downtown Omaha also has an Orpheum Theatre that my brothers and I walked past on our way to visit the many fake Santas that worked each December at Kresge's, Montgomery Ward's and Kilpatrick's in the 1950's and '60s. I made a mental note to bring Donna to this part of town later for a meal.
My race packet came with a small white square piece of paper that had my age group, 55-59, printed in plain black font. "What do you think this is for?" I asked Donna. Being a good wife of 27 years, she ignored me. I noticed the five-inch square had small holes in the
corners. I determined this was for pinning to the back of your shirt. "Why would anyone want to put a target on their back?" I said out loud. Donna again answered sweetly with silence.
It turns out a LOT of people chose to pin their age group on their backs. I pulled up alongside a hunched-over granny with 60-64 on the back of her singlet at mile three. "You look pretty strong," I said as we jogged along together. "This is just a 20-mile warm-up to a 10K race," she said with more than a touch of determination.
I gulped to myself at her words. I try not to think too much about the distance I need to cover in a marathon while I'm running the marathon. But having granny lay out her game plan to me had me thinking I had a long, long way to go – and all of it while wearing brand new shoes.
My training over the summer had been consistent but the scorching hot Kansas City summer prevented (given me an excuse) from running any long 20-mile training runs. My longest run had been one 15-miler. I was worried I would have some endurance issues beyond the 20-mile marker. For this reason, I decided to go out slow and take in the
scenery – and man was there plenty of scenery!
The TCM claims to be "The most beautiful urban marathon in American." It ain't braggin' when you've got the trees, lakes, neighborhoods and crowds to back it up. The trees in Minneapolis all seem to be on steroids. They look three times the size of our deciduous trees here in KC.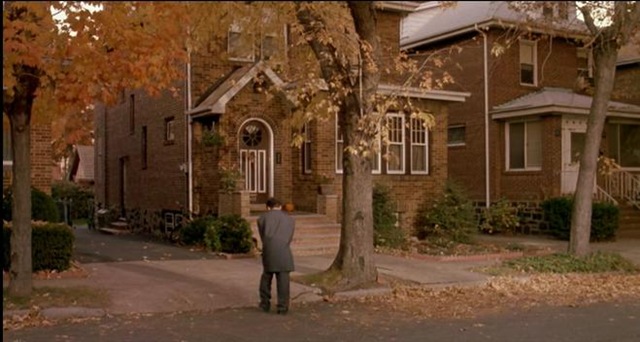 As I ran, I kept thinking of that final scene in the movie Big – where Tom Hanks
shrinks back to his boy size as he walks away from his girlfriend's car and down the gorgeous neighborhood street, in full autumn glory. That street and those trees are what it looked like for much of my run.
The TCM promotes the spectator numbers at 300,000. I have no idea if that number is accurate but I can tell you there were a heck of a lot of people lining the course in every neighborhood, park and lake we jogged past. My favorite spectator sign read; "Worst Parade Ever!"
About the seven-mile mark, I accidently stepped into a crack in the street's asphalt. My left foot felt a jagged concrete edge bite it. I had been constantly monitoring my feet and I had not noticed any blistering or uncomfortable pinching with my new Sauconys. This misstep
brought a sharp pain to my left instep. I tried to put it out of my mind, hoping it was nothing. I never did look down at my shoe until the race was over.
At one time in the race, my imagination convinced me that the sharp asphalt had ripped the side of my shoe open and my foot was bleeding. 26.2 miles plays tricks with your mind. You have to be prepared to deal with those demons.
The people who lined the streets were as nice as the neighborhoods that spawned them. A good friend of mine, who we call Mr. Golf, was born in Bloomington and still lives in the Twin Cities area. "You are going to love the beauty of the course," Golfie told me the day before the marathon. "The people here are so friendly and so nice. The deal is this – it gets
so damn cold here in the winter that it keeps all the riffraff out of here and down south." I can attest to the fact that I did not spot a riff or a raff anywhere along the route.
Just past the halfway point we cruised around the tree-canopied streets bordering Lake Nokomis. "Do you remember how hard it rained when we ran through here a couple of years ago?" mentioned a runner in a group just ahead of me. "It was like someone was dumping buckets of water on us," answered another. "The crowds refused to go inside," added a small woman to my right. "I could not believe how wet everyone was!" I looked around at the perfect autumn weather and breathed a sigh of relief.
Somewhere around the 15-mile mark the pace group for those hoping to break 3:40 caught me. A hearty group of about 25 runners surrounded the lithe pacer who held a three-foot stick topped with five or six small balloons with "3:40" written across them.
I had been coasting to this point – hoping my new shoes wouldn't cause me any problems. Since my training had been somewhat lax, I was expecting to break four hours but not by much. I decided to tuck in with the 3:40 band and see if they could get me to and through the last 10K.
The variety of shapes and sizes of marathoners amazes me. A 20-ish female who I followed for much of the first half of the race looked to be carrying 20 extra pounds on her back, butt and thighs. But here she was, slogging along at a sub four-hour pace. A pear-shaped
man with a 50-54 age-group sign on his back, pranced on piano legs just to the left of the 3:40 pacer. A freakishly-thin woman in her 60s with a wooden-stiff stride, powered past me at least four different times during the race.
I am sure all of these runners see themselves completely differently in their minds' eye. Just as I do. Negative thoughts have no place in your head during a marathon. I am Bill Rodgers in his prime when I'm out on a training run. The mind is a great muscle to flex when faced with the pain of the marathon.
At each water station I would drop back from the pacer by 30 or 40 feet, as I grabbed an energy drink and a cup of water. I made a game out of traversing the crowd of runners in front of me to make my way back within earshot of the pacer and his jokes and stories. He too understood that taking the runners' minds off of the task at hand would help get us through the mounting miles.
I followed the parade through mile 21 and into an open tree-free section of the race. The crowd here swelled to a dozen people deep on both sides. I noticed a pre-teen Down's Syndrome boy sitting on the curb. As I approached, the boy stealthily nudged a rock the size of my fist away from the curb. A smiled creased his lips as he shifted his gaze from side to side, hoping to avoid detection. He was looking to cause some havoc by placing this rock into the path of these passing runners. I remember being his age with the same dark spot for chaos in my heart.
I altered my path to circle wide of the rock. I pointed at the boy and the rock as I passed, in hopes someone would notice and remove it. The boy never looked up and I never looked back.
Some hills come into play after mile 22 and through the 23rd mile. None of these are killer moguls but any elevation is greeted with groans from the marathoner who has passed the 20-mile mark. I handled the hills without much trouble. I conducted a mental check of
my feet, quads and glutes. I determined I felt pretty good – far better than I expected. Even my new shoes felt like old friends.
I decided I felt good enough to leave my 3:40 pace group and "race" the final two miles. After running 24 miles, you have very little race left in your legs. But you can trick your mind into thinking you do. I churned my arms and powered past the pace leader. I set my
eyes on every age-group sign on the back of every runner I could see. I went
after each one like they were prey.
St. Paul's Cathedral sits atop the final downhill that leads to the finish. It is one of the most spectacular buildings I have ever witnessed. It is a true marvel to the talents of man and
architecture. I knew once it came into view I was less than a half mile from the finish. As the stone cathedral came into view on my left, I dropped my arms and ran even harder.
In the second half of the race, I passed 622 runners. Your computer chip provides
this info on your online results page. I picked off 137 of those in the
final two miles. Only four runners got past me that final two miles. I finished in 3:37, only four minutes slower than what I ran at Boston. I credit all those targets on the back of those proud age-group runners for getting me through those last two miles.
I walked past the yogurt stand and bowed my head to the lady draping finishing medals on the runners. "Congratulations, Andrew," she smiled.
I smiled right back and then checked my new shoes for blowouts.
Greg Hall

Twitter / greghall24