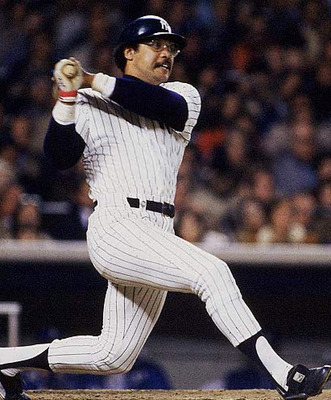 "I don't want any boos when people see me [in Kansas City]. I want pats on the back. And I'll be looking for some ribs, brotha."
Reggie Jackson, who will appear here in Kansas City on Sunday night at the Kauffman Performing Arts Center for KC's Salute to Baseball, 810 AM
GH: Todd Leabo and Danny Clinkscale conducted the interview with Jackson and it was one of my favorite radio bits of the week. Jackson came off as friendly, knowledgeable, confident and yet respectful. Read on.
"If everybody was like Steve Busby, I wouldn't have gotten into the Hall of Fame. I couldn't hit Steve Busby at all."
Reggie Jackson, on facing the Royals' former ace, 810 AM
GH: Here is my Reggie story. I had talked my way into the photographer's field-level booth on the third-base side of a Yankees/Royals game in the mid-80s. I had no credentials [or any reason to have credentials] but somehow I lasted the entire game without being discovered and getting tossed out by security. As I looked to exit the booth, I found myself alone in the Yankee dugout with Reggie. He had just had the game-winning hit [I think it was a homer] and he was gathering his gear. We walked together down the narrow corridor that led from the dugout to the visitor's locker room. We talked like two regular guys for the short stroll. He was humble, reserved and friendly. Not unlike the guy I listened to Leabo and Clinkscale interview on Tuesday.
"I'll tell you what I'm going to do my friend. When people say you were a showboat or a hot dog, I'm going to say, 'No, I was a vanguard!' I like that my friend! I like that."
Reggie Jackson, after Clinkscale called Jackson a vanguard of the now prevalent stylish home-run trot, 810 AM
GH: Jackson was relaxed and seemed to really enjoy his conversation with Leabo and Clink. Leabo told his listeners after the interview that they weren't sure what to expect. Jackson had told them prior to the interview that he didn't want to talk to them all day – but once they got him on air, he just went on and on. That is a sign that Leabo and Clink did their jobs well.
"I'll be around there for the Home-Run Derby. I think I'm sitting in Buck O'Neil's seat, which is a privilege."
Reggie Jackson, 810 AM
GH: My how time heals old wounds. Reggie was one of Kansas City's most despised foes during his time with the A's and Yankees, but now we honor him with a perch in Buck's hallowed seat. Reggie laughed when he told Leabo and Clink that even he and George Brett are now friends. "I always tell George he named his son Jackson after me," said Reggie.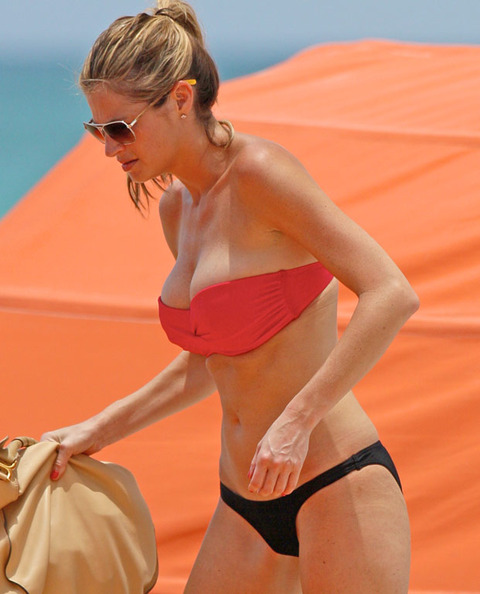 "We are happy to announce that @ErinAndrews will make her @FOXSports debut at the @MLBONFOX 83rd MLB All-Star Game Tues. July 10 in KC. #ASG."
Dan Bell, @danpbell, spokesman for Fox Sports, after Andrews' much publicized departure from ESPN to Fox, Twitter
GH: Andrews will bring her flowing blonde locks and swimsuit-ready bod to Kansas City to begin her new role as a Fox Sports personality. Andrews has gone from sexy sideline reporter to the studio host of Fox's college football show. This looks like the Peter Principle in action to me – on a couple of levels.
"While we all know she is easy on the eyes, Andrews has always conducted herself professionally and asked relevant questions. While most sideline reports are generally inane, Andrews actually provides insight to a broadcast."
Michael Hiestand, media writer, USA Today
GH: Hiestand must be listening to Andrews' sideline work more with his eyes than his ears. I have not found Andrews' to be any less inane than her sideline counterparts – and she might have one of the most annoyingly flat voices in all of sports broadcasting. She is very lucky it is attached to an Olympic-sized set of lungs.
"My hope for the All-Star game is that every time Joe Buck deadpans an otherwise exciting moment or Tim McCarver says something a bit too obvious, they'll just cut to Andrews with an interesting tidbit from the game or a quick interview with a player. She could be a saving grace for the broadcast, folks. Just you wait and see."
Michael Hiestand, media writer, USA Today
GH: Especially if she wears an age-inappropriate outfit.
"I very much feel like I'm a massive dork, you know that. I just kind of laugh at all of it. There are times when you wake up in the morning and your friends are texting you that your picture was on TMZ or you're walking through the airport and you're [saying] 'Why, I don't get it? Lamar Odom was just on my flight. Why is this is such a big deal?' "
Erin Andrews, when asked by Dan Patrick if she had become too famous for ESPN, The Dan Patrick Show
GH: If Erin Andrews doesn't understand why she is famous, that might be our first hint she might not be a great reporter. I don't have a problem with TV using pretty women to attract an audience. But I do chuckle when everyone involved pretends it has little to do with T&A.
"Obviously, I'll still have a good time [attending the Home-Run Derby contest], but it's significantly less significant."
Nate Bukaty, on Billy Butler being left out of the Home-Run Derby contest when the Yankees' Robinson Cano reneged on his earlier statement to pick a hometown Royal, 810 AM
GH: I would have preferred that Cano kept his word and picked a Royals' player. Since he did not, I have no problem with anyone who wants to boo him or chant "Billy Butler" when he is in the box. For the price of those tickets, boo, chant or cheer to your throats content.
"I will absolutely be embarrassed for every Royals' fan who's ever lived if the Fox broadcasters on Tuesday night's broadcast aren't forced to explain why the fans are booing [Robinson Cano]. I will be so embarrassed for Royals' fans if Cano is not booed when he comes to the plate. If not, I'll be embarrassed for Royals' fans forever."
Kevin Kietzman, making the point that this is just another example of New York overlooking little Kansas City, 810 AM
GH: KK takes this New York/LA/STL stuff to the extreme. I get the feeling when Kietzman boos at a sporting event; he really, really means it.
"Don't be surprised if you see Wil Myers play all nine innings. That's the advantage of being the manager in Kansas City"
George Brett, who will be the manager for the AL side of the Futures Game, 610 AM
GH: Brett said he is looking forward to seeing Myers bat three or four times at The K in the Futures Game and that he knows Royals' fans feel the same. Since the Royals designate Mitch Maier for assignment on Wednesday, they now have two openings on their 40-man roster. Some speculate that Wil Myers will fill one of those spots and never make it back to Omaha. If so, the Royals will still need to thin their outfield roster. Bringing Myers up just to sit like Maier did makes no sense.
"Why does Dayton Moore have to have Wil Myers on this ball club this year? I don't have a problem with him staying in the minors this year."
Josh Vernier, 610 AM
GH: I am beginning to question if Vernier understands the art of marketing. Is he trying to alienate himself from his new KC audience? Read on.
"I'd bring [Wil Myers] up now and test his mettle while the season is still in contention."
Jay Binkley, 610 AM
GH: Or maybe these two toss out topics during their prep meetings and Binkley is just more savvy as to which side he is going to debate.
"There's a chance if the Royals would have kept Melky Cabrera and put him in the starting rotation, he'd have better numbers than Jonathan Sanchez."
Steven St. John, 810 AM
"I do think that Rex Hudler did speak for the fans on Sunday and when he was critical – not to that degree that he was on Monday, but he spoke for the fans, as did Joel Goldberg speak for the fans, that he, you know that they were, were saying what fans were thinking."
Soren Petro, on Hudler's critical comments during the Twins' series earlier this week, 810 AM
GH: Petro has a little Neil Smith in him at times. Petronics?
and Twitter / greghall24