"We've seen more passion for the Raiders this week than the last four years combined. I think everybody's come around to this is a big game, let's go kick ass!"
Bob Fescoe, 610 AM
"I have this ongoing debate on if the Chiefs could only win one game, what game would it be – the Raiders or the Broncos? I usually say the Broncos."
Steven St. John, 810 AM
GH: Despite the Raiders winning six straight years at Arrowhead – that is just a ridiculous stat and one that has to piss off Marty Schottenheimer whose Chiefs owned the Raiders – the Broncos probably get the Chiefs faithful more pumped up than the Silver & Black. If you're under 40 you probably hate Denver more than Oakland. If you're in your 40s you likely waffle between the two as your least favorite foe. If you're over 50 you understand the Raiders rivalry better than most. Bottom line? We like to beat them both.
"Chiefs fans, don't be frustrated (that you can't gain any distance on the undefeated Broncos). If I would have told Chiefs fans this is where they'd be (at 5-0), they would have done cartwheels and crawled 10 miles over broken glass."
Sean Salisbury, 810 AM
GH: Has Salisbury seen the crowd at Arrowhead? I'm not seeing a lot of folks out there who could pull off a cartwheel.
"I'll say it again: a civic inferiority complex means people in Kansas City spend WAY too much time worrying about what people think of them nationally."
Sam Mellinger, to a Twitter follower who was concerned about the Chiefs' coverage by the national media, Kansascity.com
GH: Kansas City is a great town that spills across two great states. Most of the nation ignores us except for the Chiefs, Royals and our local college teams. We would not be known as a BBQ mecca except that the Kansas City A's played at Municipal Stadium, just across Brooklyn Street from the aroma that wafted from Arthur Bryant's original location. Our sports teams are kind of why we matter to anybody on the coast.
"I know it's going to be freakin' loud. It's loud every time I'm out there."
Derrick Johnson, on the expected noise level for the Raiders game at Arrowhead Sunday, 610 AM
"I haven't had a chance to re-watch the Titans game yet, but I'll say this: there are times it looks like Bowe is running routes with less than a rigorous effort. For a lot of reasons — including that the Chiefs are 5-0 — I'm not too concerned about Bowe but I can't really type this sentence without including the word 'yet.'"
Sam Mellinger, Kansascity.com
GH: Bowe continues to be the negative undercurrent to the Chiefs 5-0 start. The media questions his effort and talk radio wonders why the Chiefs are paying top-five receiver money to a guy who can't start on our fantasy teams. Is it the winning that is keeping Bowe quiet?
"Have we really solved anything with replay? We've dragged the games out longer and everybody still complains. And now instead of the refs being morons the replay officials are morons. And the television screens aren't big enough. There's still just a bunch of bitching and moaning and nobody talking about football, isn't it? It was supposed to be the magic cure-all but everybody still complains about the refs."
Soren Petro, 810 AM
GH: I love that football has adopted instant replay. LOVE it! I am still amazed that there are those like Petro who continue to complain that people complain about instant replay. Fans will ALWAYS complain when their team loses. But getting most of the calls correct now makes the way we would just accept mistakes seem ridiculous. I can't wait until those MLB umpires have to start really working around the second-base bag next season.
"Three things:
1. Sheahon (Zenger) has a lot of strengths.
2. The most important thing an AD does is hire a football coach.
3. Sheahon hired what looks like an expensive and enormous disappointment.
Just to review, Charlie Weis' first hand-picked quarterback completed 47.7 percent of his passes. His second hand-picked quarterback has thrown more interceptions than touchdowns. He's still looking for his first conference win. He's making $2.5 million per season."
Sam Mellinger, in his Twitter Tuesday column on his Don't Kill The Mellinger website, Kansascity.com
GH: If you are not reading Mellinger's Twitter Tuesday online column and the other stuff he posts on his Don't Kill The Mellinger site, you might be missing his best work. I think there is a compliment buried in there somewhere.
"A year ago, amid a siege of factors that left (Gary Pinkel) somewhere between distressed and distracted, Pinkel probably would have taken a defensive posture. And maybe even taken a bash at the question. But not Gary Pinkel 3.0, the man close observers say is immersed in the second reinvention of himself as MU coach, a man who has gone from discombobulated and distant a year ago to a man now exuding fresh intensity and positive energy."
Vahe Gregorian, columnist, Kansascity.com
GH: Maybe Pinkel just doesn't handle losing very well? He seems to "reinvent" himself whenever his coaching seat heats up and the losses start to pile up. I'm not so sure Pinkel has changed a twit. He's just a more amicable guy when he's winning.
"I've never emailed you before, but have been a reader of OTC and have been a follower of yours on twitter for years. Anyway, I caught the running bug about three years ago. I got very out of shape during college and most of my 20s. I was 255 at my biggest and was 240 in January 2010 when I started getting my ass in shape and eventually started running. I never thought I'd run a 5k until I signed up and did it, never thought I'd run a half marathon until I did that in October 2010, and have now finished four of them, and never thought I'd run a marathon until I toe the line in Chicago on Sunday. I've read your race stories and have thoroughly enjoyed all of them and they have kept pushing me as I kept running. I never would have guessed that running would be so fun and I never would have guessed that reading about great running experiences would be so fun. I have your Chicago story printed off and ready to be re-read when I wake up Sunday morning."
Jason Gavin, OTC reader email
GH: These emails from readers who have decided to get off the coach and take up running to get into shape are some of my favorites. Chicago is definitely one of my all-time favorite marathons and a big part of me Sunday morning is going to miss rolling through those friendly ChiTown neighborhoods with Jason and the other 40K entrants. The Kansas City Marathon is a week from Sunday and I will be at the start line with a number of other somewhat normal folks. I would love to have you and you and you and you all there beside me next year.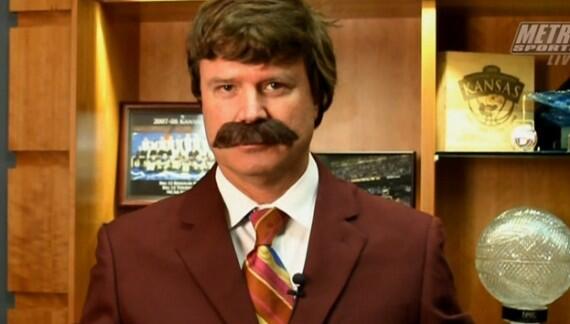 "Blow the whistle, Billy! We're ready!"
Max Falkenstein, in one of two KU basketball videos that will have all but the most ardent Jayhawk haters howling, cbssports.com
GH: Click here to watch Bill Self as Bill "Anchorman" Burgundy and another video of Self addressing his young team in another humorous skit. I love how Self enjoys his job. He is the anti-Nick Saban. I even heard Bill Snyder having fun with a caller on his call-in show this week when he told him he was going to "blame all of this" on him for not calling in the week before. Life is just too short to not enjoy it.
and Twitter / @greghall24