"Despite their best efforts, have the Royals managed to become irrelevant yet again after the All-Star break?"
Soren Petro, 810 AM
GH: The Royals are 43-49 and 8 games behind the Tigers and another 6.5 behind the Indians. It is July 18th. Is it over? Not mathematically. Is it over Royals-atically? Oh, yeah. As Captain Sum Ting Wong might say – Bang Ding Ow.
"We're close to being .500. We have a chance to be buyers rather than sellers for the first time in a long time. … I think that's the decision you need to make of whether or not you lock him up rather than get rid of him."
Jaime Bluma, a little one week ago when asked if the Royals should consider trading Greg Holland while he is at the height of his value, 810 AM
"I think we'll sell. I think we'll end up trading Santana."
Jaime Bluma, a week later after the Royals limped into the All-Star break broken, 810 AM
"I think they need to be sellers."
Soren Petro, 810 AM
GH: The Royals approach the mid-summer trade deadline and post-All-Star break as sellers so often it could become their new nickname. The coffee is for buyers. Let the Royals drink lemonade.
"You don't sit here for 180 games and watch Mike Moustakas playing like this without finding somebody else to play third base. But these Royals?!! Oh no, we don't admit mistakes! 'I've never been wrong,' Ned said. I can't wait to see Moose line up and play the Tigers Friday night. This is what's wrong with the Royals. Rex Hudler is the same thing! 'We made a decision, he's our guy. This guy was on TV in the second biggest market for 11 years. There's our guy. He's a character now. We've got some animation on TV. He's our guy!'
No! He's not your guy! He wasn't your guy last year and it's not any better this year. He's not going to work out and everybody knows it. The joke is on the Royals! Because they can see it but they don't do anything about it!"
Kevin Kietzman, 810 AM
GH: The Royals front office might have even more patience than their beleaguered fan base. But is it patience or ignorance – by both the front office and fans? Here is the sobering fact that the Royals will again be faced with in just a few days – the Chiefs open camp. And with that, the summer turns to fall in Kansas City.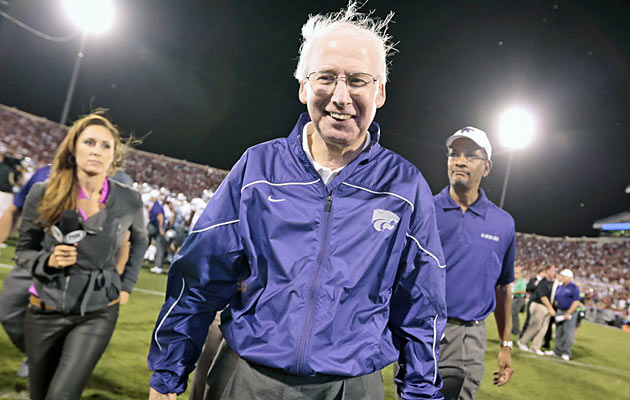 "K-State is picked the lowest in the preseason league poll of any Big 12 team coming off a season in which it hoisted the Big 12 trophy."
D. Scott Fritchen, @DScottFritchen, after K-State was picked to finish sixth, Twitter
GH: I often chide the KSU fans for their overt paranoia but it sure is well earned. Is there a college football team, coach and program that has enjoyed as much success as the Wildcats yet suffered the annual lack of respect from those who know them best? Maybe the Cats are the sixth best team in the Big 12 this year but I sure as heck aren't picking them to not be in the hunt for the Big 12 title. Bill Snyder's still alive, right? Top three till he's not.
"I don't know anything, but I'd bet a lot that #KState will outperform its preseason Big 12 pick."
Sam Mellinger, @mellinger, Twitter
GH: Not sure which statement is less bold there, Sam. And no, Kent Babb did not make me write that…
"Alabama placed 16 players — including 2 that have yet to start a game — on the preseason All-SEC teams."
Stewart Mandel, @slmandel, Twitter
GH: The SEC picks three-deep on the All-SEC preseason team. Mizzou didn't fair all that well. Read on.
"CB E.J. Gaines is a third-teamer, only Missouri player to crack one of the teams. Tigers picked to finish 6th of seven teams in the East."
David Morrison, @DavidCMorrison, MU beat writer for Columbia Tribune, Twitter
GH: Mizzou's home schedule is a ticket-broker's dream – Florida, South Carolina, Tennessee and A&M come calling from mid-October on. If Tiger fans don't fill up Faurot, those rapid SEC fans will.
"243 media voted for All-SEC team: 20 did not vote for Jadeveon Clowney on first team. Please identify yourself."
Brett McMurphy, @McMurphyESPN, Twitter
GH: Clowney is a heckuva athlete and deserved to be a unanimous preseason All-SEC pick. But…has a player ever garnered more respect over one hit? It was a great helmet-bending hit but still – it was one hit. I am just not sure he's Lawrence Taylor yet. Maybe he is but I'd like to see him play his junior season first.
"It will be interesting to see what happens to the Manziel phenomenon if A&M loses to Bama. America has a short attention span."
Dan Wolken, @DanWolken, Twitter
GH: There sure are a lot of folks eager for Manziel to dry up and blow away. I thought he was the most exciting player in college football last year. I kind of expect him to be again this season. Bama better come to College Station with their helmets buckled or these Aggies just might gig 'em again.
"(Manziel) is giving the perception that he's not being the responsible person that he should be as the Heisman Trophy winner."
Jayice Pearson, 610 AM
GH: You mean like OJ? Johnny Rodgers robbed a gas station at gunpoint as an underclassman. Read on.
"I grew up in the era or morals. You couldn't do all these things."
Jayice Pearson, while discussing Johnny Manziel and his off-the-field issues with Carrington Harrison and Danny Parkins, 610 AM
GH: Pearson's younger cohosts took exception to his above comments. Read on.
"I just want to know when this era of morals was?"
Carrington Harrison, responding to Pearson, 610 AM
"Doc Ellis threw a no hitter on LSD."
Danny Parkins, 610 AM
"You guys are just showing your young immature selves!"
Jayice Pearson, 610 AM
GH: It sounded to me like Parkins and Harrison were making sense.
"Tom Watson finished the first round (of the British Open) +4. Shot a 75. 3 birdies. 8 pars. 7 bogeys."
Danial Logston, @daniallogston, WDAF TV video editor, Twitter
GH: Watson is 64 and still shoots within four strokes of par in The Open. I know we all have our own lives to lead but if I had to trade places with a guy, Watson's life wouldn't be a bad one to have led.
*******
I will be heading to Omaha Friday to play in the 38th annual Red Man two-man scramble golf tourney. A dozen or so of us started this annual tourney when we were just out of college and living in the same swinging-singles apartment complex in Omaha. We all hailed from different parts of the Midwest but quickly bonded through pick-up basketball games, softball and late-night disco hopping.
The Red Man started as a shirtless, talentless, drunken golf outing and has progressed into a field of 144 "golfers." We have a Championship Flight, a First Flight, a Second Flight and then four Turd Flights. Yes, four Turds to house all of the awful golf that most of the field exhibits. We named the four Turd Flights in descending order – Baby Ruth, Floaters, Sinkers and Pluggers. I will be lining up in the Pluggers with my brother Geoff – trying to break 80. Enjoy your weekend.
and Twitter / @greghall24