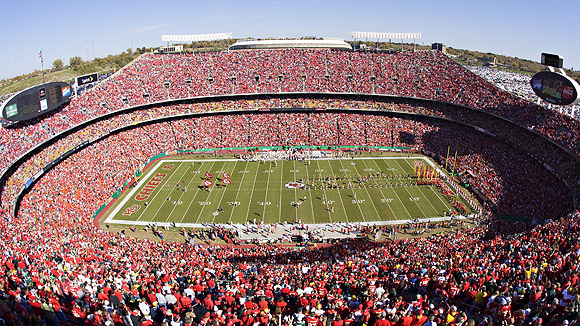 "I don't predict scores…but we are going to give the Cowboys all they can handle."
Clark Hunt, on the Chiefs' home opener Sunday at high noon at Arrowhead, 810 AM
GH: Translation: Let's. Get. It. ON!
"This Sunday is a launching pad. Let me give everybody fair warning. Everybody needs to get here early. The Chiefs are expecting the largest crowd in franchise history. It's gonna be sold out. I'm just giving fair warning. It's been a long time since we've had a game like this."
Mitch Holthus, 810 AM
"I can't wait for (the Dallas Cowboys) to come in here and see Arrowhead rock and see how much trouble that causes that offense."
Alex Smith, 810 AM
GH: How many of those in what the Chiefs are saying will be the biggest Arrowhead crowd in the stadium's history will be wearing Cowboys' colors? A lot. The Cowboys were once America's team but now they are Mexico's team as well. That place will be loud no matter which team is scoring.
"It's ridiculous when half the stadium is empty after halftime. Everybody needs to be in their seat for the first five plays of the second half. You wouldn't miss the first five plays of the game – so don't miss the first five plays of the second half."
Gary Lezak, on the Chiefs fan who are tardy returning to their seats after halftime, 810 AM
GH: Lezak says there is a 30% chance of rain for Sunday's game – but he is hoping it remains dry. "I don't like it when it's raining at the game and people are yelling at me while I'm walking around," said Lezak.
"Tony Romo's sore. He'll be that way Sunday when he plays the Chiefs. No one other than Romo and some select Cowboys know exactly how bad he's hurt. But he's not hurt bad enough not to play Sunday at Kansas City."
Adam Schefter, ESPN
GH: I heard Bob Fescoe Friday morning
urging the Chiefs to go after Romo's ribs and get him out of the game. I understand that talk goes on in a locker room but it just seems to opposite as to why I love sports. Trying to intentionally reinjure an opponent to improve my odds of winning is about as backward a philosophy as I can imagine when it comes to being a proud victor.
"The more they take the concussion awareness out of the game, running backs lowering their head or defensive backs lowering their head – it's going to get to be a sensitive game. You're just going to see a seven-on-seven passing game."
Bill Maas, in a conversation with Lazlo on 96.5 The Buzz
"There's a lot of similarities (in the Dallas defense) to the Jacksonville defense so there should be some good carryover there."
Alex Smith, 810 AM
GH: I would prefer more similarities to the Jags' offense. They are the new Chiefs when it comes to staying away from starting Jags on your FF team. Even MJD looks like a bench sitter this season – except this week. The Jags take on the Raiders in what could be dubbed The Clown Bowl – for a couple of reasons. One is that both teams look to be clowned by most of the league and the other reason is this game could be a preview for who gets to draft Jadeveon Clowney, everyone's pick as the NFL's next top draft pick.
"You don't ever want to say anything's perfect but if you could draw up a script (for the game against Jacksonville), this is pretty much what you'd want it to be, right?"
Kevin Kietzman, interviewing Alex Smith early this week, 810 AM
GH: I found KK's above comment to the Chiefs' quarterback interesting when contrasted with what he had to say the day before – when Smith wasn't sitting next to him…
"What Alex Smith and the Chiefs did Sunday with their passing game is not good enough. It's not even close to being good enough! Other teams are going to score more points and be much better opponents than the Jacksonville Jaguars. We did not see enough out of Alex Smith and the passing offense to lead me to believe that they can go out and win games."
Kevin Kietzman, 810 AM
GH: What Kietzman does with his one-on-one interviews isn't close to being good enough if he is hiding his real opinions to the same extent he did with Alex Smith.
"To me the (Chiefs') wide-receiver corps is an algebraic equation with just different variables."
Mitch Holthus, 810 AM
GH: To me, Mitch's oddball references are an algebraic equation – more like Calculus!
"You better believe it, brother! I will hurt for the next six days but I can still do a backflip."
Eddie Kennison, former Chiefs' wide-receiver in a playful conversation with Danny Parkins and Carrington Harrison, after Kennison said he did a backflip last Sunday watching the Chiefs first scoring drive, 610 AM
GH: Kennison was on 610 to discuss the Chiefs and his QuickStart Foundation to aid those suffering from Lupus, of which his wife is one. Kennison retold his 2003 story about how he was released by the Broncos and then quickly picked up by Dick Vermeil and the Chiefs – and he said he hasn't left Kansas City since. Kennison says all is now good between him and Mike Shanahan, the former Broncos' coach who released Kennison. I have a feeling the rest of KC is not quite so fond of The Rat.
"I like Alabama by two touchdowns."
Phil Steele, as the Tide rolls into College Station Saturday afternoon to take on Johnny Football and the Aggies at storied Kyle Field, ESPN Radio
"The more I think about it the more I think Alabama is going to boat race (Texas A&M)."
Dennis Dodd, college writer for cbssports.com, 810 AM
GH: This is the college football game that all SEC fans and most of the country have been waiting to see since Manziel and his Aggies whipped the Tide in Tuscaloosa last November. Heck, even non-football fans will be tuning in to see if Johnny goes outhouse on Saban's saints. I am rooting for the devil in this one. I like the Aggies to roll 38-21.
"I realize that a lot of (Missouri) fans would like to see (DGB) average 27 catches a game… As they get further into the season, I think you'll see more creative ways to get him the football."
Gabe DeArmond, on Mizzou's highly-touted sophomore wide receiver, 810 AM
GH: 810's Border Patrol chose to interview their Missouri correspondent Friday during their CFB blitz despite MU having a bye week. Fescoe on 610 skipped the Tigers this week. Score one for WHB, even though 610's daddy, Entercom Kansas City, owns the rights to Mizzou's radio broadcasts.
"I've never seen it work but I think they have a chance to make it work."
Stan Weber, on Kansas State attempting to go with a two-quarterback system this season by rotating the play of Daniel Sams and Jake Waters, 810 AM
GH: I think Bill Snyder should name Waters as the starter and then place Sams in the lineup as a slot receiver. He could incorporate Sams into the running game more seamlessly in a number of schemes rather than alerting everyone in the stadium by bringing Sams in off the bench. But K-State's offense does not look to be the problem this season. That purple defense needs to improve or there are a number of offenses in the Big 12 that might make this season a long one.
"This is a GIANT game for K-State because they need to start working on their depth and this is the only game (where they can accomplish this) all season long."
Stan Weber, 810 AM
GH: GIANT? This reminds me of Nebraska during the Osborne years trying to hype their next rollover win. Depth doesn't get better playing beaten up overmatched opponents. About all they get is quarters served toward their varsity letter and a photo op to show they actually got on the field during their career.
"I believe Rice returns more starters than any team in the nation this year."
Jon Kirby, on the Jayhawks opponent this Saturday in Houston, 810 AM
GH: Wikipedia claims that Rice is the second smallest school competing in DI football – behind Tulsa. Rice Stadium was the site for Super Bowl VIII in 1974 when the Dolphins beat the Vikings 24-7 – back when almost every Super Bowl was a letdown. Kirby is boldly picking KU to beat Rice on the road by the tune of 37-24. Charlie Rice would love to see that!
"Right now I don't think there is anything to it…but we sure got a lot of attention on our Twitter account on it."
Jon Kirby, of JayhawkSlant.com, on his tweets reporting that Bubba Starling was spotted on Kansas' sideline last Saturday night watching the Jayhawks beat South Dakota, 810 AM
GH: Bubba still has a long way to go to make it to The K. He finished up his season in A Ball in Lexington hitting .241 with a paltry slug of .398. I don't think he's headed back to college but he needs to show he belongs in at least A ball starting next season.
"To me he's the best solution they've had (at second base) in the last five years."
Frank White, Royals HOF second baseman, on Emilio Bonifacio taking over at second since he arrived in a trade with the Blue Jays on August 14th, 810 AM
GH: Okay, that is not a high bar…but Bonifacio looks really, really good at second right now. Kudos to Dayton Moore for finding this turd and polishing it.
"He's fit in perfectly with our program, our team. He brings life, he brings energy, he loves to play the game. He's been very good anywhere we've put him defensively. He runs to the bases like a phenom, swings the bat well from both sides."
Ned Yost, on Emilio Bonifacio, MLB.com
GH: Yeah, I think this guy should play in front of Getz.
"I'll be watching (on TV) though, definitely."
Frank White, after he said he would not be at The K if the Royals would happen to play a postseason game here in Kansas City, 810 AM
GH: Kietzman tried to get White to commit but Frank would have none of it. Life is short. The Royals and White need to end this feud whether the Royals make the postseason or not.
"I think this is extremely meaningful for this young Royals team whether they play in the postseason or not."
Jason Stark, in an interview with Soren Petro, on the benefits of the Royals experiencing playing meaningful games in September as they chase a wild-card spot, 810 AM
GH: The odds are still very long that the Royals leap over the mess of teams fighting for a wild-card spot in the AL. I am not of the belief that this means all that much unless the Royals make it to the postseason. I guess we will find out in 2014 and 2015 just how "extremely meaningful" playing horseshoes was to the young Royals.
"We have become a very, very spoiled lot. I'm not even saying that's a bad thing. I'm just saying we expect everything all the time."
Kevin Kietzman, after a caller mentioned how upset he was that he was unable to watch the Royals games on television this past weekend, 810 AM
GH: Fox Sports Kansas City announced today that they will now broadcast all of the Royals remaining games. Call me spoiled if you want but we damn well deserve this.
and Twitter / @greghall24
_____
"Join us on Sunday, September 22, 2013 at 8:00 am for a scenic run around the University of Kansas Edward's Campus in Overland Park, KS. Starting at the Campus at 127th and Quivira Road, 5K participants run out to 127th street, then down Quivira Road, then join the Indian Creek Running Trail and return to the Edwards Campus via 125th street (map is available here – http://www.runningmap.com/?id=495339). The 5k Run will be chip timed. (Course subject to change) In case you missed Nate Bukaty's podcast about the event, you can listen to it here: http://www.stationcaster.com/player_skinned.php?s=26&c=374&f=1653361. BIGGSteps is the first major fundraiser for the Sean D. Biggs Memorial Foundation. To learn more about Sean and our foundation's mission, please click on Foundation above."
BIGGSteps.org
GH: Nate Bukaty has been promoting this charity 5K on The Border Patrol and it looks like a worthy cause for those looking to battle cancer. I'd sure like to see the Big C get crushed in my lifetime. This race is in memory of one of Nate's friends who died last year from the insidious disease. Nate's friend was quite the distance runner, having completed six Boston Marathons. I might have to add a Sean D. Biggs memorial to my bib or singlet at Boston next April.