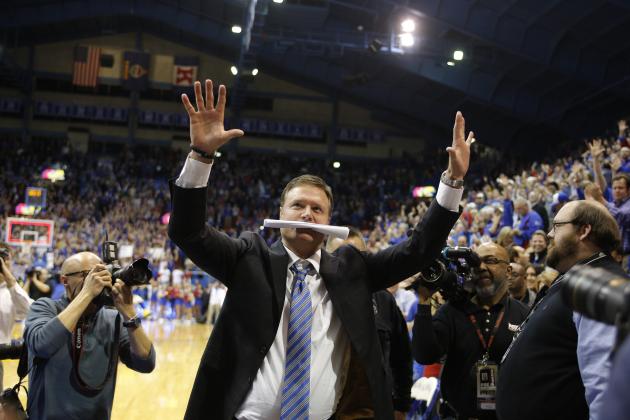 "One of the greatest streaks in sports."
Seth Davis, @SethDavisHoops, after Kansas defeated Oklahoma Monday night at Allen Fieldhouse to secure the Jayhawks tenth consecutive Big 12 conference title under Bill Self's tutelage, Twitter
GH: When Coach Roy left Kansas I thought he took all that Big 12 dominance with him. Sure, Kansas would still be good under Bill Self but nowhere near Coach Roy good. I was kind of right. Kansas is BETTER under Bill Self. So much better that I am not so sure this streak is going to end this decade.
"2 well Coached teams tonight in Lawrence. The PHOG and Bill Self's team a picture of consistency w/10 straight BIG12 Titles. Tremendous run!"
Tim Brando, @TimBrando, Twitter
"Champ10ns is actually pretty clever."
Carrington Harrison, @cdotharrison, commenting on a sign held by a fan insider Allen Fieldhouse, Twitter
GH: I half expect to see somebody wearing a "Champ10ns" tee-shirt when I head out for lunch today.

"Students start Rock Chalk chant with :24 left and KU up six. Bill Self says 'Not Yet!' Chant stops."
Jim Marchiony, @JMarchiony, KU associate athletic director, Twitter
GH: I am not surprised at all that Bill Self has the power of Mordor's Sauron over the KU student section but it does tickle me a bit that he pays attention to when the fabled "Rock Chalk" chant begins during a game. Sitting at home last night I was curious as to why I never heard it. Now I know.
"Self flashes a 10 on the way out to a huge roar."
Josh Klingler, @joshklingler, Twitter
GH: How do you not like Bill Self? His toupee was a little askew last night but the guy has done more for Kansas basketball than anyone who has ever stepped foot on KU's picturesque campus. Naismith? He invented the game but he was a lousy coach. Danny Manning? He's number two on my list. Roy Williams sits third. It's a good debate.
"Roy Williams won an amazing 9 Big Eight/12 titles in 15 KU seasons. Bill Self has won 10 in 11 years."
Blair Kerkhoff, @BlairKerkhoff, Twitter
"Bill Self once again has more Big 12 titles (10) than home losses (9)."
Andrew Curtis, @AndrewCurtis24, KU journalism student, Twitter
GH: That stat is almost indigestible. It's like trying to eat concrete through your nose. No one does that.
"How remarkable is Kansas' 10 straight Big 12 titles? No other college hoops program has a current league title streak longer than 3."
Jeff Eisenberg (@JeffEisenberg, CBB writer for YahooSports.com, Twitter
"10-straight for the Beakers? Meh."
Brian Hank Haenchen, @Brian_Haenchen, MU fan and aspiring sports media person, Twitter
GH: I have a feeling Hank speaks for many Mizzou fans out there.
"Wichita State has had a heck of a season. But you can't make a case for Shockers to be a one seed over Kansas, Arizona, Syracuse or Florida."
Jon Rothstein, @JonRothstein, Twitter
GH: Sure, you can make a case for it but you can just as easily build a case against it. The Shockers will get their due in the seedings. It will be up to them to repeat their run to the Final Four. I think they are very capable of doing just that.
"I call it my 'net worth' question. If you had to put your net worth on one team to win it all, which would u choose? Could do worse than KU."
Seth Davis, @SethDavisHoops, Twitter
GH: Florida seems to be everyone's pick as the best team in college hoops. They have a win over Kansas and have destroyed just about everybody in the SEC. My top picks at for the Final Four at this time are Florida, Wichita State, Kansas and San Diego State.
"This is one of the most fascinating KU teams I can remember. Such an interesting mix."
Bob Lutz, columnist for Wichita Eagle, @boblutz
GH: There seems to be a new star or at least a different star each week for Kansas. Naadir Tharpe has ridden the roller coaster like maybe no other this season in displaying his best and worst sides. Last night against Oklahoma he looked like an All-Conference point guard down the stretch. He is one of the reasons KU is not going to relinquish this Big 12 streak any time soon.
"Naadir Tharpe has scored eight of Kansas' final 13 points. And he's the biggest 'concern' for the Jayhawks."
Jeff Borzello, @jeffborzello, CBB writer for CBSsports.com, Twitter
"Certainly the (Big 12 is the) deepest conference in the country. No question about it."
Brent Musburger, ESPN
GH: The Big Ten in on line three, Brent. Oh, and they're wrong.
"I'm not sure if I'd have the guts to pass on Andrew Wiggins at No. 1. So much talent. So much potential. Plays so effortlessly."
Chris Mannix, @ChrisMannixSI, Sports Illustrated writer, Twitter
GH: Wiggins just turned 19. When will he be at the age of 25? Wherever it is I am betting he will be a whole lot of fun to watch – and it will cost plenty to do so live.
and Twitter @greghall24