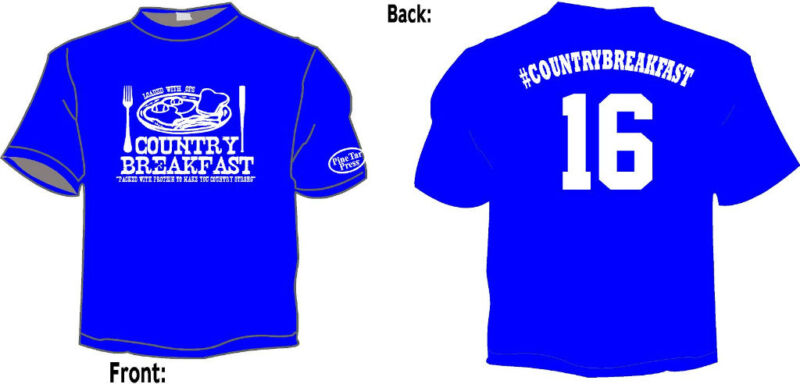 "It's fun and it's cool. I saw it on Twitter and my wife (Katie) told me about it. Hey, if the fans want me to be called that I'm OK with it. If they like it, I like it. It's pretty catchy and
pretty clever."
Billy Butler, on his Country Breakfast nickname, KansasCity.com
GH: Ahhh, the power of Twitter. What started as a late-night tweet-fest between hardcore insomniac Royals fans has slowly built momentum into an ESPN Sports Center highlight. The fact that Butler himself has come out and publicly embraced his new nickname has added jet fuel to its popularity. Read on.
"I had a request last night that my walk-up song be some sizzling bacon. I'm going to do the best I can for them. We'll try to get some grease poppin'."
Billy Butler, on his Country Breakfast nickname, KansasCity.com
GH: The sound of bacon frying in a pan could be heard Thursday night at The K under Butler's walk-up music. How fun is that!
"During the five minutes Ball Up Streetball aired at midnight July 26 when Fox Sports Kansas City inadvertently cut away from the Royals' rain-delayed, 14-inning marathon win at Fenway Park, Greg Schaum (of Pinetarpress.com) asked for input on a fitting
streetball nickname for Butler. St. Joseph News-Press sports editor Ross Martin
replied with 'Country Breakfast.' An unabashed Butler fan, Martin said he has
used the term of endearment for three years now."
Tod Palmer, writer, KansasCity.com
GH: A point Martin made on Twitter back when the Country Breakfast name was just taking off was that the enthusiasm for the nickname had brought interest to a very deserving Royals' player. Butler has been the target of a lot of fan angst this summer because of his good-hit but no-power production. But ever since Martin tweeted Country Breakfast, Billy's been bringing home the bacon with the long ball.
"That's not flattering."
Frank White, when asked by Nick Wright what he thought of the nickname, "Country Breakfast," for Billy Butler, 610 AM
GH: Bob Davis rolled out a Country Breakfast on his Thursday night play-by-play call on Royals radio. But not everyone is enthused about getting behind the name. Like Frank White, they see it has a slam rather than a treat. Read on.
"No."
Robert Ford, host of the Royals pre- and postgame shows on 610 Sports, when asked if he would use "Country Breakfast" when referring to Butler, Twitter
GH: Ryan Lefebvre has yet to use Country Breakfast on the Royals TV broadcasts as well. One of the problems (and there are far more than one) with the Royals franchise is their inability to connect with their fan base. Ford, White, Beaver – they all act like they're delivering news from the foreign front. It's baseball, guys. Enjoy it or make room for someone with a sense of humor.
"I don't think it has the same kind of (staying power) as Frenchy."
Joel Goldberg, questioning the lasting power of Butler's "Country Breakfast" moniker compared to Jeff Francoeur's, Fox Sports KC
GH: Yeah, that Frenchy nickname is a real stretch of the imagination. ESPN has already latched onto Country Breakfast. If the stiffs working the Royals' broadcasts don't want to get behind the nickname, we'll just play on without them. You can purchase your very own Country Breakfast t-shirt here. Wear it with bacon grease stains!
and Twitter / greghall24