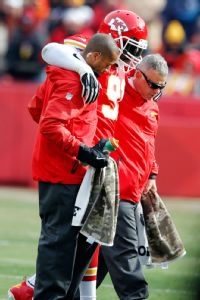 "Denver is going to come in here and score 50 if they don't have Hali and Houston."
Hank Bauer, Chargers Radio Network, Sirius
GH: I listened to the Chargers radio broadcast of the SD/KC game Sunday on Sirius as I drove home from the Route 66 Marathon in Tulsa. I thought the Chiefs lost the game at least three times and figured they had it won four or more. What an entertaining, maddening and what-if football game for Chiefs fans. BTW, Bauer is as big a homer as anybody broadcaster we have here in Kansas City – except KU's Bob Davis. Nobody unseats the King of Kansas.
"(Hank) Bauer holds the NFL single season record for most special teams tackles with 52. As a short-yardage specialist and often referred to "Hank the Howitzer" for his explosive running, Bauer finished one season with 18 carries for a total of 28 yards, scoring 8 touchdowns and achieving 9 first downs. Bauer was forced to retire in 1983, after playing six games with a broken neck. He later coached running backs and special teams for four years with the Chargers, then became a sports anchor for KFMB from 1987-2002."
Wikipedia.org
GH: Hank was a much better human battering ram than he is a color analyst.
"Has the clock struck midnight for the Kansas City Chiefs? Have we seen the carriage turn into a pumpkin? Have they turned into the team we kind of thought they would be at the beginning of the season?
Bob Fescoe, 610 AM
"Is this a blip, just another 'moment in time' as general manager John Dorsey cautioned the 9-0 start was? Or is it a regression in a new direction? The answer, really, is neither. Or both. Because it hasn't been determined yet."
Vahe Gregorian, columnist, Kansas City Star
GH: Gregorian continues to frustrate me as a columnist. His questions (above) are fine – but answer them! We know, "it hasn't been determined yet." What we would like to read is what you think will happen or why it won't happen or anything opinionated! Gregorian is giving every stereotype of old white sportswriters new life.
"All season, we've known that the Chiefs are working without a safety net. This is a group and philosophy that need all the pieces in place, and the board is blown up without two superstar edge rushers occupying the bulk of the opposition's game plans. Which makes what we saw on Sunday, literally, frightening for the Chiefs and their fans. … The Chargers scored more points in the second half when Hali and Houston were out than any team (including the Broncos) scored in an entire game when those two were healthy."
Sam Mellinger, Kansas City Star
GH: Mellinger quickly states the fears of most Chiefs fans – that this season's success was more fragile than peanut brittle. Read on.
"Just as the Broncos come to Kansas City for the Chiefs' single most important game of the season. That horseshoe they played with during a string of lucky breaks and a 9-0 start is turning to horse (bleep)." Sam Mellinger, Kansas City Star
GH: Mellinger nails it by tapping into our cautious optimism. Gregorian just floats around the perimeter firing ill-advised treys.
"We're not 2-9; we're 9-2. It's definitely not a panic mode. But we need to stop this ball from rolling downhill."
Derrick Johnson, Kansas City Star
"With both (Hali and Houston) out? No way."
Jake Gutierrez, when asked if the Chiefs can beat Denver at Arrowhead without their two syud pass rushers, 810 AM
GH: The Chiefs second loss and Denver's crazy crumbling defeat in New England both became just background sets to the injuries to Hali and Houston. We will likely know more soon but neither looks like they will play or if they do, they aren't expected to be close to full speed for Peyton Manning's trip to Arrowhead this Sunday.
"On Sunday, they can't win the division but they can lose it. If they lose that game, I don't think they can make up two games on the Broncos."
Steven St. John, 810 AM
GH: It might be time to scale back our expectations of winning the AFL West. If Hali and Houston miss the next few weeks, just getting into the playoffs might have to be the Chiefs goal for now. If the two are able to be back in January, then Chiefs fans can start getting excited about surviving and advancing – albeit on the road.
"No excuses, man. San Diego came out and executed. They were moving the ball at will today."
Brandon Flowers, 810 AM
GH: If the Chiefs can't stop a simple under pattern that uses the opposite receiver as a "rub" on the defender, they are doomed. Both Denver and San Diego turned simple slants into huge gains by confusing the Chiefs man-to-man defense. Where was the ability to adjust and go zone?
"If you continue to not get to the quarterback, you might have to go to a little more zone than man-to-man at the backend of your defense."
Herm Edwards, 810 AM
"I think (the Chiefs) get creative. I think what we saw (Sunday) is the Chiefs third best pass rusher is Eric Berry. Expect some A-gap blitzes up the middle with Eric Berry and Derrick Johnson, pressuring Peyton Manning up the middle instead of at the ends. Get in his face and around his feet."
Danan Hughes, 610 AM
GH: Bill Maas was the first on 610 to suggest the Chiefs need to switch their pressure on Manning from the outside to between the tackles. I would consider moving Berry up to play in Hali's or Houston's spot and turn him loose on rushing Manning. Sounds crazy but these are desperate times. Berry isn't any great shakes when it comes to covering receivers but I'll bet he is a bitch at running down quarterbacks.
"What are you feeling after yesterday's game? Are you happy the offense finally showed up or are you concerned with the defense… That's the question as we continue here on The Program."
Doug Stewart, filling in the past two weeks for Soren Petro, 810 AM
GH: Wow, I never thought I would miss Soren Petro as much as I have these past two weeks. Why does WHB insist on playing their second-string when their starters leave for vacation? I guess it just doesn't matter in the big picture because people listen to whoever is behind the mic but Doug Stewart is boring the hell out of much of the two-state area these past two weeks. Can Kurtis Seaboldt at least jab him with a hat pin occasionally to see if his voice will change modulation?
"They gave up 38 points after Houston went down."
Nate Bukaty, 810 AM
"Once people go down, everybody's got to step up. But obviously it hurt us a little bit, not having our two better players on the field."
Derrick Johnson, 810 AM
GH: DJ is also one of the Chiefs better defenders. He needs to play like a crazed Texan next week against Denver.
"Man they had it! I thought they had it won."
Steven St. John, 810 AM
GH: My feeling exactly before Rivers threw that final game-winning TD pass. Painful.
"It's amazing as a fan to care that much about a game at the end."
Gary Lezak, 810 AM
GH: Lezak is calling for temps in the 30s or 40s for the Broncos/Chiefs game at Arrowhead Sunday afternoon. Not nearly cold enough to freeze Peyton but with a 3:30 PM kickoff, we might see some frost form on his right arm come the second half.
"Consensus seems to be DEN loss makes today easier and I get that. But KC could be one up and looking for two. Still would have to win SUN."
Kurtis Seaboldt, @KSeaboldt, Twitter
GH: Coulda, woulda, shoulda. Chiefs are 9-2 and still very much alive for the division crown if they beat Denver on Sunday. You can't look backward in the NFL or it will drive you mad.
"Knowshon has a boot on his foot and is on crutches. He will have ankle checked in Denver."
Tom Helmer, @Tom_Helmer, Twitter
GH: I like what SSJ said about the Broncos running back's injury, if really doesn't matter unless it's Manning in a boot and on crutches.
"It should be a breakthrough (for Sporting Kansas City) because they made it to the title game. Well now under this format they also host that game. That seems to put a little extra pressure on it. It's not just getting there – now you've got to win it."
Josh Klingler, on Sporting taking on Real Salt Lake December 7th at Sporting Park, 610 AM
GH: Sporting has a chance to capture a Major Award with a win in The Legends in a couple of weeks. And there will be nothing FRAGILE about it inside one of the best sports venues in Kansas City. Sporting and Mizzou could be playing for titles on the same night.
and Twitter / @greghall24