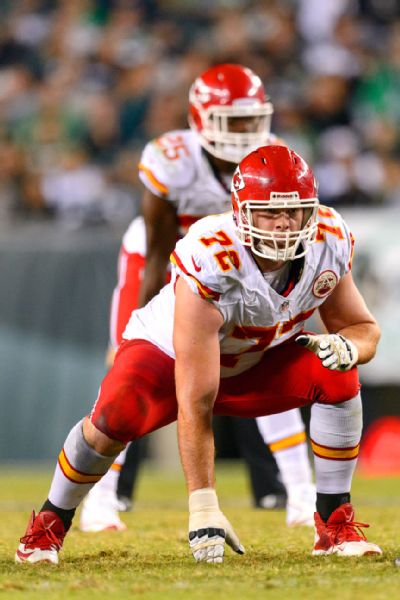 "Eric Fisher has not looked good in camp and he has not looked good in games."
Steven St. John, 810 AM
GH: There is not a more scrutinized player on the Chiefs roster than their 2013 first overall draft choice out of the MAC. He has not passed the eye test and he looks to be heading to where he might not pass the smell test as well. These are the kind of picks that can haunt a franchise's reputation for decades. The Chiefs need Eric Fisher to snap out of it or go on the IR and get his shoulder healed sufficiently for NFL play.
"(Eric Fisher) had his best day today (Wednesday). It should be noted that they did not wear pads today and they was no hitting."
TJ Carpenter, on the Chiefs much-maligned second-year left tackle, 810 AM
"I would hate to see this (Chiefs) organization make the same mistake that other organizations in this town have made and play young players who are not ready. Fisher should not play in two weeks if he's not ready to play."
TJ Carpenter, 810 AM
"I believe that Andy Reid will do the right thing. He will not play Eric Fisher at left tackle if he is not playing well."
Kevin Kietzman, 810 AM
GH: Eric Fisher is starting at left tackle week one if he can stand up. We are already hearing the coach speak from the Chiefs that Eric is playing "great." Andy Reid and John Dorsey are not so different from the rest of their NFL counterparts that they will "do the right thing." The NFL is about doing the thing that makes you look right about the poor decisions you made.
"Right now, Denver has a team built just like the New England Patriots back when they went undefeated (in the 2007 regular season). I think it's going to be a Denver-Seattle rematch in the Super Bowl. And I would go with Denver this time. Giving Peyton two shots at it, to go against the same team, I'll take Peyton. If they can stay healthy, how do you beat this team? They're balanced on both sides of the ball. They can run, they can pass, they can stop the run and they can stop the pass now on a consistent basis. It's going to be very, very tough to beat them."
Tony Gonzalez, the newest NFL analyst for CBS, newsday.com
GH: Nothing here is all that controversial but I am seeing headlines all over the place announcing that Gonzo is predicting the Broncos to go undefeated. Hell, they almost did that last season. When Tony predicts the Lions are going undefeated, then I'll listen.
"The temptation would be there, but I don't know what the gain would be. I've always wanted a ring. That's been my main goal as a player over the last 15 years of my career. You're really trying to get that ultimate goal. But I'd be a mercenary to come in and get a Super Bowl ring, play with a team for, what, six, seven weeks? And even if I got the ring, it wouldn't be the same as going through the fight with the team from the beginning to the end. I don't think that will happen. The temptation will be there, but I'm 100 percent happy with my decision."
Tony Gonzalez, on whether or not he would consider coming out of retirement to play for a title contender this season, newsday.com
GH: Tony doesn't sound 100% to me. It would be kind of cool to see him catch the winning TD pass from Alex Smith in the Super Bowl, wouldn't it?
"Tony Gonzalez has made his first ignorant comment since joining the media."
Bob Fescoe, @bobfescoe, Twitter
GH: It's kind of a birthright as a member of the media to make ignorant comments. BTW, I still like Butler in right field…
"After 28 years of almost unrelenting misery, I think we're due this."
Rany Jazayerli, on the second-half success of the Royals as they lead the ALC by a game over the Tigers, 810 AM
"For all the crap we give Ned Yost, the team is on a second-half stretch for the second year in a row like they haven't had in a long time."
Rany Jazayerli, 810 AM
GH: If the Royals win the ALC, Ned Yost is the American League MOTY – going away. I am not a fan of Yost's but you have to give the man his due if he can do it. But September is what did him in up in Milwaukee. I still think we have a lot of drama to get through to see October in this town.
"I think it's the most asked question when I go around town, 'What should Hosmer do when he comes back?' And my answer is simple – sit the bench. Why bring Hosmer back? Since Hosmer's been out, the Kansas City Royals are playing their best baseball of the season."
Bob Fescoe, 810 AM
GH: Hosmer is the best option at first base for the Royals and there should be no debate. The question is can Butler sit and still hit? If he can't, the Royals' postseason chances diminish greatly.
"It is the umpire's task to move the game along! If this is moving the game along, I am missing something! … Let there be a roll of drums and a blare of bugles. HE HAS THROWN A PITCH!"
Denny Matthews, during the sixth inning of Wednesday night's game at Coors Field where the Rockies starter, Jorge De La Rosa, took an achingly long time between pitches, Royals Radio
GH: Steve Physioc referred to De La Rosa as, "The Human Rain Delay on the Mound," during the early innings. By the sixth, Matthews was so ticked at the pitchers slow play that he was ready to jump out of the booth and beat Jorge with his hockey stick. MLB needs to address the pace of play in areas like this where they can speed up play. If the sport wants to know why their audience continues to age with little reinforcements from younger demographics, it is in the pace of play. Even old guys like Denny and I can't handle watching a pitcher scratch himself after every pitch.
"I want to warn you… I don't mean to come to Rome and not do what the Romans do but I've never liked barbeque. Sorry about that."
Buster Olney, ESPN MLB analyst, as he discussed setting up a meet-and-greet with The Border Patrol when he is in town this weekend for the Royals first appearance on Sunday Night Baseball in almost a decade, 810 AM GH: Get a rope.
[email protected] and @greghall24