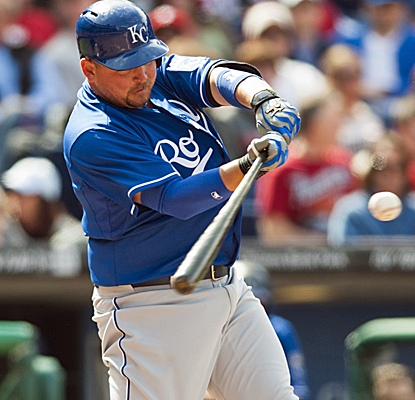 "My buddy Billy's already out there [at The K]. He knows people."
Jake Gutierrez, on how Billy was able to already tailgating four hours before the parking lot was scheduled to open for the Royals' home opener this afternoon against the Twins, 810 AM
GH: I have been to a lot of Royals' home openers – none were more depressing than last season's debacle when Luke Hochevar gave up seven first-inning runs to the Indians in what would become an April to forget in a season that was so unexpected it turned the team's Our Time slogan into a bad joke. But this home opener feels different. After a quiet and deflating 0-2 start, the Royals went to Philadelphia and broke out their #BlueBats. This team looks like it can hit. That is REALLY different when you're talking Royals baseball.
"Royals look different. Ready to compete."
Dinn Mann, @dinnmann, former KC Star sports editor and current MLB.com mogul, Twitter
GH: Not only do the Royals look different – they are attacking the season differently. Read on.
"I'm surprised by this but we're gonna see what happens."
Jeff Montgomery, as Ned Yost opted to yank his closer, Greg Holland, after he gave up two hits in the ninth in favor of Herrera, Fox Sports TV
GH: Monty was surprised because he is of the old Royals' thinking – don't mess with your closer's head by yanking him when he's in trouble. This is the new Royals. Yost and Dayton Moore need to win now or lose their jobs. Another 70-win season means a new regime at The K. I like when the Royals play to win instead of worrying about a player's mental state. Winning fixes a lot of neurosis.
"You did this. If you are a Royals fan, you had a hand in the team that's playing in Kansas City for the first time this afternoon. Kansas City's sports passion — specifically, joy for last year's baseball All-Star Game and disgust over the horrible Chiefs — created this year's Royals team. Nobody with the Royals will say this out loud, but it's the truth all the same. … You forced this change. And this afternoon, for the first time, you will see the product of your passion in person."
Sam Mellinger, Kansas City Star
GH: It sure took David Glass and his crew a long time to discover that they were sitting on a MLB powder keg. After years of dousing that powder with a watered-down product, we finally might have a team worthy of our attention. It has been far, far too long.
"Royals owner David Glass is often — erroneously and unfairly — accused of being absentee and out of touch. But he heard you. Saw you. Felt you. And he changed because of it."
Sam Mellinger, Kansas City Star
GH: I liked almost everything in Mellinger's column except this. Mellinger is the one who appears erroneous and out of touch with his portrayal of the Royals' owner's horrific handling of this impossible-to-kill franchise. This read like The Star is concerned about the Royals as an advertiser.
"Kansas City has this national perception as sort of the capital of Midwestern kindness. And in most cases, we are a kind people. Need directions? Help with the door? Restaurant recommendations? Sure, absolutely, happy to assist. But reward our sports passion with incompetence? Follow up promise with failure? Then this city will boo without mercy, flood every line of communication with raw criticism — heck, there might even be a plane flying banners over the stadium calling for jobs."
Sam Mellinger, Kansas City Star
GH: That Boo Cano thing at the All-Star Game and the fan bashing that Eric Winston laid out for the national media over the Matt Cassel injury altered the nation's perception of Kansas City a bit as well. Sure, we are friendly folks but we can also be just as spicy as Gates' BBQ sauce.
"[James Shields] is one of those guys you are just going to love. I would have loved to have caught him. There was snot coming out of his nose after that four-run inning he gave up. Shields just continued to pound them and wouldn't let [the Phillies] get up. Just a fantastic outing! Call them warriors, call them bulldogs, call them your number-one starter."
Mike Macfarlane, former Royals catcher, on the Royals ace, 810 AM
GH: If James Shields stays healthy I think the Royals are in the hunt for the ALC all season. Period. He's that good and that big a part of this team's attitude.
"Every game to me in professional sports is a must win. I hate the old adage that it's just too early."
Bob Fescoe, defending his negativity about the Royals after their 0-2 start, 610 AM
GH: Does Fescoe even think before he speaks – or ever?
"Get off to a good start and then you can coast a little bit."
Bob Fescoe, expounding on his thoughts on the Royals, 610 AM
GH: Sure sounds like a "must win" philosophy to me.
"They're still going fine. It's been 41 years now."
Curt Nelson, Royals HOF director, on the Kauffman Stadium fountains, 610 AM
GH: Our city's signature structure is the right-field fountains at The K. More people around the country know Kansas City for those lighted fountains than probably anything else in town. What are some others? The Scout? The Shuttlecocks?
"What an incredible season. It ended in a difficult way, but the Shockers will pick up these pieces. Marshall, so deflated by the loss, also talked about how excited he is about the future. There are no guarantees WSU will be on this stage again. It's such a hard feat to accomplish. But the Shockers are in position to be good year after year. Cleanthony Early, who looked like a future NBA player with his 24 points and 10 rebounds against Louisville, will be back next season. So will Ron Baker, Tekele Cotton, Fred VanVleet and others."
Bob Lutz, columnist, Wichita Eagle
GH: Great run by the Shockers. It will be interesting to see if the KC media adopts them next season as a program to cover or ignore.
"[Percentage] of ESPN Tournament Challenge Brackets that picked a Louisville-Michigan title game: 1.4%"
Darren Rovell, @darrenrovell, Twitter
GH: I was not one of them. We have a dozen or so people at the top of our OTC Bracket contest who picked Louisville as their champion. If Michigan wins it could mean someone else grabs the crown. We will sort it all out tomorrow.
"This might be the first time in my life that I picked the Championship game correctly in my bracket."
Nate Bukaty, @nate_bukaty, Twitter
GH: Congrats to Nate. I will be rooting for Michigan tonight. Love the story in Monday's Star by Blair Kerkhoff on Trey Burke's parents being Northwest Missouri State grads.
[email protected] and Twitter / greghall24