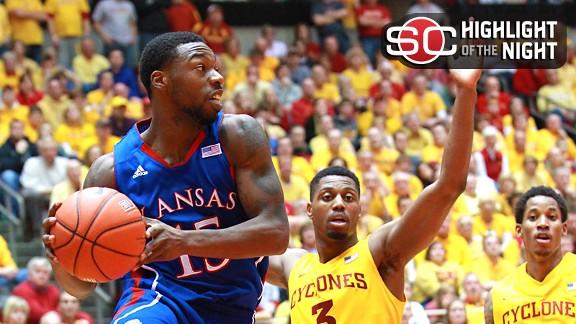 "What a mess, that game. Refs suck, both teams played well enough to win. That no-call on Johnson, also his 39, Withey's 6fouls…wow."
Sam Mellinger, @mellinger, Twitter
GH: Not to mention ISU leading by five with 45 seconds remaining in regulation, EJ's in-your-face dunk as the game ended, ESPN showing Fred Hoiberg's young son in tears, a crazed ISU fan confronting Bill Self on the court following the game and all the other stuff we need to get to in this OTC. Read on.
"Elijah got his 19th point with 3 minutes left in regulation and ended up with 39."
KevinBaker, @deutschmarine, as the senior guard led KU to a 108-96 OT win in Ames, Twitter
GH: If you weren't at this game at Hilton or watch it live on ESPN's Big Monday, you missed one of Kansas' more exciting, unbelievable, memorable and I-don't-believe-what-I-just-saw games in the Bill Self era. That sentence is not hyperbole. It might even be a bit underplayed. Read on.
"Me and coach had a conversation early in the game, just between us. I think that kinda put a fire under my butt. I felt good going out there. I told him this is my team until I leave. And that's what I meant. And I led the way. I feel like I gave my team confidence."
Elijah Johnson, in a postgame interview with Holly Rowe, ESPN
GH: Name a player who more was expected of this season who has been as disappointing on an almost weekly basis as Elijah Johnson. The ardent Jayhawk fan base divorced their senior point guard weeks ago — and the court of public opinion didn't blame them one bit for dumping the Vegas impersonator. Even his head coach trashed his game to the college basketball world. So why wouldn't we expect EJ to go Michael Jordan and score 20 points in the final eight minutes of the game? Texas' AD DeLoss Dodd thinks college basketball is in shambles. If so, I'll take a double scoop of this kind of crapola atop my March Madness.
"This was one heck of a college basketball game."
Bill Self, ESPN
GH: This needs to be said and understood — this was a great college basketball game. For that reason, it made it all the harder on Iowa State fans, Kansas State fans and Missouri fans [oh yeah, Tiger fans are still as invested as ever in KU games] to accept the final outcome. And man oh man did they ever have reason after reason to question this one. Read on.
"End of KU-Iowa State regulation: debacle, in my opinion. Either charge or block. That much contact? Someone fouled. … How does Young get called for foul when replays show Withey making contact? How?"
Michael DeCourcy, @tsnmike, Twitter
GH: My Twitter timeline was littered with KSU and MU types screaming about the unfair advantages KU seemingly always receives when they most need it. But the calls in crunch time in Ames had even the national college basketball experts crying foul. Read on.
"That was like the most obvious charge ever, wasn't it?"
Gary Parrish, @GaryParrishCBS, Twitter
"Call something. Charge…something."
Stuart Scott, on the controversial no call of Elijah Johnson's drive, collision and fall to the floor with Iowa State's ESPN
"Just watched end of KU-Iowa St game on DVR. I'm not a big bash-the-refs guy but that was some of worst officiating I've seen in a long time. … Missing Withey's fifth foul was inexcusable, but the noncall at end of regulation was an all timer. Obvious charge, but call something!"
Seth Davis, @SethDavisHoops, Twitter
GH: Whithey headed to the KU bench after what he thought was his fifth foul. But Bill Self frantically waived him back onto the court as Kevin Young raised his hand to claim Withey's foul. Big time college basketball is about winning, not winning fairly or winning with character or teaching young men to win fairly and with character. Big time college sports are about winning. Period.
"Absolutely destroying credibility of the game and absolutely at the worst possible time. Fans w/go off and understandably. Must be addressed."
Tim Brando, @TimBrando, Twitter
GH: Iowa State fans are getting hammered by KU fans for their lack of class in pelting the KU players with trash and for an old guy who tried to get tough with Bill Self. Did the Clones overreact? Sure! They're fans! All fans overreact when they believe they have been screwed over and disrespected in their barn. Would the fan deportment have been different if the same sequences had happened to Kansas inside Allen Fieldhouse? Hell no.
"Wait, Withey didn't foul there. Greg Ostertag did."
Bob Lutz, @boblutz, Wichita Eagle columnist, Twitter
GH: If you have a sense of humor — especially when it comes to your favorite team — I suggest you follow Bob Lutz on Twitter. But be warned, he will infuriate those of you with thin skin — or feathers.
"I hate talking about the refs… but just a terrible shame that a game this good is marred by a couple of bad calls."
Soren Petro, @theprogramkc, Twitter
"This is exactly why the officials or a representative should also offer postgame comments when applicable."
Andy Katz, @ESPNAndyKatz, Twitter
GH: This idea is so overdue. Yes, yes, a thousand times yes. Make the zebras talk. We can call it the Dr. Doolittle Rule.
"Some in Cyclone Nation are already fixating on the possible charge on Johnson at the end of regulation. ISU was up two at the time and after the no call, Johnson was later fouled on the possession. He ended up at the foul line to hit the game tying free throws in the closing seconds. It's best to let that go. The refs weren't why the Cyclones lost the game. The refs weren't why they let a seven-point lead slip away at the end of regulation. The refs weren't why Korie Lucious missed a free throw with 11.6 left in regulation. The refs weren't why Kansas built an eight-point lead in overtime."
Bobby La Gesse, sports editor, Ames Tribune
GH: Okay, so not everyone in the state of Iowa is a crazed lunatic frothing at the mouth over the unfair practices of a few officials.
"I need to step up my defense."
Korie Lucious, on giving up 39 to KU's Elijah Johnson, Des Moines Register
GH: On a night filled with great notes and quotes, Lucious' seven-word sentence might be my favorite.
"Fred Hoiberg knows his team. Bill Self is just acquainted with his flighty bunch."
Bob Lutz, @boblutz, as Iowa State built a late lead in regulation, Twitter
"Bill Self, the school's 10th-year coach, took the baton from Cowgill moments into Monday night's game against Iowa State inside Hilton Coliseum and let Johnson have it again. You think maybe [KU athletic trainer Bill] Cowgill and Self know their personnel?"
Tom Keegan, after both Self and Cowgill reportedly had a tough-love talk with EJ, KUSports.com
GH: My question to Self is why did you wait until February 25th to move EJ to the two guard and light a fire under his butt? Were the three losses all part of his grand plan? Ben McLemore's here-today-gone-tomorrow play has to be incredibly frustrating for Self. I think there is more truth to Lutz's comment than Keegan's — Self is just as surprised with his team each week as those of us on the sideline.
"ESPN should be ashamed of itself for showing a kid crying over and over. Happened live, let it go."
Kevin Kietzman, @kkwhb, Twitter
GH: I am on board with Kietzman here 100%. That gratuitous shot of Hoiberg's young son in tears as he clung to his mother was one of the worst examples of ESPN's exploitation of an innocent. That kid didn't ask to be Hoiberg's son. He doesn't understand national television. But ESPN thinks it's okay to broadcast his emotional moment with his mom?
"Kids cry all the time it's nbd."
@KUBoobs, Twitter
GH: But how many have their crying mug shown on national television over and over and over again on SportsCenter?
"K-State fans feeling like little mayor tonight."
Jake Gutierrez, @JakeGuti, on the shot of Hoiberg's crying son, Twitter
GH: Kevin Kietzman, one of those K-State fans that Jake was referring to, had a different opinion. Read on.
"If you are a KU fan getting enjoyment out of a kid crying on national tv 25 times or more, you may want to get a life."
Kevin Kietzman, @kkwhb, Twitter
GH: Sports makes animals of us all.
"Now, THAT makes your heart melt…seeing the Mayor's son there, I mean that seriously."
Nate Bukaty, @nate_bukaty, who has a young son of his own, Twitter
"Tonight's winner, along with Elijah Johnson? The Mayor's wife. Radiant. Composed. Nurturing. Supportive. Realized it was just a game."
Brady McCollough, @BradyMcCollough, Twitter
GH: Brady sure got a lot more out of that shot than I did. Mrs. Mayor just looked like she was hoping for that game to end so she could get her tired boy to bed.
"That wasn't an exclamation point, Elijah. That was classless. … Elijah Johnson was spectacular tonight. Didn't need the dunk at the end. Guarantee Self agrees."
Bob Lutz, @boblutz, on EJ's dunk as time expired in OT, Twitter
GH: I would not be so quick to think that Bill Self is all that upset over EJ's in-your-face dunk. One of the reasons Bill Self's teams are so hard to beat is that he is one tough, competitive SOB — and he teaches his players to be the same. EJ is a senior who has been around Self for four years. That dunk was no lapse in character. That is Kansas' character. They come into your town to bury you. Sure, they will publicly apologize later — but they are high-fiving their asses off as they motor out of town with your scalp on their belts.
"I like the dunk a little bit. Just the teensiest bit of swag creeping back."
Gavin Fritton, @gavinesq, Twitter
"Freakin love that EJ dunked that. When you do what he did tonight, go 'head!"
Matt Tait, @mctait, of KUSports.com, Twitter
"That Elijah dunk is like Marcus Smart backflipping, right?"
Curtis Kitchen, @curtiskitchen, Twitter
"Hey..Kansas just takes the win and walks away…right?? Right??"
Frank Boal, @realfrankboal, Twitter
"I gotta show better sportsmanship. I shouldn't have dunked that ball at the end of the game. I wasn't really thinking clearly. I saw an open basket and the only thing I could think of was drive, and I was thinking why not drive it? I definitely should have dribbled it out."
Elijah Johnson, in an on-court postgame interview with Holly Rowe when asked what Bill Self said to him after the game, ESPN
GH: Delivered just as Bill Self told him to. Tom Osborne's teams at Nebraska and Bill Snyder's squads at Kansas State were/are no different. Put on a classy face to the public but sneak a sixth foul if it means a win instead of a loss. Nice guys really do finish last all too often.
"Big time game KU… The growth by the seniors is great to see… For those that jumped off the wagon a few weeks ago… Stay off!!"
Keith Langford, @keith_langford, Twitter
GH: I don't think there is a more ardent and loyal fan base in college basketball than the Kansas Jayhawks. That kind of devotion spoils the players who where the crimson and blue. Langford sounds like a fool when he lectures the very folks who made him a hero.
"What's all this talk about elijah johnson you jayhawk fans speak of?"
Tyshawn Taylor, @tyshontaylor, Twitter
GH: So Jayhawk fans are supposed to just forget that EJ played like he had forgotten the game for the first three and a half months of the season? How ridiculous to think the criticism of Johnson was not warranted. It was just as real as his super-human game at ISU.
"How many #kubball "fans" who were killing him a couple weeks ago are loving Elijah tonight?!?!"
Matt Tait, @mctait, Twitter
GH: There are some incredibly large homers who cover the Kansas Jayhawks. Matt Tait dwarfs them all like was Mount Oread.
"People are so fair weather ☔⚡❄☁⛅☀ smh #KeepKillinElijah"
Mike Dixon Jr, @M1keD1xonJR, Twitter
GH: From one of the more unlikely sources, Mike Dixon weighs in to scold the EJ naysayers. Dixon probably considers himself an expert on fair-weather fandom.
"Hey man, will u talk to my columnist for a story on what you're up to these days? No strings attached…"
Jeff Rosen, @jeff_rosen88, in a tweet directed to Mike Dixon, Twitter
GH: That is one column I might pay to read — or have to if it's posted on The Star's website.
"Ku always get saved."
Jordan Henriquez, @TooTall2KnoSo1, K-State's senior center, Twitter
GH: The Jayhawks are kind of like a Scooby Doo episode. Scary at times but everybody gets Scooby snacks in the end.
[email protected] and Twitter / greghall24