"Billy (Butler) likes to be liked. And when he's not liked then he tries harder and doesn't do as well. He's the kind of guy you have to go up to every day and tell him how good a hitter he is. This is the first time he's felt totally unappreciated by the manager he's playing for. … If I'm managing this team he's in the lineup every day. I'm going to pat him on his back every day. I'm going to tell him how great he is every day and how much I need him every day to go out and perform. I think that as a manager, that's part of your job."
Frank White, in an interview with Jack Harry that is scheduled to air in its entirety Friday at 6:30 PM, KSHB TV 41
GH: Frank White is not some guy calling a sports talk show to complain about how Ned Yost has handled Billy Butler. White has a statue of himself at The K and his number 20 resides beside George Brett's and Dick Howser's in the outfield. White also managed Butler when the two were together in Wichita. Kudos to Jack Harry for getting White to open up and talk not only about Butler's need for constant positive reinforcement but also Yost's refusal to provide what he does for many of his players not named Billy Butler.
"Sorry for crossing my arms during the interview."
Alex Gordon, after he was interviewed by Joel Goldberg and Salvador Perez Tuesday night following the Royals 7-1 win in Cleveland, Fox Sports KC
GH: Okay, this is getting fun. This is at least the second time Gordon has referenced crossing his arms in a postgame interview. It is an obvious shot at Kevin Kietzman's attempt earlier this month to create a controversy about how Gordon's crossed arms meant he did not like or respect Terrance Gore. Read below for KK's comments that I posted September 5th.
"I don't want to read too much into this… I didn't like the look of Alex Gordon (Wednesday, September 3rd) night. (Gordon) almost seemed annoyed that Gore was getting the attention and was getting splashed with the Gatorade bucket. … I don't think Alex Gordon ever looked at Terrance Gore (during his postgame interview with Joel Goldberg Wednesday night). I don't think he ever smiled, patted him on the back, whatever. … He didn't want to be there. I don't know what that was about. To a lot of people this sounds unthinkable, trust us on this. Trust us. … I think it's a very interesting topic. When you start bringing in guys who they don't know their name? It's a whole different deal. I don't want to make too much of it… He had his arms crossed. You talk to any person who studies sociology and arms crossed is a defensive position. 'I don't like what you're asking me. I don't like the person next to me. I'm very guarded right now. I don't like this.' That's the posture of 'I'm not real pleased with my position.' Everybody knows that. … It was a weird dynamic as I'm watching this thing. It did not feel right. For some guys, trust me, having a guy like Terrance Gore that's five-foot-six on the team that really can't do anything except run on the bases, is an insult to what they do for a living. I think there are some of these (Royals) players going, 'We worked out butt off to get into first place and this thing's become a three-ring circus with Gore out there stealing bases and all these pinch runners?' I think somewhere at least in the back of their minds they've got to be thinking that."
Kevin Kietzman, commenting on Gordon's postgame interview with Joel Goldberg on September 3rd, 810 AM
GH: Gordon has obviously enjoyed pimping and embarrassing Kietzman in his more recent interviews with Goldberg. Twitter reacts with howls every time Gordon crosses his arms or smirks about it with Goldberg. As far as I know, Kietzman has yet to respond on his show about Gordon's digs. Maybe KK will have Gordon in studio for an interview to work this out. Maybe he can invite a sociologist in as well to referee.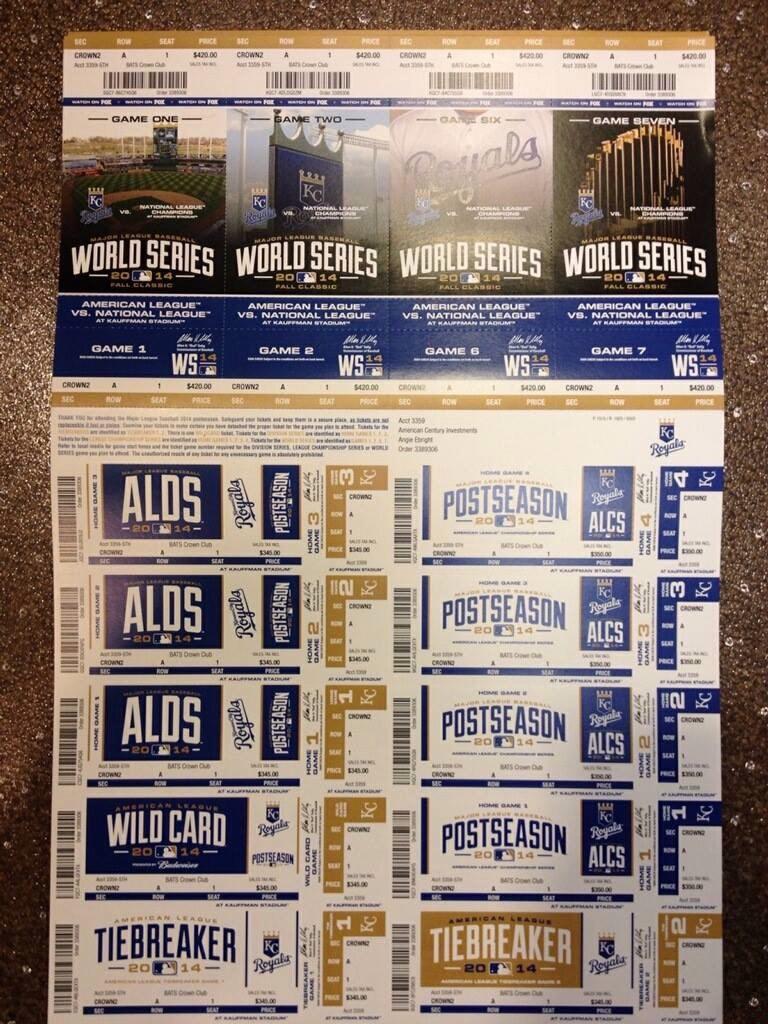 "This is what it's all about."
Kris Ketz, @KrisKetzKMBC, Twitter GH: Ketz tweeted out this surreal photo of the Royals playoff tickets. Oh man, how freaking cool is this? I might need a sociologist to calm me down…
"I just want everyone to enjoy this. It's been 30 years. It's a fantastic moment in kc."
Bob Fescoe, @bobfescoe, Twitter
"When it's your turn, it's your turn."
Denny Matthews, on the good fortune of the Royals to miss White Sox ace Chris Sale in the Royals series in Chicago, Royals Radio
GH: Matthews has been a bit of a savant since the All-Star break about the Royals chances of making the postseason. He pretty much called an Alex Gordon walk-off home run last month. He correctly predicted that the Tigers bullpen would allow the Royals an opportunity to win Saturday's game – even when it looked bleakest. Denny appears to think this is the Royals time. Our Time I guess you could say.
"Do you actually believe in a team of destiny? I'm not sure I believe in a team of destiny. I think that this team has created its own success."
Henry Lake, 610 AM GH: There are no teams of destiny. Only teams that seize their opportunities and the luck, drama and hardware that comes with them. Are the Royals THAT team this season? I cannot wait to find out.
"I am bummed to not be in KC for this pennant chase but I did score tix to the prospective game 3 and game 4 of the ALDS at the K. I also pulled the trigger on a plane ticket a few days ago. The Boys in Blue seem to be peaking at the right time. My wife and I are going absolutely crazy in NYC. We got to see 2 of the 3 games in the series at Yankee Stadium a few weeks ago."
Bobby, OTC Email
GH: I met Bobby a couple of years ago through my column and his penchant for distance running. He even hooked up with my Sunday run bunch three times when he was back in KC for a visit. One of the greatest things about the Royals' season is hearing from folks all across the country who are pulling for the Royals. People who followed the Royals through some dark decades are now wearing their KC caps probably in Manhattan, Salt Lake City and big and small burgs across the land. Our Time is Their Time as well.
"I moved to CHI a year ago from KC and have been bummed not to be there during this run. Safe to say where I'll be Thurs – Sun."
Tom Howell, @thowell21, Twitter
GH: With all of the Royals fans I've heard from planning to attend the Royals/White Sox series this weekend in Chicago, the Fox Sports camera crew are going to be kept busy getting shots of Royals fans on the screen. Wear your blue proudly, folks! And do not miss the opportunity for a deep-dish pizza, some Chicago dogs and a stroll through Grant Park and a drive down/up Lakeshore Drive. What a great city Ditka has built.
"For worst managerial decision in Royals history, I'd have to go with Whitey Herzog calling on Dennis Leonard — a notorious slow starter who always took two or three innings to find a groove — to close out the final game of the 1977 ALCS. The Royals should have won that game and gone on to the World Series, and maybe Mr. October would have never been Mr. October. I can't forgive the White Rat for that. (Oh, and by the way, Jim Colborn and not Larry Gura should have been the Game 4 starter.)"
Phil, responding to my pick of Yost's decision to pinch hit 42-year-old Raul Ibanez that ended the game against Detroit on Saturday, OTC email from Corpus Christi, TX
GH: At least Leonard was still in his prime. Can you imagine if Whitey had gone with Marty Pattin out of the pen?
"You could make a case that the trio at the backend of the Royals bullpen are the best this game has ever seen."
Josh Vernier, on the ERAs of Greg Holland (1.49), Wade Davis (0.90) and Kelvin Herrera (1.48) being better than any threesome to have pitched 60 or more innings, 610 AM
GH: Kudos to Dayton Moore for assembling this blockade the Royals have to unleash in the seventh, eighth and ninth in the playoffs. Not even Ned Yost has been able to screw this threesome up.
"That (ground ball) looked like it might be (a double play) but that's the sixth error for Moustakas in the last two weeks."
Steve Physioc, on another grounder off the glove of the Royals third baseman, Fox Sports KC
GH: Moose might need an intervention – or his ass kicked. But since Ned is never wrong about these things, I guess we will just allow him to carry on.
"Mom also says to send Moose back to the minors. Obviously she doesn't realize that the minor league season is over. Lol mom."
Mike Engel, @michaelengel, Twitter
"#LastTimeTheRoyalsWereInThePlayoffs I didn't know about A…B…C English at all." SungWoo Lee, @KoreanFan_KC, Twitter
GH: The last time the Royals were in the playoffs I attended games two and seven of the World Series at Royals Stadium. I've told this story before but I took a former brother-in-law to game two who was also a Cardinals fan. This guy was a complete ass to Royals fans before, during and especially after the game. I never spoke to that jerk again and my sister-in-law divorced him not long after. I had two tickets to game seven but I was sure they were going to be nothing more than souvenirs since the Royals were now down 0-2 in the WS. When the Denkinger Miracle made way for game seven, I took my bride of one year and sat there behind home plate for all the fun. My wife and I have now been married 30 years. Our Time, baby.
and @greghall24