"If there's an MVP in this league, it's Perry Ellis. You can talk about (Andrew) Wiggins, you can talk about (Joel) Embiid and all the guys around … that dude is a winner, and he's tough to stop. He does all the little things. He is so good. Our staff can't respect him more for what he does. He is a winner for them and really helps them."
Bruce Weber, after KSU defeated KU in Manhattan last week, CJonline.com
GH: Perry Ellis is one of the reasons I love to follow sports. He was a well-known high school player in Wichita who we started to hear about when Kansas and the nation's best programs started courting him. His freshman year was a disappointment in that he wasn't the dynamic offensive force many hoped he would be. We kind of forgot about him with the arrivals of Wiggins, Embiid, Selden and even his high school rival, Connor Frankamp. Now just a season later he is quietly – almost silently – asserting himself as one of the game's best college players. I like his Barry Sanders approach to success. Ellis always looks like he's been there and done that – no matter his greatness.
"He means everything to Kansas. I mean everything. Perry Ellis has to be on the first-team All-Big 12 team. He HAS to be!"
Aaron Swarts, on Ellis' play this season, 810 AM
GH: Swarts said he would prefer to play without Wiggins than Ellis. I am sure most KU fans don't want to see either sitting on the bench but the depth of riches that Bill Self has on his team this season is almost ridiculous. After different times this season you could name Tharpe, Wiggins, Embiid, Ellis and even Selden as the team's best player.
"Maybe the number-one draft pick (in the NBA draft) might not even make All-Big 12."
Aaron Swarts, on the on-again off-again play of KU's fabulously talented Joel Embiid, 810 AM
GH: The All-Big 12 team has more questions than answers. Here is my best guess with two weeks to go in league play – in the order they deserve; 1) Juwan Staten, WVU 2) Melvin Ejim, ISU 3) DeAndre Kane, ISU 4) Perry Ellis, KU 5) Marcus Foster, KSU. That said, I would be pretty comfortable naming five different players and making a case for all five. Who you got?
"I think Wiggins has been underrated this year because we spend so much time poking holes into what he doesn't do as opposed to what he does do. I think he's underrated defensively."
Nate Bukaty, 810 AM
GH: I think Wiggins and Embiid will probably make most of the All-Big 12 teams instead of Ellis. Many times these are popularity contests rather than actual rewards for the work completed.
"I have never been more proud of Mizzou than reading about how MU students and townsfolk faced down anti-gay protest."
Dr. Everett Koehn, MU class of 1975, in an email I received over the weekend
GH: Mizzou has stubbed it's PR and moral toes a number of times over the past few years but this stand against hatred and prejudice is the kind of stuff history remembers as ground breaking. Can you imagine our college's reactions in the '70s to the news a football player declared himself gay? The majority of students would be lining up across the street with Fred Phelps. Tom Brokaw calls our parent's time, "The Greatest Generation." I strongly disagree. The greatest generation is and always has been the next generation. Each generation learns from the mistakes of their mentors and strives to improve, be smarter and live with more tolerance. I hope Brokaw got a glimpse of that wall of students at Mizzou yesterday. They didn't slay any Nazis but the foe they are fighting is just as evil.
"I'm watching ice dancing. Pretty sure anyone in KS can now legally refuse me service."
Lazlo, @lazlothebuzz, Twitter
"11 years announcing NU hoops. Biggest win I can remember. Our players and fans deserve this one. See you Thursday night!"
Matt Davison, @Matt_Davison, after Nebraska won at Michigan State 60-51 Sunday afternoon, Twitter
GH: I have followed Nebraska basketball since I could reach the radio dial in my mom's kitchen and I can't think of a bigger upset win for Nebrasketball. Tim Miles now has Husker fans thinking about making the NCAA tourney. Does this mean the B1G is deeper than even advertised or not so good? I think not so good.
"Doug McDermott is a flamethrower on fire."
Wally Szczerbiak, @wallyball, while the Creighton senior was lighting up Villanova for 39 in Omaha, Twitter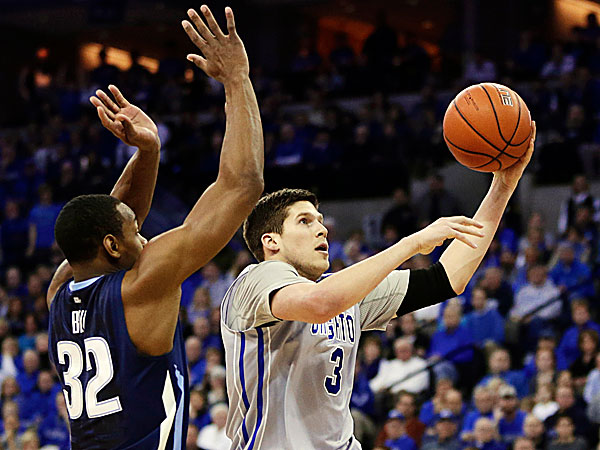 "I've watched a lot film on him but if he had a 3-point line and stayed more than 3 years, he would have a lot more."
Doug McDermott, on passing Larry Bird's career point total, @TheBluejayCafe
GH: My roommate and I were Creighton season ticket holders for Larry Bird's junior and senior year at Indiana State. We thought we discovered him because his game was so beautiful to watch yet he was so white few knew early on of his talents. Bird is one of the greatest players to ever step on a court. I love McDermott's game but this comparison is nonsense. Let's enjoy McBuckets for what he is and see how his career pans out in the NCAA tourney and eventually the NBA.
"I hope it translates well enough to get me a corner room in an old folks home."
Greg McDermott, Creighton's head coach, when asked how he thinks his son's game will translate to the NBA, @mitchsherman
"He's as complete a player with size as I've ever seen. Best post player Nova has faced AND best perimeter player."
Jay Wright, head coach of Villanova, after McDermott and Creighton blew out sixth-ranked Nova for the second time this season, @dirkchatelain
"Someday, when this gig is over in about 15 years, I will truly realize how blessed I was to have seen every game that Doug McDermott played. Great player but the phrase 'even greater person' might have been invented with him in mind. A true pleasure to have witnessed this."
Steve Pivovar, @PivOWH, sports writer for Omaha World Herald, Twitter
GH: I am embarrassed to say I have never seen McDermott play live. I am hoping some of my Omaha buddies read this and take pity.
"In a game we are denied, Wichita State would beat Creighton by 5 on a neutral floor."
Lyndal Scranton, reporter for the Springfield News-Leader, Twitter
GH: These two old Missouri Valley rivals can only look at each other over new conference lines and wistfully wonder how great a home and away series of these two would match up in each school's best season in their histories. Maybe we see them together in the Final Four?
"I love how Shocker basketball fans seem to care what @GoodmanESPN thinks. Or any other national guy. Who cares? Why care?"
Bob Lutz, @boblutz, columnist for The Wichita Eagle, Twitter
GH: Lutz's tweet garnered a fun response from ESPN's Jeff Goodman…
"Thanks, Bob. I appreciate the kind words."
Jeff Goodman, @GoodmanESPN, Twitter
"Combine week. Looking forward to it."
Pete Prisco, @PriscoCBS, Twitter
GH: Get ready for a lot of photos of guys in their underwear making old farts excited. Hey, maybe Michael Sam won't make all that much commotion in the NFL as we thought.
and Twitter @greghall24