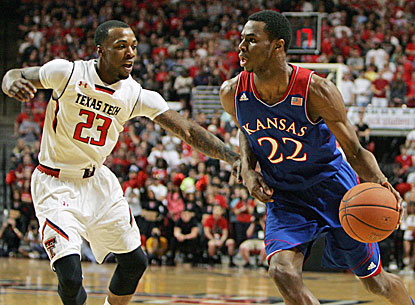 "Worked out in the end, but KU still having a lot of struggles when the score is tight in the second half."
Sam Mellinger, @mellinger, after KU's 64-63 win at Texas Tech, Twitter
GH: When Kansas plays basketball the fans from not only KU take notice but K-State and Missouri as well. When KU wins a nail-biter like their game in Lubbock, it sends the Jayhawk fans into delirium and the KSU and MU fans into an even more delirious state of anger. Not all Wildcat and Tiger fans care what happens to Kansas basketball but those who don't are likely dead. Read on.
"To recap. Air ball 3, whiffed dunk and a lost ball lead to six points in KU's last three possessions. Stole one tonight."
Kevin Kietzman, @kkwhb, recounting KU's final possessions in their 64-63 win at Texas Tech, Twitter
GH: Kietzman's recount of KU's final offensive sets was fairly accurate but it did not sit well with a number of Jayhawk fans on Twitter. Kietzman is a K-State alum and a Kansas loss to TT would have greatly enhanced his Cats' chance at again possibly sharing the Big 12 title. It makes sense that he gets sideways when KU wins – despite his ridiculous claims of neutrality.
"Come on now, there was some luck but they got buckets down the stretch. Wiggins was great. … I love how as soon as #kubball gets a close win some MU & Kstate fans automatically go to blaming the referees. Cracks my sh*t up. #Haters"
Jake Gutierrez, @JakeGuti, Twitter
GH: While KSU fans have something to gain as far as the Big 12 when KU loses, Mizzou fans gain nothing but the sweet sorrow of their former rival. But they too went crackers on Twitter when Kansas was able to "steal" a win in Lubbock. It makes living in Kansas City all the more entertaining and unique. Wins and losses for all three schools leaves somebody sad and happy every time.
"Agree with that assessment but tradition rich programs like KU, UK, Duke and Louisville steal 3 or 4 W's every year."
Tom Penders, @TomPenders, responding to KK's above tweet, Twitter
GH: I read a number of anti-KU fans on Twitter who were furious about the favorable calls KU received on the road at Texas Tech. Really? Don't you think you sound a lot foolish when you claim that everybody in the Big 12, NCAA and the Kremlin are scheming to get Kansas another win? Jeff Orr isn't the only nut following college hoops. Check your neighbor.
"Ok hold on a second… The KU fans in my mentions giving Self CREDIT for the last shot are joking, right? Please tell me they're joking."
Danny Parkins, @DannyParkins, Twitter
GH: Many of the nuts following Kansas are just as goofy as the pistachios rooting on K-State and Mizzou.
"I would not want to be a dog in Sochi or Jeff Orr's house right now."
Jason Anderson, @J680Anderson, following TT's one-point loss to KU, Twitter
"Kansas escapes by 1 at Texas Tech. Jayhawks have lost their mojo. Tubby's gang very quietly playing some quality ball."
Seth Davis, @SethDavisHoops, ESPN's college basketball analyst, Twitter
GH: This tweet from ESPN's college hoop god sent some KU fans over the edge. HOW DARE HE SAY THAT??? Lost mojo? Why you Mofo!!! I'm not sure Kansas has had much mojo to lose. They are going to win the Big 12 for the tenth consecutive year but they do not look like a team preparing to roll through March – let alone April.
"I'm back y'all and great assist to Wiggs for the game winner haha #kubball #WeAllFromAfrica"
Joel-Hans Embiid, @jojo_embiid, Twitter
GH: Embiid seems like a great kid who is enjoying the hell out of playing college basketball. More college fans should try and enjoy their seat for the games with a bit more whimsy and less wallop.
"People will not abandon their positions no matter what. Andrew Wiggins could have come out and been Kevin Durant and people would have still said, 'Well, he's not as good as his hype.' Frankly, the hype stuff is silly. You can find somebody who will say something ridiculous about any player who ever played the game."
Mike DeCourcy, CBSSports.com college basketball writer, in an interview with The Border Patrol Wednesday morning, 810 AM
GH: DeCourcy was on Twitter Tuesday night asking where all the Wiggins detractors had gone. Of course Mike was taking advantage of the fact that Wiggins had just hit the game winner at Texas Tech off a lucky bounce of the ball. What I enjoyed Wednesday morning was how DeCourcy was using the exact same argument I would use against him when it comes to Wiggins' play this season. Read on for some comments DeCourcy made about Wiggins last October before the freshman played his first college game…
"Andrew (Wiggins)…I think he can be (pause), he's going to shut up all the people."
Mike DeCourcy, on the hype and criticism surrounding KU's sensational freshman forward as he spoke with Nate Bukaty and Steven St. John back in October, 810 AM
GH: DeCourcy was just getting started on his superlatives for Wiggins…
"If the rules are enforced like they are supposed to be enforced (in college basketball), it's just going to be hard to guard (Wiggins)."
Mike DeCourcy, 810 AM October 2013
GH: We can all agree that the new rules have been enforced even more than most of us thought possible, correct? While Wiggins is a great freshman player he is not this unstoppable force on the wing who can score whenever KU needs him too. More from last October…
"There were about six or seven times during that practice on Monday where he did things that maybe only three, four or five people on the planet can do. I am being literal here. As quickly and casually and confident as he did."
Mike DeCourcy, who attended a KU practice on Monday, 810 AM October 2013
GH: I would like to remind you of a quote from DeCourcy here – "You can find somebody who will say something ridiculous about any player who ever played the game." You can't get anymore ridiculous than DeCourcy was last October talking about Wiggins. Great player? Yes. All-American? Probably not. One of the few special talents on the planet? Maybe if the planet is Jupiter.
"Wiggins is one of the best athletes to ever play the game of basketball."
Mike DeCourcy, 810 AM October 2013
GH: Boom. Looks like Mike is the one who refuses to; "abandon their positions no matter what." Wiggins has been a lot of fun to watch this season but he is so far from what DeCourcy and many others claimed he would be. Just another reason to question the experts – on just about everything.
"Andrew Wiggins is averaging almost 17 points per game, leading Kansas in scoring, coming up with big moments like he did in the K-State game and last night to win (at Texas Tech) and yet he's not living up to the hype. You know what it is? People just want to grab onto a position and they want to stick to that no matter what they see. They decided they didn't want Andrew Wiggins to be successful from the beginning of the year and it doesn't matter what he does on the floor short of leading Kansas to a national championship, they're going to stick to that."
Mike DeCourcy, in his Wednesday morning conversation with The Border Patrol, 810 AM
GH: Careful, Mike. You're starting to sound a lot like that guy.
"Nine of the 10 teams in the Big 12 have a legitimate chance to get to the conference tournament title game. Incredibly deep league."
Jon Rothstein, @JonRothstein, Twitter
GH: Sprint Center is going to be jumpin' to be jumpin' March 12th-15th.
"Schedule for Russian fans post loss to Finland. Wednesday night: Hammered. Thursday morning: Sickle."
Bryan Fischer, @BryanDFischer, following Russia's 3-1 loss to Finland and their elimination from the medal round in Sochi, Twitter
"Say good bye to your 300 sq ft. luxury apartments, Russian hockey team members, it's back to the 120 square footers."
Brad Dickson, @brad_dickson, Twitter
"What future, if any, do you see for your own work and for your coaching staff? Because, you know, your predecessor was eaten alive after the Olympics—"
Question to Russia's hockey coach, Zinetula Bilyaletdinov, in the postgame press conference
"Well then, eat me alive right now— Eat me, and I won't be here anymore."
Zinetula Bilyaletdinov, in his response, the Q&A continued below…
Q: But we have the world championship coming up!
A: Well then, there will be a different coach because I won't exist anymore, since you will have eaten me.
Q: But you're staying, aren't you?
A: Yes, I will remain living.
GH: I wonder if Bilyaletdinov would like to coach the Jets.
and Twitter @greghall24