"If you take (Kentucky's) first and second teams and split them up, they'd probably have the No. 1 and No. 2 teams in the nation. John (Calipari) should go 45-0 with that talent."
Larry Brown, SMU head basketball coach, USA Today
GH: Brown was probably kidding his former Kansas assistant coach (at least somewhat) but his point is solid. Kentucky once again has more young talent this season than most coaches are able to recruit in a career. How Calipari is trying to keep all that basketball talent happy is an interesting story. Read on.
"I know (criticism) is coming down the pike, and I'm fine with it. Everybody thought, 'Well, watch, he won't do it in the second half (of the Buffalo game). I platooned in the second half the same way. If Karl didn't get in foul trouble, we'd have went straight by the line. Now if someone goes in there and they are not playing, they are not going, you're out. You just lose your minutes. Look, I'm enjoying doing it. I'm enjoying it because I know no kid is getting left behind. I know the easiest thing for me to do is play seven guys."
John Calipari, on playing ten players almost equal minutes in a two-platoon system and subbing out five players at a time, LJWorld.com
GH: So Kentucky is going to be making line changes like a hockey game tonight when they take on Kansas? This will be worth staying up late for just for the novelty of it.
"In Calipari's perfect world, he'll play two platoons of five. Both groups will develop phenomenal chemistry because they'll play with the same guys all the time. Foul trouble will become rare because nobody will play excessive minutes, and everybody will be fresher and therefore less likely to commit a foul. Perfection is an illusion, best left on the playgrounds of daydreamers."
Tom Keegan, columnist, LJWorld.com
"Tip Off Marathon starts (Monday night). More than 29 hours straight of college hoops. 13 of Top 25 teams – including No. 1 Kentucky vs No. 5 Kansas."
Jeff Goodman, @GoodmanESPN, Twitter
GH: College basketball gets it when it comes to marketing their sport. It is the week before Thanksgiving and this hoops marathon combined with January-like weather has me hunkered down in front of the tube each night like it was mid-season.
"They took it to us every which way. The first 10, 12 minutes we didn't have many answers for them. But we have a lot of guys that this is new to them. … (Martez) Harrison is a handful. I thought Jevon and Nigel did a good job on him and he still gets 21 and five assists."
Bruce Weber, K-State's head basketball coach, on his Wildcats 83-73 win over UMKC Monday night, CJonline.com
GH: How about these Roos? They ruin Kim Anderson's debut at Mizzou Arena on Friday and then they travel to Manhattan and scare the wild out of the Cats Monday night. Maybe Kareem Richardson is finally the guy to bring downtown winter basketball back to life in the Power & Light. BTW, Harrison might be worth the price of a ticket this season at the Muny. He was the WAC freshman of the year last year after graduating from KC's University Academy HS – where he once scored 58 in a game.
"UMKC, national champs … just want to call now in case it happens, so I can say you heard it here first."
Tod Palmer, @todpalmer, Mizzou beat writer for the Kansas City Star, after the Roos took a 10-point lead over Kansas State in the first half Monday night, Twitter
"Florida was up 54-42 with seven minutes left when Angel Rodriguez hit back-to-back 3-pointers. Rodriguez scored 20 points in last 7 mins."
Jeff Borzello, @jeffborzello, Twitter
GH: The former K-State point guard received a lot of national love Monday night with his late-game heroics and helping Miami end eighth-ranked Florida's 33-game home win streak. He will be fun to watch from afar this season as he closes out his college career.
"Best news of the day: The round of 64 in NCAA tournament will once again be known as the 1st round, round of 32 as the 2nd round."
Dan Shulman, @DShulman_ESPN, Twitter
GH: If that was Shulman's best news of the day, he might need a vacation.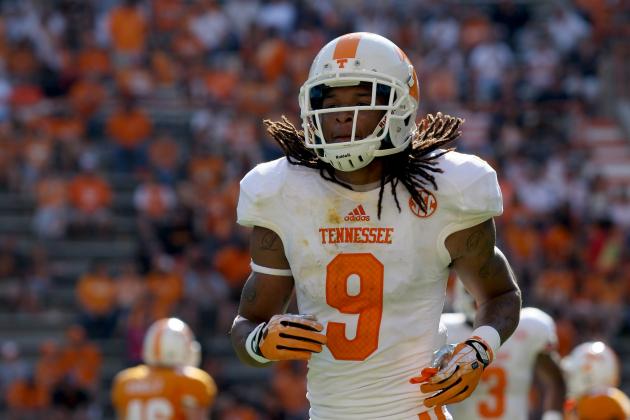 "I just feel like … man, I just feel sorry for Missouri, cause we're hot right now. We're ready to explode. I feel good about that. When Missouri watches the film, they're gonna know we're coming to ball. They're gonna know it's not gonna be an easy win for them. We're gonna come out here and do our thing."
Von Pearson, Tennessee wide receiver, after he scored twice in the Vols 50-16 win over Kentucky Saturday, Tennessee.247sports.com
GH: Mizzou travels to Knoxville to play the ready-to-explode Vols Saturday night. Mizzou has won a ridiculous nine straight road games – seven of those being in the SEC. This one should be a dandy.
"What does (Pearson) mean by that? That's fine. We have too. We're going to continue to get better, too. Whatever they say is what they think, and we'll think our thoughts."
Maty Mauk, on the comment from Tennessee's Von Pearson, ColumbiaTribune.com
"(Gary) Pinkel said other SEC teams pack their home fields: 'We've got to get there. We're doing a lot of good things, but we have to get there.'"
David Morrison, @DavidMorrison, Twitter
GH: Part of me wonders if Missouri will ever "get there" when it comes to becoming an SEC football-manic state. I have lived here in Kansas City now for almost 30 years and while the state has some great sports fans, there just doesn't seem to be to united focus on Mizzou sports that is present in most of the other SEC states. And I am not sure of the reasons why. Missouri is THE university within the SEC's fourth most populous state. The Tigers are very popular in Kansas City, St. Louis and every corner of the Show-Me State. But when it comes to filling Faurot Field and Mizzou Arena, the Show-Me folks don't show up in numbers that you would expect.
"Mike Alden should bring roses to Gary Pinkel every day because he's hired four basketball coaches. Four!"
Steven St. John, 810 AM
"Chase Coffman of the Titans Fined $30K For Cheap Shot on Ravens Assistant Last Week LINK HERE
Jason McIntyre, @jasonrmcintyre, of TheBigLead.com, Twitter
GH: The first time I saw this video I didn't make the connection that this was Ray-Pec's and Mizzou's Chase Coffman. It just didn't seem to be the kind of behavior I associated with the former MU's receiver. Jay Glazer called it "the cheap shot of the year" on Fox. Coffman made his first NFL TD catch on MNF last night against the Steelers – and it was a highlight-worthy grab. I have no idea what Coffman was thinking when he deliberately forearmed an unsuspecting Baltimore Ravens' coach in the head on the sideline. Ugly.
"I think these Thursday night (NFL) games are so fluky that I'm not chalking this Oakland game up as a win. All I'm saying is that these Thursday night games are weird."
Danny Parkins, 610 AM
"I can't worry about Oakland until they beat somebody. You talk about a must win – you cannot afford to lose to the Oakland Raiders."
Carrington Harrison, 610 AM
GH: I don't think you can count any NFL game as a win – even against the 0-10 Raiders. I am hoping the Chiefs jump out to an early lead so that I can concentrate on the K-State at West Virginia game that same night. Dualing tubes will be a must this week. Sorry, Parenthood. I will have to DVR you and catch up with Zeke, Julia, Hank, Kristina, Max, Amber and the rest of my favorite TV series later.
[email protected] and @greghall24