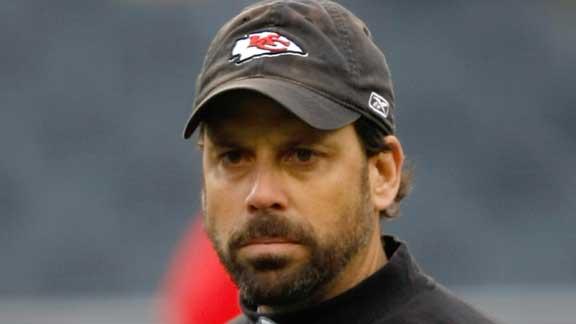 "They just keep getting blown out. They obviously weren't responding to Todd Haley."
Adam Teicher, on the Chiefs decision to fire Todd Haley the day after the Chiefs were embarrassed by the Jets 37-10, 610 AM
GH: Todd Haley's Chiefs' teams got steamrolled on an all-to-regular basis. The offense gained a total of four yards in the first half Sunday against the Jets. That is the kind of team record you do not want to have attached to your regime. Hobo Haley's Chiefs had far too many of these clown-clubbings for him to be as arrogant and disrespectful as he was to his job, his franchise and the NFL. He simply had to go. One might question why he was ever hired.
"I think the second half could have gone one of two ways and it went the way that encourages me."
Todd Haley, in his postgame comments following the Jets loss, 610 AM
"The second half wasn't much better [for the Chiefs], marked mostly by penalties. In the most brutal stretch, the Chiefs were penalized five times for 81 yards during the Jets' final touchdown drive. One of those was an unsportsmanlike conduct call on Haley. Kansas City finished with 11 penalties."
Dennis Waszak Jr, writer, AP
"If he really truly means it, then he has no idea about football players and his football team."
Bill Maas, on Haley's comments that he was encouraged by his team's play in the second half, 610 AM
GH: It appears that Scott Pioli shared the same sentiments as Maas.
"Nick [Wright] had the report cold that [Todd Haley] would have been out after the Indianapolis game had he lost that game."
Mark Carman, 610 AM
GH: Wright and many of his 610 cohorts are beating their chests and claiming they foretold Haley's firing. I also expect them to predict the Chiefs will miss the playoffs.
"Some people laughed at us when we talked about the relationship between the coach and the general manager. They called us conspiracy theorists. Well, now you know."
Danny Parkins, 610 AM
GH: Here is what 610 Sports' hosts Parkins, Wright and Carman don't get – Haley deserved to be fired on his job performance alone. Head coaches and GMs work through rocky relationships all the time. None of these 610 Sports guys are old enough to have any insight into the King Carl/Marty Schottenheimer years, but there were times when those two hated each other inside Arrowhead. Haley got fired because his teams got beat by embarrassing scores. Pioli didn't have to invent negative stories about Haley to undermine him. The former Chiefs head coach/golfer did a remarkably good job of undermining himself.
"There is still the potential for a Josh McDaniels hire to work. It's not a homerun hire. It's not going to sell a lot of tickets."
Soren Petro, on Pioli looking to hire the former Broncos' head coach, 810 AM
"For all of you Chiefs conspiracy theorists, I could envision McDaniels as OC in KC if the
staff gets fired in STL, but not as HC."
Pete Morris, Chiefs former media relations rep, Twitter
"If the next coach is anyone currently on the Chiefs staff, it will be an incredibly
unpopular choice."
Soren Petro, 810 AM
GH: The NFL is about one thing and one thing only – making money. Fans are duped into thinking franchises are as motivated as they by wins and championships. It is not the case. Sure, the Chiefs want to win but they want to make money first, foremost and always. Haley wasn't going to help sell tickets. A new coach will. They will choose someone who they believe will move the most tickets and beer. Please see Sheahon Zenger's firing of Turner Gill and hiring of Charlie Weis. It is always about the money.
"Kirk Ferentz's name will come up for Chiefs job. Ricky Stanzi, I suspect, would support that candidacy."
Blair Kerkhoff, Twitter
GH: Here are two names that have no future with the Chiefs – Iowa's head coach and the Hawkeye's former QB. Iowa isn't even all that excited about Ferentz. Talk about a hire that would create a dive in ticket sales.
"Would like to see what Stanzi can do. Nothing to lose really."
KC Mayor Sly James, Twitter
GH: You want to know how bad Stanzi is? With his job on the line the last month, Haley refused to play the rookie signal caller in front of Tyler Palko. It had nothing to do with him wanting to flip off Pioli for picking the Iowa QB. It had to do with Stanzi being even
worse than Palko. It is almost impossible to believe that the Chiefs have two quarterbacks on their roster that are that inept. Believe it.
"The best part about Todd Haley's firing is that there is now one fewer scapegoat between Scott Pioli and the unemployment line."
Rany Jazayerli, of RanyontheRoyals.com, Twitter
GH: The much-decorated former Patriots' GM is now front and center when it comes to the future success/failure of the Chiefs. Part of Haley's crazy-man, hobo act gave Pioli a pass in that he placed so much focus on his eccentric behavior. I am guessing the next head coach will be clean shaven, know how to dress on the sideline and not sound
like he is asleep during a press conference. That will make it more difficult for Pioli to hide.
"Also feel for QB Matt Cassel, a guy who would benefit from coaching stability around him & who may have a 5th different OC in as many years."
Pete Morris, Chiefs former media relations rep, Twitter
GH: I always have a hard time working up sympathy for a guy who has a $63-million contract.
"Right now [the Chiefs] are not even in the top ten for a draft pick. This cannot be a one-player draft for the Chiefs. They are going to need to get several players out of this draft."
Adam Teicher, on the chances of the Chiefs drafting a quarterback with their first pick, 610 AM
"You need an offensive line and we don't have one."
Bill Maas, saying he favors the Chiefs using their first draft pick on an offensive lineman, 610 AM
"Right now it's CYOA, if you know what I mean about that. Each player playing for his own [future]. They know there is no shot at going to the playoff. They know there is probably going to be a new coaching staff."
Todd Haley, in his postgame comments, 610 AM
GH: That effort against the Jets had the CYOA Chiefs look like they were playing naked.
"Chiefs fire Haley. Weis cleans out office at KU. Son transfers to Maple Woods."
Mick Shaffer, of Metro Sports, Twitter
[email protected] and Twitter / greghall24