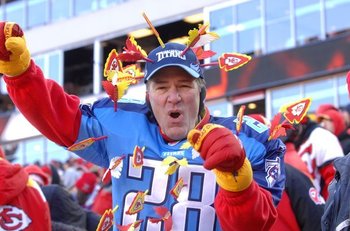 "Like the people who do The Wave (especially in key moments of a game) and men who propose to their girlfriends on JumboTrons, it's hard for me to articulate just how badly I hate (Chiefs fans complaining about a lack of respect for their team) but I'll have fun trying: You all sound like fools. Stop it. Shut up. For your sake, and ours."
Sam Mellinger, Kansascity.com
GH: Kansas City has an inherent problem with feeling inferior – to almost every other city, team, climate and time zone. We do seem to think our BBQ is pretty special – but outside of that we could learn a lot from those cities and states we despise – like New York and Texas. Mellinger did a good job of articulating his strong aversion to this Kansas City national pastime of hand wringing over what others say, think and don't say and think about the Chiefs – but it holds true for the broader picture of our fair city and those who inhabit both sides of the state line it borders. Read on.
"The inferiority complex is as strange as it is annoying. It's an awful look. The Chiefs are having a fabulous season, and every second you spend complaining about what Bomani Jones or any other national media member says about you would be better spent giving yourself a swirly."
Sam Mellinger, Kansascity.com
GH: Before Bomani Jones said that Alex Smith was "hot garbage" I thought he was something my wife uses to clean the sink. Unless you are writing an Off The Couch column that specializes in posting dumb quotes, smart ass commentary and entertaining reader comments – you should not be bothered by the Bomani Joneses of the world.
"If your joy as a sports fan is tied to what someone you'll never meet says about them, you're doing it wrong. Besides, the season isn't even halfway done yet. Your team won two games last year, and was generally the biggest embarrassment in football in a league that included the Jacksonville Jaguars. So if someone wants to see more than two good months before anointing the Chiefs the '85 Bears, it's a perfectly logical stance. They are not kicking your dog, or calling your wife fat."
Sam Mellinger, Kansascity.com
GH: First of all – no one kicks my dog (or cat in our household's case). As for calling my wife fat – well, she's not so that isn't really going to piss anyone off except my wife. And that is not advisable. As for the Chiefs being the '85 Bears…there's a lot better chance of that happening than me calling my wife fat.
"We were flicked off, more times than I can count, beer thrown on us from the section above, they chanted how much Houston sucked, and on and on. I think I will stay in Houston next time. If I'm gonna spend my money, it will be in a city that is a little more hospitable. I love a little friendly rivalry, but this wasn't friendly. However, I still had a great time with my kids, and again, I am so proud of my Texans!"
Jacki Dowling, the wife of injured Houston firefighter Captain Bill Dowling, was at the Texans/Chiefs game last Sunday at Arrowhead with her three children, khou.com
GH: NFL stadiums are rife with this kind of rude and just plain mean behavior by people who should but obviously do not know better. We cannot rid Arrowhead of all the drunken idiots who occupy it – especially when the parking lots open five hour before kickoff to allow these fools to marinate their asinine behavior. What we can do is have right-thinking Chiefs fans use their cell to call security when they see this kind of abuse – whether it is toward a fan of the opposition or another Chiefs' fan. The Chiefs need to do more with signage, video alerts, etc. to promote how to call Arrowhead's security to ensure a safer environment for ALL fans who attend a Chiefs' game.
"Great to be interviewed by the BBC today! Chiefs Kingdom in the U Kingdom! Arrowhead gets international attention!"
Mitch Holthus, @mitchholthus, Twitter
GH: The Brits probably can make sense of Crazy Uncle Mitch. They did spawn Benny Hill.
"It was tougher all the way around. I'll go home, relax and get ready for another season. I'll be ready to go. I'll be ready."
Billy Butler, who has been rumored to being shopped by the Royals for a trade, Kansas City Star
GH: ESPN's Buster Olney fueled this rumor last week on Twitter and today on WHB's Border patrol he mentioned that the Royals would have a tough time finding a trade partner for a DH-only player like Butler. Olney called the 27-year-old Butler, "a dinosaur." I'm guessing Billy prefers "Country Breakfast" as a nickname.
"I apologize to Boston and St Louis. My intent wasn't to offend and I know both cities' fans and teams will provide a great World Series."
Jeff Passan, @JeffPassan, after he sent out a tweet that disparaged the cities of Boston and St. Louis as racist, Twitter
GH: Here was Passan's tweet; "Well, at least the storyline in this World Series won't be old school vs. new school. It'll be which city is more racist." This is the guy who ripped Kansas City fans as classless for playfully booing Robby Cano at the 2012 All-Star game. His apology sure rings sincere. I can see where his intent with that tweet "wasn't to offend." Right.
"K-State football on pace to shatter season attendance records. K-State has won 15 of its last 18 at home. Give yourselves a pat on the back."
D. Scott Fritchen, @DScottFritchen
GH: How quite are things on the Kansas State football front? Was it the loss to North Dakota State that just completely knocked them off the Kansas City radar? The Cats still have chance to get to a bowl and rebound from their disappointing start – but it appears that very few people even here in KC are watching, talking or even…gulp…caring.
"Think Mizzou is a fluke? Don't have talent?! Think again. Since 09 in all of CFB, only Bama & Florida have more 1st rounders than Missouri. I'm not saying Mizzou is a dominant team or that they're not beatable. Just saying they have athletes & are better then folks realize."
Kirk Herbstreit, @KirkHerbstreit, Twitter
GH: What Mizzou fans have been edgy about isn't the number of first-round NFL talent Gary Pinkel has been able to attract to Columbia – it's the lack of titles. Like none. This is why Mizzou Fan is reticent to believe this season will turn out well. Listen to Steven St. John and Carrington Harrison – two avowed MU fans – both almost always expect the worst. And it is hard to argue when you examine Missouri's history.
"Kony Ealy on South Carolina DE Jadeveon Clowney: 'He's not God.'
Ross Dellenger, @RossDellenger, of the Columbia Tribune, on the Tigers facing South Carolina this Saturday and the much-hyped Clowney, Twitter
GH: I'm not sure the erratic Clowney is even Charlton Heston.
"This is the biggest game for Missouri before the SEC title game."
Kevin Kietzman, on Saturday night's game against South Carolina in Columbia, 810 AM
GH: This is like the fifth "biggest game" of the season for Mizzou. Sure, a win all but wraps up the SEC East for the Tigers. But the SEC is a tough conference and losing to the Old Ball Coach is no disgrace. I don't see Mizzou's season imploding if they drop this game and "fall" to 7-1.
"I'm going to say it's going to be 74-17."
Jack Harry, when asked to predict the Baylor/Kansas score, 810 AM
"I'm going to hold onto the idea that Baylor has struggled as a road team. Maybe Kansas can run the ball enough to keep Baylor's offense off the field. But if Baylor runs 100 plays like Texas Tech did…"
Nate Bukaty, 810 AM
"I know I'm kind of on an island here, but I'll say it anyway: the KU job isn't as bad as many think, or as bad as Turner Gill and now Charlie Weis are making it out to be. I'm not saying this is a great job, or a sleeping giant, or any of that stuff. But you can win at KU. You can build it into the kind of program that goes to a bowl game two or three times out of five years, with the occasional season good enough to dent the top 25. There have been massive facility upgrades in the last decade, with more planned. You just need the right coach."
Sam Mellinger, Kansascity.com
GH: Would Kansas fans be content if KU football were as successful as say…Iowa State? I believe they would (privately if not publicly). Is there any reason KU football is not as successful as ISU? None. Get it done, Sheahon. Your job depends on it.
"I'm extremely happy here at Baylor. We've got a good thing going and I can't see myself anywhere else. The great thing about my situation is I don't really pay attention to anything. It's a week-to-week job, and all I am trying to do is just stay focused on the task at hand — and that task is making Baylor the best it can be."
Art Briles, on remaining the head coach at Baylor, nbcsports.com
GH: How many "week-to-week jobs" do you know that are permanent? He's gone.
"I'm really surprised that Oklahoma is favored in this game. They're a seven-point favorite. I don't get it. Texas Tech to me is really good because they're playing defense. I see Texas Tech winning this game outright. I don't think Oklahoma is playing well enough to beat them even though they are playing at Oklahoma."
Gary Barnett, 810 AM
GH: Oklahoma has gone from a return to greatness to being picked to lose to Texas Tech at home all in the same season! Is Bob Stoops in trouble at OU? Is that just crazy talk? Leabo? Leabo?
"There's no way I'm going to do that."
Brett Favre, when asked by a Washington radio station is he is interested in returning to the NFL with the St. Louis Rams, ESPN Radio
GH: Translation: "I can probably be in shape to start Sunday."
"A part of me would love 2 call a team needing a QB 2 see if I could still do it! The rest of me is shouting "Idiot, enjoy retirement!"
Kurt Warner, @kurt13warner, Twitter
GH: Warner tweeted this out last week before the Rams went courting Favre. Are we in for the Greatest Show on Turf Part II?
and Twitter / @greghall24