"There's no doubt, this is the biggest game in Columbia in 53 years."
Gabe DeArmond, of PowerMizzou.com, as the Missouri Tigers prepare for their game against Texas A&M Saturday night in Columbia and a chance to play in the SEC title game, 810 AM
GH: In 1960 Dan Devine's Missouri Tigers finished 10-1 as the Big 8 champs and defeated Navy 21-14 in the Orange Bowl. Ron Taylor was the Tigers starting QB and he completed 23 of 44 passes for 302 yards…for the season. MU's lone loss that season was 23-7 in the season finale in Columbia to a John Hadl-led Kansas Jayhawks team. Hadl's season passing stats were not much better than Taylor's. He completed 43 of 87 passes for a season total of 566 yards. What would 1960 think of Johnny Football?
"Forget senior night. It's A&M night. I'm going to look at all the fancy, emotional stuff later, and that'll be great. But right now, we're playing A&M, man. Our minds are on A&M, not emotions or feelings."
Max Copeland, MU's senior left guard, Columbia Tribune
GH: This might be one of my all-time favorite pregame player quotes. Who needs emotions and feelings when you have a football game to play? Let's get it on!
"When I talk to coaches before games, we'll be talking about something about how it's great to be sitting around all day before we play and, 'Oh, I had a great time. It was great watching games.' And I'm about ready to stab myself. … I am what I am, focus-wise, intensity. Everybody's different. I don't sleep well during the season. That's just the way it is."
Gary Pinkel, Columbia Tribune
GH: Why do I get the feeling Charlie Weis needs an alarm clock each morn to wake him from his slumber?
"I think it's going to be like 38-31. I think it will be a great game. I think Missouri's going to the SEC title game."
Frank Boal, 810 AM
"I like Missouri big. Taking down the goal posts and everything!"
Dennis Dodd, 810 AM
"I think Johnny Manziel is going to be remembered for how bad his last two games were. 45-21. That defense for A&M is awful!"
Kevin Kietzman, 810 AM
"A&M at Mizzou."
Kirk Herbstreit, @KirkHerbstreit, when asked what game he will be working this Saturday, Twitter
GH: The big boys are coming to Columbia for the Tigers try at the SEC East title and another glimpse at Johnny Football. This is gonna be one crazy day and night in CoMo.
"Saturday's game is huge for A&M's bowl destination. Auburn (10-1, 6-1) along with unbeaten Alabama are at the top of the SEC invitation list. A&M (8-3, 4-3) might have gotten the nod over Auburn if both had finished 10-2 because it probably would have had a two-time Heisman winner in Johnny Manziel. A 10-2 finish for A&M is no longer possible, but A&M could be still more attractive than Missouri as long as it beats the Tigers. The Capital One and AT&T Cotton Bowl can fight over A&M and South Carolina, providing A&M beats Missouri. But if A&M loses, then the Aggies would be sixth in the SEC bowl pecking order and it would be hello Atlanta and Chick-fil-A."
Robert Cessna, writer, Aggiesports.com
GH: I heard Dennis Dodd say that this game means next to nothing to A&M. I'm not so sure. The Aggies looked awful at LSU last week but a lot of teams have suffered that same fate in Baton Rouge. Manziel might not be the cuddliest football folk hero but he is one tough competitor. And he LOVES the bright lights. I expect Johnny Football to light up Mizzou for more than 35 but the Tigers should be able to score in the 40s.
"(Mizzou) students are gone now (on Thanksgiving break). Dorms are closed. If you are a student and you don't come back for this game, you should not be allowed to purchase another ticket to an athletic event – EVER! This game is not going to happen again while you are a student. I don't know why anybody wouldn't come back."
Gabe DeArmond, of PowerMizzou.com, 810 AM
GH: How about it Mizzou students who read my OTC? You coming back to CoMo for the game or are you going to watch history unfold from mom's couch? Our MU son still hasn't made it home from Columbia and school has been closed since Friday. Maybe The Antlers kidnapped him. Hell, maybe he was elected Grand Pupa of The Antlers!
"Next weekend…#Mizzou vs. Johnny Football for the SEC East…#Chiefs vs. Broncos for the AFC West…LET'S GO!!!!"
Steven St. John, @SSJWHB, Twitter
GH: Do not forget the Sunflower Showdown. Read on.
"Once Oklahoma figured out Tyler Lockett last Saturday they rolled."
Dennis Dodd, on Oklahoma's 41-31 win over K-State in Manhattan, 810 AM
GH: Did Oklahoma really figure out Lockett or did the Wildcat wide receiver just get leg weary after catching 12 passes for 278 yards and three touchdowns? Tyler Lockett should be up for the Heisman. The dude is that freaking good!
"It still amazes me that a university can be so good at one sport and so bad at another."
Frank Boal, on Kansas' moribund football program and elite basketball program, KSHB TV 41
GH: Iowa State recorded it's only Big 12 football win Saturday night with a 34-0 ass kicking of Charlie Weis' "pile of crap" Jayhawks. Bill Self's undefeated basketball team looked Final Four worthy as they ran all over overmatched Towson on Friday.
"The team is just not very good. I don't think they look appreciably better than last year."
Todd Leabo, on Kansas' football team, 810 AM
"Weis: Our defense, all year long, has played good enough to have won games. With Cozart on Offense, everything changes."
Matt Tait, @mctait, after KU's win at home over West Virginia, Twitter
GH: With Cozart at the helm, KU was shutout in Ames by a bad Cyclone defense. Everything has not changed.
"We've had K-State circled all season. We've had a running clock waiting for this game since the summer. This is the No. 1 game we want to win every single year, so there's no doubt we'll bounce back from this (loss at Iowa State)."
Gavin Howard, KU's senior center, KUSports.com
"This is a big game for us and a big game for the Kansas program. A win like this could throw everything out the door. Whatever the record was, OK, we beat Kansas State, our rival, we got bragging rights for a whole year. … So we're just looking forward to preparing and getting ready to beat K-State."
James Sims, KU's senior running back, KUSports.com
GH: I would not consider what Sims says here as hyperbole. A KU win over KSU might just make the rest of KU's awful season irrelevant. Is it likely? No. Bill Snyder enjoys crushing Kansas more than he enjoys crushing a Taco Bell chalupa.
"Jake Heap, I'm sorry, has been a disappointment. I think we could all agree with that. It defies description, but Charlie Weis is a quarterback maker."
Dennis Dodd, 810 AM
GH: Weis is 0-2 in hyping first-year quarterbacks who were supposed to come in and be the next Bill Whittemore. (Can you tell that I loved watching Whittemore play?)
"I'm still waiting for some guys that (Weis) recruited to be difference makers. I know it's only been two years but they haven't been able to find difference makers. That's scary if you're a Kansas fan."
Todd Leabo, 810 AM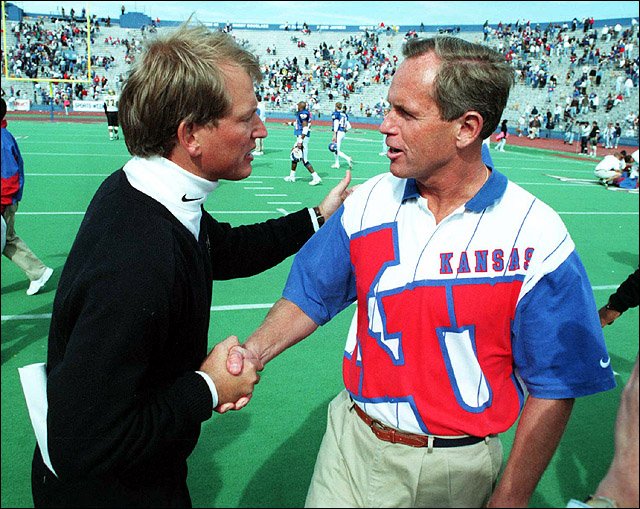 "Glen Mason and Mark Mangino proved that Kansas should never be this bad."
Dennis Dodd, 810 AM
GH: Kansas wasn't this bad under Terry Allen, who was 20-33 in his five years.
"I speak New Jersey."
Charlie Weis, when asked if he curses at his players, 610 AM
GH: Maybe this is the problem.
"We do it right, C-Dot. There's no skimping on food! I'm a traditionalist. Everything you can put on a Thanksgiving plate is on my plate."
Bill Maas, when asked by Carrington Harrison what would be on Maas' Thanksgiving dinner plate, 610 AM
GH: My Thanksgiving plate has to include both white and dark turkey meat, a huge heaping of "the good" dressing, a large pile of mashed potatoes, two helpings of the better green bean casserole
and maybe a roll. Oh yeah, and drown the entire plate in thick brown gravy. I'll also improvise as I go through the buffet line, (we dine with my wife's side of the family for Thanksgiving and all 14 of her siblings pitch in for a massive potluck). My absolute no shows when it comes to eating on Turkey Day are; no yams or sweet potatoes, no cranberries of any kind – real or jiggly, and no Jell-O, fruit-bearing or marshmallow salads. Hate those salads taking up space on the Thanksgiving table.
*****
Enjoy this Thanksgiving holiday with your family and friends. I hope you have too many to make them all happy they were able to spend time with you. And thanks for showing up here occasionally to read my OTC.
PS: Go Chiefs!
and Twitter / @greghall24