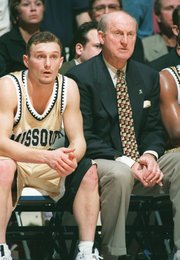 "I didn't watch the second half of the season to be honest with you. For me, I just want to see them play hard and give everything they've got. But they didn't put effort out. This year was just hard for me to watch to be honest with you."
Jason Sutherland, former Missouri guard under Norm Stewart, in an interview with The Border Patrol when asked about Frank Haith's final season at Missouri, 810 AM
GH: This is why so many Mizzou basketball fans cheered the news Frank Haith was leaving for Tulsa. The Missouri Tigers had lost their growl and another season under Haith was not going to get it back.
"The next (Missouri basketball) coach better go to the Final Four in the next five years or Mike Alden has to be let go. The Final Four is not the riddle that Missouri fans think it is."
Soren Petro, 810 AM
GH: Petro still doesn't understand college athletics. If Gary Pinkel keeps winning in the SEC in football, Mike Alden isn't going anywhere but to the bank. That might not sit well with some MU fans but that is the reality of college sports today. Football matters and everything else is just everything else.
"What we do know is that Kim Anderson was telling people he had verbally been offered the (Mizzou) job."
Danny Parkins, on his Friday show, 610 AM
GH: Harrison sent out a tweet Friday before their show promoting a big news story on the MU coaching search. What we got was simply garbage. And not even warmed over garbage. Just garbage. Read on.
"Just hold on a second, we are not reporting that Kim Anderson has accepted this job."
Danny Parkins, on his Friday show, responding to a caller who thought from Parkins' and Carrington Harrison's report on Friday that the Central Missouri coach had accepted the MU job, 610 AM
GH: That is how this report came off from Parkins and Harrison, like they were breaking the news that Anderson would be the new MU coach. They didn't report that but their audience perceived them as reporting it. Either way, it was sensationalist radio that just doesn't work for me.
"(Anderson) has since denied that to us on an on-the-record statement, which comes as no surprise."
Danny Parkins, on his Friday show, 610 AM
GH: So Parkins has Anderson's denial but STILL goes live with this bogus report? Kevin Kietzman is having more of an influence on 610 than I thought.
"Our source relayed to us that he believed (Friday) morning that it was falling apart with Kim Anderson."
Danny Parkins, on his Friday show, 610 AM
GH: So in the span of a few minutes, Parkins and Harrison go from Anderson saying he was verbally offered the Mizzou job to him denying it and their source saying the talks have broken down. This is what you call bad radio – even for 610 Sports.
"If that (Oklahoma City) coach Scott Brooks gets fired, then Bill Self is going to be a candidate and he will HAVE to put out a statement! All I know is it will be a wild time in Kansas City if that job comes open. It's going to be wild! There's going to be a lot of people on the edge of their seats! … I don't know if there would EVER be a better opportunity than this! This thing is ready-made to go win a championship!"
Kevin Kietzman, on Bill Self as a hire this off-season for Oklahoma City and the NBA, 810 AM
GH: Maybe KK heard Parkins' and Harrison's open on Friday and wanted to one-up them with a baseless report.
"I'm in sports talk radio. I'm always looking for a big story."
Kevin Kietzman, explaining to Kevin Harlan how and why he is floating this Bill Self to Oklahoma City story, 810 AM
GH: Remember these comments from KK the next time he "breaks" another story.
"I couldn't have asked for a better showing. I know I was capable of it, but it's just awesome to finally get the opportunity and showcase my skills here at this level. … As soon as I found out I was going against (Tampa Bay's David) Price, I thought to myself, 'What an opportunity. There's no better chance to showcase my skills and get to go against one of the best guys, a Cy Young winner.' I just happened to be better than him today. It's a fun experience, and I'm just so happy to do it."
Scott Carroll, the 29-year-ol former Liberty HS quarterback, basketball star and pitcher, after toiling for more than a decade in the minors and rehabbing from Tommy John surgery two years ago, AP
GH: How about this local kid finally getting his break in The Show and producing at the age of 29? Here is a link to YahooSports.com story on Carroll.
"Coming up, the most overused and over-talked about phrases in sports. That's next!"
Bob Fescoe, 610 AM
GH: This from the most cliché sports talk radio show in Kansas City. Fescoe's show has gone from crazy talk to just boring.
[email protected] and Twitter @greghall24