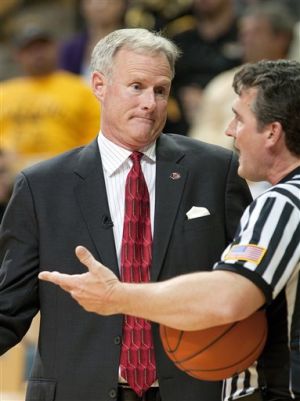 "Kim Anderson may not but one of 'hot names' created by media every spring but this feels like a fit. You can't get any more @Mizzou than him."
Fran Fraschilla, @franfraschilla, Twitter
GH: Fraschilla couldn't be more right – and that is exactly what has a number of Mizzou basketball fans concerned – that this is another example of Mizzou being Mizzou. How else do you explain hiring a D2 coach over Ben Howland's resume?
"I don't know how you can explain that Kim Anderson is a better hire than Ben Howland. IN WHAT WORLD?"
Carrington Harrison, 610 AM
"It will be interesting to hear Mike Alden tell us why and how this decision came about."
Jon Sundvold, 810 AM
"Last coach from D2 MU hired as men's basketball coach was Norm Stewart from Northern Iowa, D2 until 1980."
Tom Orf, @MU4124, Twitter
GH: Yes…in 1967. Bob Fescoe reminded Jayhawk fans on Twitter who were having fun with MU's D2 hire that Phog Allen came to Kansas from a D2 school. Yes…in 1907. Big time D1 basketball programs do not hire their head coach from the D2 ranks in 2014. Wisconsin is the anomaly, not the rule. This is a HUGE gamble by Mike Alden. Gary Pinkel better keep rolling QB aces in Columbia the next five years to distract the hoops fans.
"Let this be a program. Let him plant some roots and if it doesn't work out, so be it."
Vahe Gregorian, on Mizzou's choice of Kim Anderson, 810 AM
GH: What the hell kind of attitude is THAT? "If it doesn't work out, so be it." This ain't Friday night bingo at Holy Name parish! This might be the most SEC comment uttered from a Mizzou writer in the history of Mizzou.
"You couldn't get the guy you ultimately wanted so you had to settle for Kim Anderson. There's not a lot of guys who would leave their (head coaching) situation. I don't think from what I've been told that Missouri was offering a ton of money."
Jeff Goodman, ESPN college basketball columnist, in an interview with The Drive, 610 AM
GH: Kietzman mentioned last week that he heard MU was trying to pinch pennies with this hire. It appears he may have been right. Read on.
"Kim Anderson was making 150K at UCM. Financial details of deal with #Mizzou will be out tomorrow."
Gabe DeArmond, @GabeDeArmond, Twitter
GH: So the other candidates didn't like the cash being offered so… "Uh, Kim. How about we raise your salary times seven or eight?"
"Every person who ever met Kim Anderson knows what a class act he is. Congratulations to him. More: congrats to Mizzou."
Joe Posnanski, @JPosnanski, Twitter
GH: And we all know how important it is to have a class act in charge of your DI basketball program. Part of me has to wonder if all of MU's recent embarrassing issues with their football, basketball, swimming, etc. made hiring Classy Kim a lot easier than defending a hire of Broken Ben.
"Congrats 2 Kim Anderson on being named the HC at his alma mater Excellent hire , he will bring stability and ownership back in Columbia."
Seth Greenberg, @SethOnHoops, Twitter
GH: And if he doesn't…so be it.
"I won't be as mad about this if they keep (assistant coach) Tim Fuller. … Acquiring the talent is a big deal."
Carrington Harrison, 610 AM
GH: Fuller was the best recruiter on Frank Haith's staff. Word is he is staying.
"I'm pretty underwhelmed by the Kim Anderson signing at Missouri. Seems like the safest pick available. However, I'm fairly confident the Mizzou program will be headed in a better direction under Kim Anderson than it was under Haith."
Peter Fleischer, @Peter_Fleischer, MU grad and Memphis sports anchor, Twitter
GH: Haith was a lame duck coach in the final year of his contract after missing the NCAA tourney. That's not a high bar, Peter.
"Thrilled to have Coach Kim Anderson at Mizzou. Going back to the arena will still feel like home now. WELCOME!!! Can't wait to watch."
Laurence Bowers, @LBowers_21, Twitter
GH: Bowers is Mizzou Man through and through. You have to admire how deep his Tiger blood runs. I get the feeling he'd cheer MU hiring Truman.
"Missouri paid a search firm to hire Kim Anderson?"
Doug Gottlieb, @GottliebShow, Twitter
GH: If it is true that Mizzou spent $50K over the last two weeks to "find" Kim Anderson, I don't know how you send them money the next time they call for donations.
"I hope Kim Anderson does great things but I doubt Mizzou fans are fired up about the hire, especially since his predecessor left for Tulsa."
Seth Davis, @SethDavisHoops, Twitter
GH: When viewed from afar, this looks like a crazy bad skit on SNL – with the Mike Alden role played by Debbie Downer. MU hired the guy that wanted the job the last three times they went looking for a coach?
"I like (the hire). … No, I'm not coaching. But I'll help Kim anyway I can. I've done that with every Missouri coach."
Jon Sundvold, 810 AM
"I think it's been really, really hard to like Missouri basketball since Norm."
Kevin Kietzman, 810 AM
GH: What made MU basketball popular under Norm was how easy his teams were to HATE! Who hated Mike Anderson when he was the coach at MU? Who even knew who Frank Haith was? MU's mystique in the past was their Jason Sutherland persona and how opposing schools hated their tough style of play. If Anderson brings that reputation back to Mizzou Arena, he'll fill it and then some.
[email protected] and Twitter @greghall24