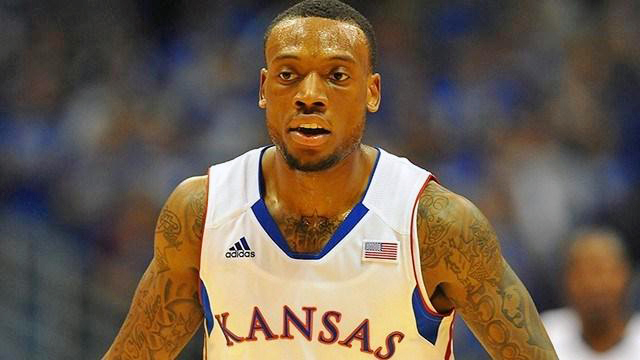 "Naadir (Tharpe) and I have talked numerous times since he's been here about his role and about his situation back home with his daughter. He's told me many times how much he misses his little girl, and she's had some health issues that has certainly made it difficult for him to be away from her for this extended period of time. She's doing very well now, but Naadir approached me after the season was over about him wanting to be closer to her. This is his decision to try and accomplish that."
Bill Self, explaining why his senior-to-be starting point guard has "decided" to transfer from Kansas to an unnamed school back near Boston, KUsports.com
GH: "This is his decision…" Really? Who believes it was Tharpe's decision to leave Kansas before his senior year to go back east to hook on at an undetermined new school to complete his degree and play his senior year? How does this benefit his daughter? If Self and Kansas truly have Tharpe's best interest, aren't they advising him to stay at KU, graduate and then head back home with a college degree to aid in his daughter's upbringing?
"This very easily fits in the category of 'Social Media Termination.' You blew it."
Kevin Kietzman, on the official work from Kansas that Naadir Tharpe will not be returning to Kansas for his senior year, 810 AM
GH: Kietzman, like almost anyone who isn't a spokesperson for the Kansas basketball program, pointed to the sexually charged photo of Tharpe and a married woman that went viral on social media as to the reason for Tharpe's "decision" to transfer.
"Less than 24 hours after learning that it was losing its starting point guard, the Kansas University men's basketball program landed another, when Devonte' Graham, a 6-foot-2 senior point guard from Brewster Academy in New Hampshire announced his plans to join the KU program."
Kusports.com
GH: What a coincidence…
"I think it's a good move for both parties involved."
Bob Fescoe, on Tharpe's departure, 610 AM
GH: How is this good for Tharpe? Would Fescoe want his son to give up his scholarship at Kansas before his senior year to go find another school where he will not have near the support Tharpe has built up at Kansas?
"It just seems disingenuous."
Danny Clinkscale, on the KU statement mentioning that Tharpe is leaving KU to be closer to his daughter, 810 AM
"Due to extenuating circumstances within my personal life, I will no longer be attending the University of Kansas. My daughter has current medical issues that require weekly visits to her physician, as well as with a specialist. At this juncture, I feel it is best to be closer to home where I can assist and support in any way necessary."
Naadir Tharpe, KUsports.com
GH: At least Tharpe came closer to the truth in his statement by mentioning "extenuating circumstances within my personal life." I doubt he meant his embarrassing off-court behavior but I'll give him the benefit of the doubt that maybe he did.
"If that photo doesn't come out, he doesn't transfer."
Jake Gutierrez, 810 AM
"(Bill) Self had no comment regarding any negative issues regarding Tharpe."
Gary Bedore, KU beat writer, Kusports.com
"What is truly unfortunate is that Tharpe will not get an opportunity to work through his issues and complete his eligibility, or his degree, at Kansas. Tharpe made a mistake posing for the inappropriate photo, which was not mentioned, naturally, in the release KU distributed. … What is distasteful is that KU did not feel compelled to take on Tharpe for one more year."
Kevin Haskin, columnist, Topeka Capital-Journal
GH: Our favorite universities want us to donate money, love their recruits, worship their coaches…all right up until they decide to fire the coach, kick the player out of school or double-speak their way out of the next embarrassing incident. And this is FAR from a KU issue – this is every big-time university and too many not-so-big-timers as well. Since this is all communicated by rich, powerful men wearing expensive suits, we nod and move on. Thankfully there are columnists out there like Haskin who refuse to look away.
"I'm uncomfortable talking about this."
Nate Bukaty, as The Border Patrol discussed Tharpe's now famous photo and how it impacted his departure from Kansas, 810 AM
GH: Bukaty obviously is too close to Tharpe, Kansas' athletic department and possibly the woman in the photo to feel comfortable discussing something as racy as this photo and Tharpe's "decision." Was Nate also uncomfortable discussing DGB's transgressions at Mizzou? Bukaty had a chance to offer a unique insight into what Self and KU were really thinking but he fell silent on the topic.
"Groundbreaking for the 32,000-square-foot, $18 million DeBruce Center is set for 11:30 a.m. today at the northeast corner of Allen Fieldhouse. The event is open to the public."
Gary Bedore, KU beat writer, Kusports.com
GH: The DeBruce Center will house the $4.3 million Naismith's original rules of basketball and provide a student center and dining area for men's and women's basketball players. Does anybody else think college athletics has not only jumped the shark but jumped off a cliff that will not result in a bounce but an ugly thud?
"Johnny Manziel. I don't like Johnny Manziel but I didn't like Tony Dorsett. If Johnny Manziel falls that far (to the Dallas Cowboys with their 16th pick)… He can grow up. They can teach him how to grow up."
Stan Weber, a lifelong Cowboys fan, when asked by Soren Petro who he thinks the Cowboys should take with their first pick, 810 AM
GH: Manziel is the anti-Roger Staubach – Weber's boyhood hero. Jerry Jones would likely get his investment back in jersey sales alone if the Cowboys could land this native Texan. Next week's NFL draft is going to be fun.
"I think this is a series just from a fan's standpoint where the Royals can make a little bit of a statement. One, we're not going away. And two, we're the ones everyone in this division needs to be concerned about. I think it's a good statement weekend for the Royals."
Mike McFarlane, with Detroit in town this weekend for a three-game series, 810 AM
"It's early, but let's continue to watch them swagger their way on through this schedule – especially this weekend when the Tigers come to town. It could be really exciting."
Rex Hudler, 610 AM
GH: If the Royals are swaggering through their schedule at 14-13, they should be in full-on twerk mode with a successful month of May.
"We'll go day to day with it but for the foreseeable future yeah, probably."
Ned Yost, when asked if he has made the decision to platoon Mike Moustakas and Danny Valencia at third base, 610 AM
GH: I take this as Ned saying the Moose is no longer loose. It will be interesting to see if Valencia is as good against lefties as his numbers state.
"It's a lot easier handling the second guessing, handling the criticism when you've got faith in your players."
Ned Yost, when asked by Ryan Lefebvre if he felt vindicated by Alcides Escobar's recent hot bat since he stuck with him despite his offensive woes, Royals Radio
GH: Ned is a baseball manager. He should understand if not welcome second guessing and criticism. It's not only part of his job but an enjoyable part. Instead of biting back at the media, smile at the dumb questions and revel in the chance to explain the game to those of us less enlightened.
"No (MLB TV broadcasting) crew received more total F's or a higher percentage of F's than the White Sox crew. Essentially, people either despised Hawk (for obvious reasons) or tolerated him for the sheer humor of it all, while there was a soft spot for analyst Steve Stone."
Awfulannouncing.com, on the White Sox TV crew being ranked last by fans
GH: YOU CAN PUT IT ON THE BOARD!
[email protected] and Twitter @greghall24