"The Royals nearly broke through and made the playoffs last year, and there's reason to think they take another big step forward to win an increasingly tough AL Central this year. This should be their year for a variety of reasons… I'll take the Royals to win the division, the Indians to finish second and the Tigers third."
Jon Heyman, MLB writer, cbssports.com
GH: You can read Heyman's column here. Some of the reasons he cites the reasons for his Royals optimism being the signing of Omar Infante at second base, the additions of Vargas to the rotation, Aoki as the new leadoff hitter and Moustakas blossoming into what we have all wanted him to be.
"(The Royals) haven't made the postseason since 1985, so a division title would be a huge surprise. But the Royals did win 86 games last year, they have the most athletic team in the league and they had the AL's top pitching staff last year — and now they add a full season of hard-throwing Yordano Ventura. Youth is no longer an excuse. Manager Ned Yost has a team that is ready to win."
Tom Verducci, sportsillutrated.com
GH: The Royals are no longer the easy joke on the Tonight Show. (I believe that distinction now resides in Minnesota.) But are the Royals ready to live up to the unprecedented expectations being placed on them by many in the national media?
"The Royals smartly upgraded a team that had its first winning season in a decade with a couple of effective veterans in Norichika Aoki and Omar Infante. They have a core of young talent that looks poised to make the leap together — particularly Eric Hosmer, Salvador Perez and Mike Moustakas. They've got Billy Butler batting cleanup in his age-27 season. They've got a solid rotation behind No. 1 James Shields, including a potential breakout star in the 100-mph-throwing Yordano Ventura, and a bullpen that was last year the best in the AL. In short, they've got all the ingredients to end their streak of seasons without a playoff appearance at a modest 28."
Ben Reiter, sportsillutrated.com
GH: Not everyone is on a Kansas City BBQ high but there are enough nationally to put some pressure on this long-dormant franchise to produce a winner in 2014. The seasons filled with disappointment and excuses are dead. It is time. Is it our time? It is way past out time and now into our grandkids time. Play ball!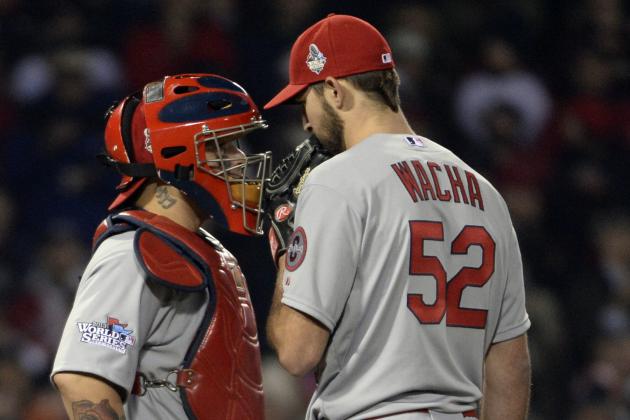 "One general manager recently told me that he expects St. Louis to win a strong NL Central by at least 10 games. This is a club without a weakness and with unmatched depth, as it has eight pitchers with upper rotation stuff and an outfield so loaded that Oscar Taveras, the game's consensus third-best prospect, will likely be stuck at Triple A for most of the year. This team will be the majors' first to win 105 games since the Cardinals themselves did it a decade ago."
Ben Reiter, sportsillutrated.com
GH: I know a LOT of Royals fans hate the Cardinals and hate their fans even more. I am not in that fold. I grew up in the '50s and '60s when the Cardinals were almost everybody in the Midwest's favorite baseball team. I was a Willie Mays and Giants fan but my dad and brothers were Cardinals fans from long before the A's and Royals hit Kansas City. Sure, there have been some lulls in that storied franchise but their overall success since before my birth is just staggering. And here they are again this season with another winner. I was at game two and game seven of the WS in 1985. Sure would like to see Missouri's two ball clubs meet in October once again this fall.
"Was I positive last year? Yes. I'm looking at .500 this year. They've got us projected for four or five games over .500. I'm saying .500."
Mike Boddicker, 810 AM
GH: Boddicker isn't quite as optimistic about the Royals as some. Maybe most. Read on.
"(Danny) Duffy can't throw strikes! He can't get people out! He doesn't buy into it. He says he does but it's lip service. You have to make adjustments and he hasn't in the last year and a half."
Mike Boddicker, former Orioles and Royals pitcher, on the Royals young but wild lefthander, 810 AM
"I don't know (Kyle) Zimmer. All I can remember is that in The Star, it shows (a photo of) Zimmer throwing and I picked out three things that were wrong with his delivery in just the picture! If I see that, control is going to be an issue, health is going to be an issue. I started laughing. You can ask my wife. They said his delivery is fine? This is awful just looking at the picture!"
Mike Boddicker, on the Royals highest rated pitching prospect in their farm system, 810 AM
GH: I love how Boddicker speaks his mind during his spots on The Border Patrol. I don't know Mike but he sounds like a genuine fan. No agenda, no grudges, he just wants what's best for his old ball club. He might be wrong as hell and he might not be. But he sure as heck delivers his opinions with passion.
"Fox Sports Kansas City, which always does such a great job (broadcasting Royals games), I don't know why they are trying to showcase this Howdy Doody guy in the booth! He was jumping out of airplanes and they were mimicking him in the dugout. I said, 'What in the world are we watching?' I couldn't even watch the baseball game! You know who I'm talking about. … I don't need that kind of entertainment – or lack thereof."
Jack Harry, who identified Rex Hudler as playing the role of Howdy Doody, 810 AM
GH: I am not a fan of Hudler's dumbed-down delivery for the Royals TV broadcasts and I applaud Mad Jack for his frank comments about Hudler's work. I just wish Harry could take criticism as well as he delivers it.
"I've been broadcasting a long time. Some people sound real and some people don't sound real. And it's not always their fault. And I'm not trying to make a bad commentary."
Kevin Kietzman, responding to Jack Harry calling "this Hudler Hoody Doody guy," 810 AM
GH: So what kind of commentary is Kevin try to make? A positive one? Have some tummy, Kietz, and say what you really mean. This kind of dancing around to eventually level a harsh critique is unbecoming and phony.
"I try to tell it like it is. I don't try and trump it up or anything. You might think I'm dumb or stupid or whacky or whatever. But it is what I am. Some people in broadcasting just sound forced. I use the term real or not real. It doesn't sound real! It's not the way you would talk to people. … When the light comes on, it sounds like nobody could really sound like that. Unfortunately, that is how the (Royals) broadcast sounded (Wednesday) night."
Kevin Kietzman, 810 AM
GH: Kietzman doesn't "try and trump it up or anything?" Real? Has Kevin ever listened to his forced radio laugh? The one most of the people at WHB mimic with sarcasm? What world does this guy live in?
"You have no idea how easy the consumer can detect something that isn't real. It's very easy to detect."
Kevin Kietzman, 810 AM
GH: Mind. Blown.
"When we started here 17 years ago the only rule we had for this show is we're going to do it real. Come say what you think but don't try and be something you're not. Just be who you are."
Kevin Kietzman, 810 AM
GH: Part of me thinks KK actually believes this statement. I believe he is so submerged into the false reality that surrounds him on his radio show, on the station that he owns, and those who he employs to agree with him on the air, that he is blind to what we all see, hear and know. Ignorance can be an intoxicating state of being.
"Ryan Lefebvre is as real a sounding announcer as you'll ever find."
Kevin Kietzman, 810 AM
GH: Ryan Lefebvre sounds real? The Beav is just as big a shill for the Royals as Howdy Doody and his bunch! He's far more professional than Hudler and he doesn't make me want to slap myself like Steve Physioc's voice – but real? Denny Matthews is REAL. Denny doesn't give a shit if they fire him, hire him or set fire to him! Denny doesn't pretend the Royals are good. Denny doesn't pretend he's happy about a Royals rally in the ninth that might delay his dinner. Denny is Denny on the air every stinking day and night! Denny gets bored, he gets lazy and he gets pissed – especially about small strike zones. That's real radio. Not this garbage Kietzman spills out every afternoon.
"Dear NCAA – Playing these Sweet-16 games at the same time is simply idiotic."
Rex Chapman, @rexchapman, during Thursday night's matchups, Twitter
GH: Every year I again am stunned that the NCAA forces us to watch games at the same time. It is maddeningly stupid.
"Shockers' success isn't going anywhere soon."
Headline on Bub Lutz's column in the Wichita Eagle
GH: Click here to read Lutz as he points out a number of reasons why WSU should be an important part of the NCAA basketball scene next season and beyond. Good stuff.
"How about a little love for our UCM Mules today? Local kids on national television Saturday at 2pm (CBS) playing for the title. Too bad the Tigers didn't hire Kim Anderson years ago. Has only take 3 teams to the final 4 since being in Warrensburg!"
GMoney, OTC Comments
GH: What a great survival story Kim Anderson has been in this state. From star player at MU to coaching under Norm for 17 years to building a bit of a basketball dynasty with the Mules. The big guy deserves to win it all on Saturday.
"I'm not quite ready to put Sammy Watkins (Clemson) and Mike Evans (TAMU) up there with AJ Green and Julio Jones, but one of the best WR one-two in my years."
Matt Miller, @nfldraftscout, Twitter
GH: If one of these two is wearing Chiefs red in September it will be a very good thing.
"55 and sunny in Detroit on Monday."
Gary Lezak, on his forecast for the Royals season-opener with the Tigers, 810 AM
GH: I might have to wear my sanitary socks to work and roll them like I used to into the tops of my stirrups. There was nothing like yanking those stirrups up above your calf to show nothing but side pipes. Play freaking ball!
and Twitter @greghall24