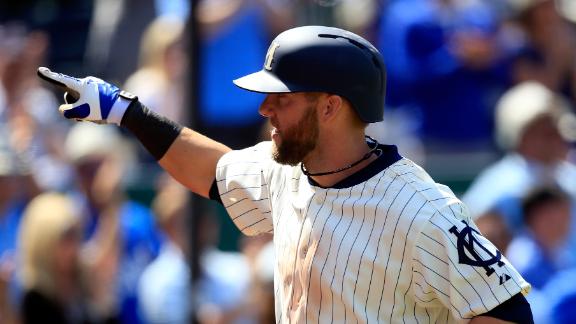 "Our offensive problems aren't mechanical. It's mental preparation and discipline at the plate. … Until they make changes, we're going to be in trouble."
Ned Yost, after "they" scored one run in 18 innings Thursday and Friday, Royals Radio
GH: Whoa – the dreaded "they" word. This one if a biggie when the manager starts distancing himself from his players. This can easily be translated into meaning, "Hey, I'm doing all I can for these bozos. THEY need to start hitting the ball or we're all going to be fired." And if the Royals' hitting problems aren't mechanical, isn't that Ned's job to get their domes right? He is the Dome Gnome, right? I think I just came up with another idea for a Royals' promotion night – a garden Dome Gnome in Ned's likeness.
"These guys are competitors. Sometimes they compete so hard they're out there and they forget what they're competing about!"
Ned Yost, during his Saturday pre-game interview with Ryan Lefebvre, discussing his team's play, Royals Radio
GH: Sometimes Ned interviews so hard he doesn't make a lick of sense. What does this even mean? Who competes so hard they lose sight that the goal is to win the game? Does Ned need to invite Herm Edwards in for a pregame chat?
"You know what won the game for them (Friday night)? A bunt! A power hitter put a bunt down and that won the game for them."
Ned Yost, on how the Orioles' secured their 4-0 win with the aid of Nelson Cruz's sacrifice bunt, Royals Radio
GH: Ohhhh, crap! Ned sees Cruz lay down a sac bunt and he gets wood. And I'm not talking about the kind of wood Moose's game is missing. Bunting is for loooooosers! I want this as the next Royals' T-Shirt Tuesday.
"Well, it's because he's still a little bit hurt. His feelings are a little bit hurt. He's learning how to deal with that at a young age."
Rex Hudler, attempting to explain Moustakas' "Vargy" interview last week, 610 AM
GH: If Hudler thought he did the light-hitting Royals' third baseman a favor with this comment. He did not.
"I think there's a misconception out there that if you talk about (Moustakas) being sent down to the minors that you're rooting against Mike Moustakas. I like Moustakas. I'm rooting for him. But the truth of the matter is since he had those two doubles he's gone back to looking like he's not a threat to even hit the ball hard. Just looking lost. Right now it seems that pitchers aren't afraid to throw him hittable pitches."
Nate Bukaty, 810 AM
GH: Moose is maybe the most popular player at The K – (except maybe for Wind-Aided Alex Gordon). The only reason any of us care about Moose or any of these guys is because they wear our city's laundry. We don't start not liking guys until they leave.
"I don't think (Moose) is going to get above .200 before Hosmer gets five home runs." Jake Gutierrez, 810 AM
GH: Moose is currently hitting .157 and Hosmer has one home run. Who would have thought this bet would be being discussed in mid-May of 2014? Okay, that's an easy question. The answer is Royals fans who are above the age of eight.
"If (the Royals) can get to 90 wins and don't make the playoffs, I'm not calling this season a failure."
Soren Petro, 810 AM
GH: Okay, Mr. Brash & Bold. If this Royals team gets to 90 wins after starting 22-21, schedule a parade down the middle of I-435 at 5:00 PM on a Wednesday.
"This is where you sound like a complete fan right now! You won't acknowledge success! I know the hitting still sucks, we can get to that in a minute. Can we at least acknowledge that they have two top-of-the-rotation guys (in Duffy and Ventura) which we all agree that when we piss and moan and say, 'Look at what Tampa's doing. Look at what Oakland's doing.' We talk about the pitching they've developed. They wouldn't have actually done that. Can't we at least acknowledge that would be a success?"
Soren Petro, in his Monday conversation with Rany Jazayerli, where Jazayerli's expectations for the Royals' this season is more of a playoffs-or-bust mentality than Petro's optimism about the Royals two top pitching prospects, 810 AM
GH: If you have not noticed, Petro doesn't have a real high regard for fans. Which is just fine seeing as some fans don't have a real high opinion of Petro's daily screeching. For a guy who preaches about championships being the only thing that matters, Petro seems awfully soft on holding Dayton Moore accountable. It is year eight and his team has yet to finish even second in the ALC.
"I think we agree more than we disagree. If the Royals win 82-83 games and miss the playoffs but Ventura and Duffy continues to pitch the way that they have, I'm certainly not advocating that because of the disappointment of not making the playoffs that Dayton Moore should be fired. I can acknowledge though that this season was a disappointment in the sense that this was supposed to be the year they made the playoffs didn't happen. If they finish above .500, I don't think I'll be advocating for Dayton Moore to be fired."
Rany Jazayerli, responding to Petro, 810 AM
GH: Moore's job is to win. Period. Developing arms, assembling a great bullpen and having nice hair are all great. But what the hell have you won, Dayton? When the media gets gooey over a GM just doing some of his job, we have a problem in the media. Petro should be more fan-like then and a lot less gooey.
"One of the great baseball writers in Kansas City, Lee Judge…"
Steve Physioc, during Sunday's broadcast of the Orioles/Royals game, Fox Sports Kansas City
GH: This caused me to laugh heartily on Sunday afternoon. Physioc took the word "great" and just massacred it. Judge is everything that is wrong about baseball writers. He has little understanding of the game but he has a venue for an audience. Two things that no reader should be exposed to.
"Because I was eating (chicken wings) like a caveman. You've got to go in at the joint and rip that out…"
Jake Gutierrez, when asked what caused some patrons of The Peanut to leave prematurely, 810 AM
GH: Wings at The Peanut are not your itty-bitty BWW variety wings. The Peanut's wings are stork size and orange. Fred Flintstone would love 'em.
[email protected] and Twitter @greghall24