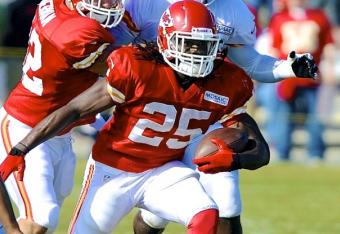 "We'd love to stick it to everybody who thought we couldn't do it, he and I included. It's every person here."
Alex Smith, Chiefs' first-year quarterback, referring to him and his new head coach, the former Eagles' head coach Andy Reid, New York Times
GH: Nate Taylor of the New York Times scored an interview with the Chiefs' new quarterback and head coach that should have the local media a bit embarrassed. We like to diss the east coast media for overlooking flyover country and their sports franchises. This time the east coast media – at least the New York Times, deserves credit for some interesting insight into the Chiefs' two most important new pieces. Read on.
"Give me a quarterback that plays angry for whatever reason. I think that's great."
Ron Jaworski, New York Times
"Reid, 55, thought highly of Smith going back to Smith's collegiate days at Utah. Reid was always impressed with Smith's intelligence and enjoyed watching how Smith improved whenever he watched him on film. Reid acknowledged that when he was with Philadelphia, he called the 49ers multiple times to inquire about trading for Smith."
Nate Taylor, writer, New York Times
GH: I don't know how much I believe this tale. Did Reid really try to trade for Smith? If so, he must not have tried very hard. Smith was thought to be a bust not long after he was the overall number-one pick of the 49ers. Reid might be embellishing this infatuation with Smith now that he needs him to save the Chiefs and him from another disappointing season.
"Monday was the first anniversary of the death of Reid's 29-year-old son, Garrett, from a heroin overdose in his dormitory room during the Philadelphia Eagles' training camp."
Nate Taylor, writer, New York Times
GH: Just a year ago Reid was dealing with one of life's more unthinkable tragedies – the sudden death of his child. Reid seems to be handling it much better than he did in Philadelphia – where everything he built seemed to crumble in 2012. But we just see what's on the outside of Reid.
"I don't know of a coach that went through a year like Andy went through in the total big picture. You lose your son, you lose games and you lose your job."
Dick Vermeil, who was said to be instrumental in getting Reid hired by the Chiefs, New York Times
GH: How many people are able to pick of the pieces after that trifecta and move on to have professional success the very next year? Let's just say Reid is battling more than the Chiefs 2-14 record from last season.
"Andy and Alex don't have a magic wand. When you go through the type of turnover this team and the organization has had in a short period of time, it's very difficult to turn a program around."
Ron Jaworski, New York Times
GH: I find it interesting how different the Chiefs are perceived here in Kansas City versus the rest of the NFL. We seem to have playoffs expectations despite that 2-14 blemish while the rest of the country sees the Chiefs as maybe a 7-9 but improved team. I just don't think 7-9 is going to put Mitch Holthus' hammer down.
"When you're trying to change a culture, and it's a new coaching staff and a lot of new faces, it's a young, hungry team. And it's a hungry community. We got to win that first game."
Alex Smith, New York Times
GH: Talk about putting some pressure on this team in their road opener at Jacksonville. But you know what, I kind of agree.
"(Alex Smith) looked like he had command of this team. I like the body language but I like the leadership."
Danan Hughes, 610 AM
"Though a source familiar with the injury told ESPN NFL Insider Adam Schefter that (Jamaal) Charles is 'fine,' another source told ESPN's Ed Werder that Charles will be re-evaluated Tuesday morning to determine when he'll be able to return to practice. Charles attended Tuesday's practice but joined the rest of the injured Chiefs away from the practice field. He wasn't wearing a boot and didn't appear to be limping."
ESPNnews.com
GH: When news broke that Charles looked to have a leg injury at camp on Monday, Chiefs Nation held its breath. Twitter let everyone know he'd been removed from the practice field, some said "carted off." It looks like Charles will be fine, but no one is saying at this time.
"Every player gets carted off the Chiefs practice field! They all take a cart up the hill! … Reporting that Jamaal Charles was carted off is just irresponsible journalism!"
Bob Fescoe, 610 AM
GH: Fescoe spent almost an hour Tuesday morning chastising his media cohorts who in his opinion unnecessarily sent out alarming tweets Monday about Charles' injury. Fescoe reported that Charles walked to the medical tent under his own power and then was driven to the locker room via a cart.
"The optimism surrounding the 'new' Chiefs had a near-death experience when Jamaal Charles sat on a motorized cart and was wheeled away from practice and toward an X-ray machine on Monday."
Sam Mellinger, in his lede for his Tuesday column, Kansas City Star
GH: Hyperbole? Maybe…but without Jamaal Charles in the Chiefs' backfield, this team looks a lot like the Chargers. And that is not a good look.
"It was good work for Knile (Davis) today, if you want to take a positive from it. It gives another guy an opportunity to practice. That's how I look at it. It allowed Knile, our young running back, to get good work with the ones."
Andy Reid, on the rookie running back out of Arkansas, ESPNnews.com
GH: Davis is supposed to have everything but good hands – meaning he has been known to fumble the football. Charles came out of Texas with some of that same baggage. Get ready for an extended look at Davis this Friday against the 49ers.
"I'm not totally sold that Dwayne Bowe is the superstar wide receiver that everybody wants to anoint him. I want to see how he is with Alex Smith. And more so, what Alex Smith's confidence in Dwayne Bowe is."
Danan Hughes, 610 AM
GH: Bowe is expected to have his best NFL season yet with a proven quarterback…isn't he? Hughes is displaying his Missouri side and saying, "Show Me."
"I'm leaning toward Dwyane Bowe having a monster year."
Danny Parkins, responding to Hughes' comments about Bowe, 610 AM
and Twitter / @greghall24