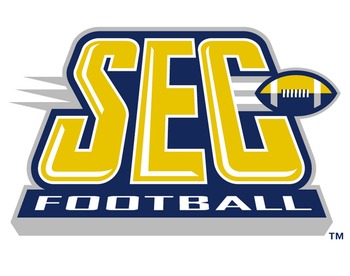 "There are millions of SEC fans scratching their heads and hating every second of it."
Kevin Kietzman, on the success that Texas A&M and Missouri have experienced during their first two football seasons in the SEC, 810 AM
GH: Who is more upset with A&M's and Mizzou's success in the SEC? Their former conference mates in the Big 12 or their new pals in the SEC? I am going to venture the opinion that Kietzman, the Big 12 schools and fans are far, far more upset with the Aggies and Tigers winning than the SEC schools and fans. Does KK really think the SEC is upset about adding another Heisman trophy to their history? Does KK really think Texas doesn't care that A&M is now THE football school in the state? There is a lot of hatred directed at MU and A&M but it's not coming from the SEC, it's coming from the Big 12.
"I have always said I could not understand a fan rooting for another team in their conference to win. Now, I honestly believe that we have fans in this city who are rooting for conferences. … I've never seen a team [like Missouri] brag about a team in their league that's better than their team and wear that like that's their trophy! 'Did you see Alabama? That's SEC, baby!' Well, no. Go beat Alabama! Alabama winning all these national titles didn't help Missouri."
Kevin Kietzman, as he discussed MU's entrance into the SEC last season, 810 AM, 2012
GH: I went back and grabbed some quotes from the 2012 season just to look back at what was being said and discussed about Mizzou's and Texas A&M's inaugural football season in the SEC, just a year ago. Read on for a look back to last fall.
"Enjoying all the ku/ksu fans tweeting me Mizzou will get blown out by UGA. Maybe so, but if so, what's that say about the Big 12?"
Gabe DeArmond, @GabeDeArmond, of PowerMizzou.com, Twitter 2012
"I think A&M will be very average."
Paul Finebaum, SEC sports talk show host on Sirius/ XM, Columbia Tribune 2012
GH: No team took more heat for choosing the SEC over the Big 12 than A&M. And no team has made more people eat their words than the Aggies.
"I think Missouri has a chance to be a surprise team. We're sitting here in early August, but I think Missouri's going to beat Georgia on Sept. 8 and somewhat shock the world, and I think if that happens, Missouri will be in a position. It's still going to be difficult. There's some games I don't see them winning, like at South Carolina, home against Alabama. But I really think after that, there's some possibilities."
Paul Finebaum, Sirius/XM sports talk show host, in an interview with the Columbia Tribune's Steve Walentik, Columbia Tribune 2012
GH: You just missed it by a year, Steve.
"Is Gary Pinkel the guy to take Missouri to the next place – and is Missouri capable of going to the next place?"
Blair Kerkhoff, 810 AM 2012
GH: This question remains as relevant today as it did last October…but for entirely different reasons.
"Les Miles said to me in a guarded moment; 'Does Missouri know what it did?' That's kind of how they're thought of right now."
Dennis Dodd, on Mizzou's move to the SEC, 810 AM 2012
GH: Mizzou's success in the SEC and how they and A&M have literally changed the way the SEC plays football should make every Big 12 fan proud. I am guessing it does not.
"If we execute, nobody in this league can touch us. Period."
Sheldon Richardson, MU's boisterous defensive lineman, Columbia Tribune 2012
GH: Looks like Old Man Sheldon knew what he was talking about.
"It looked like players and coaches had quit during that first half [of the MU/A&M game]. It was 42-0 in the first half!"
Steven St. John, 810 AM 2012
GH: Things did not look good last season for Mizzou – and the South Carolina and A&M games were maybe the most embarrassing. What a difference a year makes. So maybe there is still hope for Kansas football?
"I say bare minimum, Missouri's got to be in a bowl game next year."
Gabe DeArmond, reviewing the Tigers' disappointing football season, 810 AM 2012
GH: Pinkel has gone from the hot seat to the SEC's COTY candidate.
"In the history of the Big 12 Conference, this is the toughest it's ever been. You have six teams that you can make a legitimate argument that can win the Big 12 this year."
Carrington Harrison, 610 AM 2012
GH: Hard to believe how competitive the Big 12 was a year ago and how non-competitive it appears here in late October.
"Everything is perfect [in the Big 12]. The only complaint is the football coaches don't like playing nine games."
Kevin Kietzman, 810 AM 2012
"I think [Kansas] has a chance to get into some shootouts with some Big 12 teams. If they can [stay close] into the fourth quarter, maybe they can pull off some upsets."
Tom Keegan, Lawrence Journal World columnist, 810 AM 2012
GH: I think Keegan might be the least insightful insider amongst our local college teams. Is there anyone who covers KU athletics like they're a journalist and not as a fan?
"Everybody wants to call me up and ask me if I want to take back what I said about Collin Klein. No! He is exactly the same passer that he was last year! Kansas State is last in the Big 12 in passing!"
Kevin Kietzman, 810 AM 2012
GH: Yeah, sure glad that Collin Klein guy graduated.
"We will turn this around, ladies and gentlemen!"
Mitch Holthus, as he signed off of his Chiefs' Kingdom radio show with the Chiefs record at 1-5, 810 AM 2012
GH: I'm kind of glad last year is over.
and Twitter / @greghall24