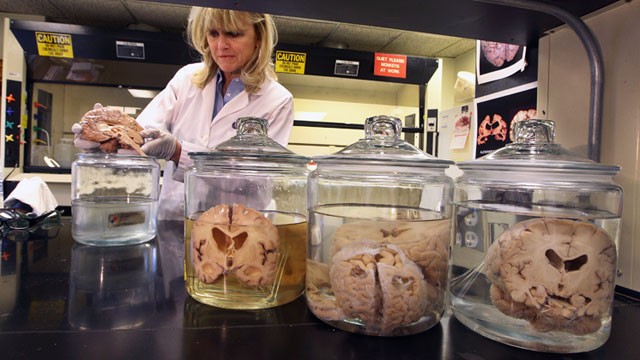 "I really wonder if on some level if every single football player doesn't have (CTE, Chronic traumatic encephalopathy)."
Dr. Ann McKee, of Boston University, on this chronic progressive brain disease that is believed to be caused by head trauma and can only be detected in a postmortem examination, In an episode of Frontline on PBS titled League of Denial
GH: McKee said she has examined 46 brains of deceased NFL players and 45 were found to have CTE. I am not a frequent viewer of PBS during primetime but Twitter tipped me off to this episode of Frontline as my timeline became clogged with references about this riveting documentary. Twitter is a fantastic source for immediately alerting followers to not only breaking news but when to turn the channel. It was like Sharknado night only far more grim.
"The NFL has given everybody 765-million reasons why you don't want to play football."
Harry Carson, HOF NY Giants linebacker, on the $750-million settlement that NFL reached with the players union, PBS
"I don't feel that I am in a position to make a proclamation for everyone else. (If I had children who are) 8, 10 or 12 – no, (I wouldn't allow them to play football). Because the way football is being played currently that I've seen, it's dangerous. And it could impact their long-term mental health. You only get one brain. The thing you want your kids to do most of all is succeed in life and be everything they can be. If there is anything that may infringe on that, that may limit that – I don't want my kids doing that."
Dr. Ann McKee, of Boston University, PBS
GH: The NFL wore the black hat for Frontline's show but it is amateur football that will suffer the largest negative ramifications from this show and these findings. The NFL players get paid well to damage themselves. I believe elementary-age kids and kids in high school are going to find their opportunities to play football disappear. All because of one word – liability. Schools and city leagues that support and promote football programs will wither and die once lawyers begin to attack the sport. And I don't think it will take long. High school football might be obsolete in the next five to ten years. And once high school football comes to an end, college football will not be far behind.
"I'm not surprised that people don't believe me. They haven't done this work. They haven't looked at brain after brain after brain. I just feel the more cases we get, the more we persevere, the more they hear, eventually they'll change their minds."
Dr. Ann McKee, of Boston University, PBS
GH: One of the members of congress likened the NFL's denial of the findings to the tobacco companies that refuses to acknowledge smoking cigarettes have been linked to cancer. It took some time but American society has all but banned public smoking. With the speed of delivering information in today's plugged-in world, banning football will happen much quicker. Is the future of football going to be androids that resemble the Foxbot?
"Biggest problem ahead for NFL in light of #LeagueOfDenial is going to be for public to take them seriously in concussion efforts."
Darren Rovell, @darrenrovell, Twitter
GH: I disagree. The public is not concerned with the NFL or whether or not they are sincere. The public is concerned about their youth and about being sued. Those two battles are what is going to haunt the NFL – their pipeline to players is about to disappear.
"Would be nice for #NFL to sit players down at Rookie Symposium and watch #LeagueOfDenial instead of handing them a pamphlet."
Matt Miller, @nfldraftscout, Twitter
GH: This would not change more than a handful of NFL rookies' minds about getting paid to play football.
"Just finished PBS Frontine #LeagueOfDenial. Very Sad. Chilling. Important. Worth seeking out if you missed it."
Chris Fowler, ESPN college football studio host, @cbfowler, Twitter
GH: Fowler is a well-known ESPN football guy. I was surprised to see his tweet last night. ESPN and the NFL are likely on the same page when it comes to CTE. For Fowler to step across the line and voice what I believe would be a contrary opinion is bold.
"I was probably wrong to call Rex Ryan a bozo. That was stupid of me."
Tony Kornheiser, after the Jets beat Atlanta on MNF and now sport a 3-2 record, ESPN
"Chiefs giving up 3rd round pick for Gonzo maybe not best long term move but would render Dorsey legend w/ fans & erase 1 of Pioli's 1st sins."
Josh Looney, @JoshLooney, Twitter
GH: Do Chiefs fans consider Tony G. leaving a Pioli sin? I think they believe it was more Gonzo's wish than a Pioli penalty. Would bringing Tony back make Dorsey a Cowtwon legend? If Gonzalez got them to the Super Bowl it sure would.
"I would trade Eric Fisher for Tony Gonzalez right now. Think about it, who would you rather have – Eric Fisher or Tony Gonzalez? Tony Gonzalez! It's not even a debate!"
Bob Fescoe, 610 AM
GH: Be glad Fescoe is not your team's GM.
"According to WPXI-TV, (Todd) Haley and his wife have been sued for reneging on a deal to purchase a million-dollar home in Pittsburgh, and of leaving the property in disarray. The lawsuit alleges that the builders found the home "stripped of fixtures, appliances and plants, shrubs and landscaping" after the Haleys moved out."
Mike Florio, nbcsports.com
GH: Talk about a sin committed by Pioli…
"I hear you're from Kansas City. What's with all the Dodgers stuff?"
Jimmy Kimmel, to Eric Stonestreet who was decked out in a Dodgers jacket and cap, who along with the cast of Modern Family were guests on his show Monday night, ABC
"I'm a Dodgers fan because I've lived here (in LA) for a long time. Obviously I don't have to worry about the Dodgers and Royals playing unless it's the World Series and then I would 100% root for the Royals."
Eric Stonestreet, in response to Kimmel's question, ABC
GH: Stonestreet's answer and commitment to his hometown Royals was met with a loud reaction from Kimmel's studio audience – and it sounded to me to be overwhelmingly positive. It sure is great to hear the Royals discussed on late night television and NOT have them be the butt of a joke in the monologue.
"These playoff games are intense! Can't wait to see what the K will look like next October!!"
Eric Hosmer, @TheRealHos35, Twitter
and Twitter / @greghall24