"The (Royals) on-field performance is considerably better than it has been over the past few years, and I hope you've been able to enjoy some of the better performance in some capacity. The link below will take you to an e-brochure. It will display options for next season, but it will also show you a list of accomplishments from 2013."
Royals Email to prospective season ticket buyers
GH: The Royals are in full marketing mode as the latest polar vortex envelops the Midwest here in late January. I found some of the items in their list of accomplishments interesting, especially their nod to the importance of the Internet and social media. Please read on for a portion of that list.
"70% increase in television ratings"
GH: Anyone asking why the Royals decided to bring back Steve Physioc and Rex Hudler for the 2014 season (my hand is raised and waving) needs to look no further than this figure. It is my opinion that Royals fans would tune in to watch a live TV broadcast of their team even if they left the broadcast booth empty. But I understand the Royals thinking that you can't argue with a 70% increase in the ratings.
"Per game Cume of radio listeners increased 37% (20,500 more listeners per game). Share of Adults 25-54 listening on radio doubled"
GH: It has to be maddening for WHB to see 610 AM profit from the current success of the Royals when their time as the Royals rights holder was attached to 100-loss seasons. That seems to be one of the motives of Kevin Kietzman's constant attacks at David Glass, Kauffman Stadium and just about anybody on the roster not named Billy Butler.
"154% increase of average check-ins on MLB's AtTheBallpark app. 11% growth in Facebook followers. 73% growth in Twitter. 576% growth in Instagram. 21% increase in web traffic on royals.com. 194% increase in mobile web traffic. 107% increase in Royals tickets sold on royals.com."
GH: I am not sure what these social media increases prove other than some of these formats like Instagram just started to become more popular in 2013. MLB and the Royals need to decrease the age of their average fan. The WSJ reported in November that the average age of the television viewer for last fall's World Series was over the age of 54. The increases the Royals show here for their online activity is nothing to get excited about. They need these numbers to grow exponentially over the next few years if they want to show they are capturing a younger and more sustainable audience.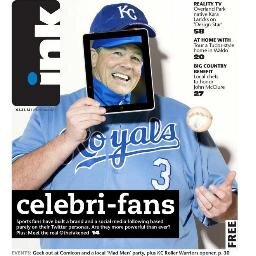 "The great thing is that we're not on stage. We can just be ourselves."
Ned Yost, in an interview with The Kansas City Star's Brent Frazee about his deer hunting excursions in Georgia with Jeff Foxworthy and some MLB players, Kansas City Star
GH: I really wish Ned Yost would try being himself here in Kansas City as the Royals manager. Why does he think he needs to be someone else? The persona he is providing us through the media isn't a real likable guy. Maybe we would enjoy the Real Ned more than the Fake Ned.
"Sluggerrr is on salary and gets a company car. #Truth."
Tim Scott, @timscott411, former in-stadium host for the Royals, Twitter
GH: How does he drive that company car with those feet and enlarged head?
"The people that have seen Kyle Zimmer pitch rave about him and say that he could for sure be a number one down the road."
Joel Goldberg, on the Royals young pitching prospect, 810 AM
GH: Zimmer is 22 years old and he will be 23 in September. I am hoping he has a great training camp in Surprise and he's ready to be placed in the Royals' rotation this April. Now is now. It's time for the Royals to rise above their expectations for a change.
"We're in real good shape. We're in better shape than any of the 20 years I've been with the Kansas City Chiefs."
Mitch Holthus, on his optimism for the 2014 season, 810 AM
GH: With ten Pro Bowlers on the Chiefs' roster and coming off an 11-5 season, it appears to be difficult to argue Mitch's point. But the Chiefs started 9-0 and then finished with a 2-6 slide. Add to that the fact they were swept by two AFC West rivals, San Diego and Denver, to finish at 2-4 in their division. And then there is that guy named Peyton Manning in Denver who likely looms large for the next season or two. I would like to be as optimistic as Uncle Mitch but the reality is he may not call a Chiefs playoff victory the next two seasons despite all that the Chiefs have going for them.
"I am extremely proud of this…"
Kevin Kietzman, on replaying his interview (yet again) with Scott Pioli from 2012, 810 AM
GH: I have often complimented Kietzman on his savvy sixth sense for what plays well on sports talk radio. He has dominated his competition for years because he has a better feel than his competition for what makes for good radio. He fails miserably though every time he goes down this personal-vendetta path directed at Pioli. This segment served almost no one in KK's audience. Unfortunately, there is no one at 810 who feels the need (or is brave enough) to explain this to Kevin.
"I think that interview and I think that draft led to his demise."
Kevin Kietzman, suggesting that Pioli came off so poorly in his interview with KK that it (combined with his 2012 draft) eventually led to Clark Hunt firing him, 810 AM
GH: Okay, Kevin. We get it. You mess with Kevin Kietzman and attempt to question his football knowledge on his show and Clark Hunt will fire you. Got it.
"You cannot overpay for a franchise quarterback! It's just not possible!"
Kevin Kietzman, 810 AM
GH: It appeared to me that KK wanted to replay his Pioli interview to prove how right he was about Peyton Manning and Andrew Luck. I am still waiting to hear KK replay any of the months' worth of shows where he chastised the Chiefs for not drafting Geno Smith. Kietzman seems to have a problem with admitting his mistakes. Odd for a guy who has had so much practice.
"Forecasters are starting to agree on SB Sunday weather. Major storm. Also: very cold (20′s) already a lock."
Colin Cowherd, @ESPN_Colin, Twitter
GH: We are still too far out to know just what kind of weather to expect for the Super Bowl held outdoors in NYC. But it sure seems dumb to me to risk playing this game in poor weather conditions. It the temps are in the 20s for an evening kickoff, I don't expect Peyton Manning to function real well in the second half.
and Twitter @greghall24