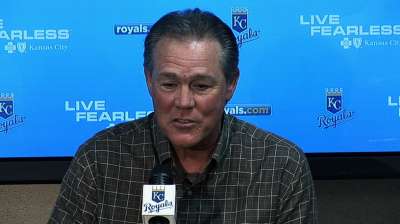 "Is everything crystal clear now about the new rules?"
Doug Stewart, in a question to Ned Yost after Yost had attended a meeting Tuesday regarding MLB's new rules about how a base runner can no longer charge into a catcher at home plate, about 810 AM
"What new rules? They're not new rules. These are just old rules. "
Ned Yost, responding to Doug Steward's question, 810 AM
GH: This curt answer from the Royals' skipper resulted in the following short exchange between the WHB reporter and Yost…
Stewart: "So no big change?"
Yost: "What are you talking about?
Stewart: "About blocking the plate?"
Yost: "No, no big change."
GH: This then prompted other members of the media to engage in this discussion, resulting in a frustrated and ornery Yost doing what he typically does when he's interviewed by Nate Bukaty…
"You can't barrel into a catcher! That's really it. Nothing else really changes except you can't barrel into a catcher anymore."
Ned Yost, 810 AM
GH: In Stewart's defense, that is a pretty big change to the game of baseball that has allowed base runners to blast into defenseless catchers for the past 150 years. Yost did not need to be so surly. On the other hand, this short exchange between Yost and the media did not deserve the attention that WHB decided to give it over the next 24 hours. Read on.
"There's an etiquette in how the conversation is supposed to go. He's the manager, you're the reporter. The other reporters are there. You can't just say, 'Hey, go blank yourself!' That's what I would do if we were two guys standing there. I don't care how he deals with his players. I don't want to sit here and talk about Ned Yost pissing and moaning. I'd rather talk about the baseball team."
Soren Petro, 810 AM
GH: Should Yost have been more tactful? Yes. Are the boys at 810 searching and reaching for a story with nothing more to cover in Arizona than practice and cactus? Yes.
"We've got a lot of people in this building who are smarter than Ned Yost!"
Kevin Kietzman, 810 AM
GH: KK really went off on Yost, even to the point of challenging his intelligence. So Kietz and Petro cannot believe Yost would choose to be a bit surly about answering questions from a radio station known to blast him and the Royals at almost every opportunity? So how would Kevin like me in his office once or twice a day for the next seven months with a microphone in my hand asking him questions about how he conducts his job? Do you think happy-go-lucky Kietz would get a bit touchy at times? Kietz has trouble staying civil when .
"When I listened to (Doug Stewart's) moment with Ned Yost, I just have to smile because I feel like I've been in that seat before."
Nate Bukaty, 810 AM
"I like Ned. I like that he's always sparring with the media. I like what Ned is doing. I really do. I like the feel of confrontation there. I think that's healthy."
Jack Harry, 810 AM
GH: Mad Jack gives off more mixed signals than J. Edgar Hoover in pantyhose. Jack almost quit his TV job not long ago when some Kansas fans rode him too hard about his persistent KU slurs. So now we are to believe that the guy who wilts at email confrontations from fans is a big believer in going head-to-head with Nervous Ned? Not buying it, Jack.
"To me, I don't know if you need this rule. I think you leave it to the players to play the game and allow the good catchers to get out of the way. And let each organization set the culture of your clubhouse. Instead we get a rule (to a game that) is already a three-hour event."
Soren Petro, 810 AM
GH: I think Petro is an intelligent person but this comment makes little sense. He wants each team to determine which catchers are disposable and which one is not? This is one of the dumber plays in baseball and needed to be eradicated a century ago. Yost is dead wrong and I would have enjoyed it far more had Stewart stood up to him and challenged him about it.
"I don't sit around at home at night and think about (the new rule). This is the first time I've thought about it since two months ago when somebody told me, 'they can't run into catchers anymore.' I said, 'That sucks. I love that play.'"
George Brett, KMBC TV 9
"I think people expect us to be in the postseason. It is not good to always fly under the radar. … If you cannot handle the pressure you are in the wrong business."
Bruce Chen, when asked by Petro what the expectations are for the Royals this season, 810 AM
GH: Petro and Stewart have produced some of my favorite sit-down interviews of the new year with their work this week in Surprise, AZ. Read on for more.
"Salvatore Perez is funny, so sometimes I steal the jokes from him. He says funny stuff in Spanish and so I say it in English and steal all the credit."
Bruce Chen, when asked who the second biggest joker is in the Royals clubhouse, 810 AM
"Uh, no. This is a tough game. You've just got to rely on what your strengths are. You can't worry about what lies ahead in the future. When there's a guy up at the plate trying to do damage, you've got to go with what works."
Greg Holland, Royals closer, when asked by Soren Petro if he is concerned about being a power pitcher and how he might need to adjust to secure he doesn't get injured as his career moves forward, 810 AM
GH: Petro's chat with Holland was maybe my favorite. Holland is as down-to-earth as the come. He doesn't appear to have any of the macho bravado that we often see in closers but the guy gets it done as well as anybody in the league.
"I've got a couple of new tattoos. I've always had a couple of tattoos. I'll be able to cover it up though. I enjoy getting tattoo. But on the other hand, we're a professional organization. We're a professional team and I like to be able to cover them up. Other guys have a preference of showing them off. I'm not much on the showing them off side. I kind of like to hide mine a little bit."
Mike Moustakas, in an interview with Soren Petro, 810 AM
GH: Petro continues to debunk Danny Clinkscale's report that Moose had inked up both arms from shoulders to fingers. I found Moose's shyness about not wanting to display his tats in uniform surprising. Isn't that why guys get them?
"Moustakas is probably the single biggest key to whether this team can be better than good. If they're going to be a playoff-type team, they can't have their third baseman swinging a paper bat. You figure Hosmer will hit, Butler will hit, Perez will be a star. There are some relative knowns here, but Moose could be awful at the plate again (whether they say it or not, that's part of why the Royals traded for Danny Valencia) or he could hit .270 with 25 homers and drive in 80."
Sam Mellinger, KCStar.com
"If there is going to be a James Shields-like clubhouse leader after James Shields is gone, I think it's going to be Eric Hosmer."
Soren Petro, 810 AM
"Happy Cactus League: Aoki 9, Infante 4, Hosmer 3, Butler DH, Gordon 7, Perez 2, Moustakas 5, Cain 8, Ciriaco 6, Chen 1."
Andy McCullough, @McCulloughStar, Royals beat writer for The Kansas City Star, tweeting out the Royals lineup today for their first game against the Rangers, Twitter
GH: Gordon fifth? He has got to be in the top three of this line-up. I would bat him second and slide Aoki to seventh. It must be getting close to baseball season since I'm already bitching about the lineup.
"Congrats to Hall-of-Famer, Lenny Cool."
Michael Coleman, as he reported on his Wednesday's sportscast that Len Dawson would be receiving the Lamar Hunt Award at the 101 Banquet, KCTV 5
GH: I played Coleman's comment back a couple of times and each time he left out that three-letter word "the." It's Lenny the Cool, Michael. That's like calling George Brett, "Good old Number Six."
and Twitter @greghall24