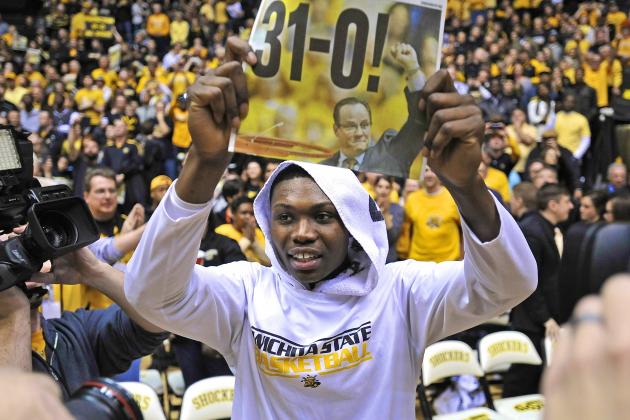 "It's only happened 17 times that a team has gone into the tournament undefeated. And we've been playing this tournament since 1939!"
Mike DeCourcy, college basketball writer for SportingNews.com, on Wichita State having a chance to be an undefeated number-one seed next weekend, 810 AM
"The most intriguing name out there for everybody is Wichita State. I think people are really fascinated with this Final Four team from a year ago and what they've done. I think right now they're the number-one story in college basketball."
Kevin Harlan, 810 AM
GH: The Shockers are just down the road and they have done the undoable the past two months of March – displaced the Kansas Jayhawks as the state's most talked-about basketball program. Now, not all the talk has been positive.
"In years past, the Shockers have entered the NCAA tournament as a fan favorite; they're a hard-nosed, scrappy bunch that doesn't necessarily have any stars but simply play fundamental, team basketball. But don't expect that to be the case this year. Wichita State has taken the brunt of college basketball angst throughout their currently-undefeated season. Not Duke, not Kentucky, but the Wichita State Shockers. Why? Do people inherently desire something, anything, to despise? I'll leave that to the psychologists, but several Shox-opposers cite the weakness of the Missouri Valley Conference as the source of their dislike."
Peter Aiken, writer USA Today
GH: Wichita is home to many, many Jayhawk basketball fans – who also root fervently for their hometown Shockers. But there is now a dilemma up north in Lawrence. Little brother has grown to the size of a threat – at least the past two seasons. KU fans are not looking at WSU as a cute little story anymore. They are looking at the Shockers hoops program as if they were Kansas State. That is called progress, boys.
"If they get through the opening weekend, if they get through the first two games – they've succeeded in my mind. They've had a very successful season and they're legitimate."
Josh Klingler, on his expectations for Wichita State in the NCAA tournament, 610 AM
GH: I don't think WSU's team, fans or even their conference are going to be pleased if they bow out before making the Final Four. 31-0 kind of makes one a bit greedy. But a "good greedy" I might add.
"When Selection Sunday rolls around in March and Wichita State grabs the N0. 1 seed, don't be surprised when a resurgence of Shox-related hate rears its ugly head for the duration of the season. Fans should take pride in the idea that the entire nation is waiting for them to fall flat on their face, simply to remark, 'I told you so.' It comes with the territory of being a preeminent college basketball program. Enjoy it."
Peter Aiken, writer USA Today
GH: So if WSU goes and gets beat this week at the Missouri Valley Conference tournament in St. Louis all this is kind of moot, right? I am rooting for them to ride their zero as far as they can.
"I think there are some really good teams in this (SEC) league. I don't think we get a fair assessment of how good our league is."
Frank Haith, head basketball coach at Mizzou, 810 AM
GH: The SEC head coaches and maybe a player or two are the ONLY people I hear saying that SEC basketball is not getting the respect it deserves. Did Frank watch Kentucky and Bama last night? That game was uglier than Detroit's cars in the 1980s.
"The last time I checked, we control our own destiny. There's not a lot of teams that can say that. We can control our opportunity to play in the NCAA Tournament."
Frank Haith, 810 AM
GH: A win at Tennessee on Saturday is an almost gotta-have-it-to-get-in game. And a win tonight at home against A&M needs to be a given. There is NO reason that MU should win at Tennessee but as crazy as this season has been I am thinking Haith and his band of misfits pulls the upset and goes dancing. Or not. "There are certain traditions I believe are worth keeping. This is not 'Freshman Night,' or 'Sophomore Night,' or 'Junior Night.' Other people may do it differently but that's not how we're going to do it. I think our fan base would be very disappointed if we did something that took away from something that is one of the great traditions of our basketball team – and that is Senior Night."
Bill Self, as KU says good-bye to their sparse senior class tonight at Allen Fieldhouse, 810 AM
GH: I have attended a couple of Senior Nights at Kansas and they are special. Part of me really would like the underclassmen who have contributed so much to the program's success (and Self's retirement fund) to also receive their deserved recognition. But Kansas is one of those hallowed places where tradition trumps just about every emotion.
"I don't ever want the emphasis to get away from those kids who have exhausted their eligibility here."
Bill Self, 810 AM
GH: Rolling Wiggins and Embiid out on the court tonight would definitely take the spotlight off of KU's departing four-year seniors, Niko Roberts and Justin Wesley. These two will get more court time during tonight's ceremony than they have in their college careers. And the KU fans will treat them both like they were Danny Manning. Yeah, Senior Night in Lawrence is pretty damn special.
"I think sports gambling should be legal in all 50 states. But I don't gamble."
Mike DeCourcy, 810 AM
GH: Should we allow sports gambling on college games and pay the college kids as well? I think we are heading that way whether the NCAA likes it or not.
"Find 'em. Sign 'em. Develop 'em. And play 'em. That's got to be this (Chiefs') front office's credo."
Kevin Harlan, on John Dorsey's and Andy Reid's philosophy with personnel, 810 AM
GH: Harlan does not believe this Chiefs front office will be very active in signing developed free agents. He believes they are far more interested in draft picks and young castoffs from other organizations.
"One warm spring night in 2011, a young man named Travis Hughes stood on the back deck of the Alpha Tau Omega fraternity house at Marshall University, in West Virginia, and was struck by what seemed to him—under the influence of powerful inebriants, not least among them the clear ether of youth itself—to be an excellent idea: he would shove a bottle rocket up his ass and blast it into the sweet night air. And perhaps it was an excellent idea. What was not an excellent idea, however, was to misjudge the relative tightness of a 20-year-old sphincter and the propulsive reliability of a 20-cent bottle rocket. What followed ignition was not the bright report of a successful blastoff, but the muffled thud of fire in the hole."
Caitlin Flanagan, The Atlantic
GH: The first paragraph of this article about college fraternities was so good I wanted to share it with you. I do not think I will think of the phrase "fire in the hole," the same ever again.
[email protected] and Twitter @greghall24